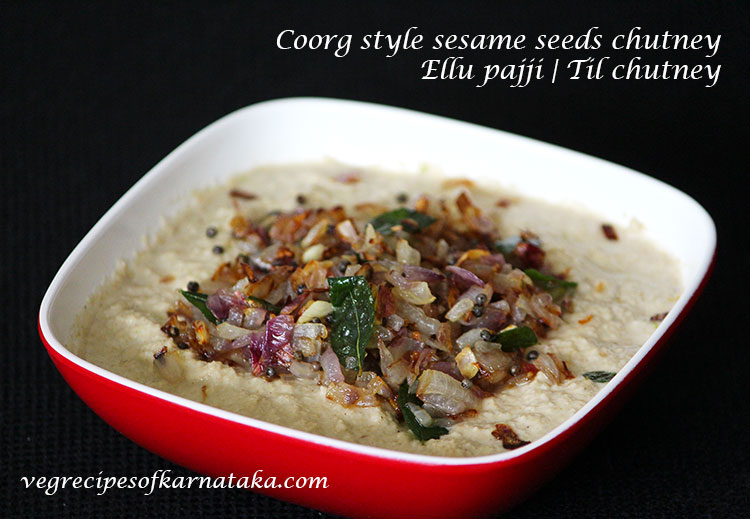 Ellu pajji or ellu chutney recipe explained with step by step pictures. Ellu pajji is a coorg style sesame seeds chutney. Ellu pajji or chutney is prepared using sesame seeds, coconut, onion, green chili, tamarind, jaggery and salt. Ellu chutney is very tasty and is generally served with akki rotti.
Ellu translates to sesame seeds in Kannada language...And pajji is a general name for chutney kind of preparation in Coorg language. Kodagu, also known as Coorg, is a rural district in the southwest Indian state of Karnataka. They generally pair this delicious chutney with akki rotti or rice flour roti. I learnt this recipe from my friend Archana.
You can find many sesame seeds recipes on this website like ellu juice or sesame seeds milkshake, puliyogare, ennegayi palya, peanut laddu, ellu-bella and menaskai recipes.
Sesame seeds are extremely beneficial for health. They include the ability to prevent diabetes, lower blood pressure, prevent a wide variety of cancers, build strong bones, protect against radiation, and an improve the heart health. They also help to cure sleep disorders, improve digestion, reduce inflammation, boost respiratory health, and aid in dental care. Sesame seeds improve blood circulation, detoxify the body and eliminate depression and stress.
If you are looking for more chutney recipes then do check doddapatre chutney, watermelon-rind chutney, garlic chutney, coriander leaves chutney, ridgegourd peel chutney, brahmi chutney and radish chutney.
Ellu pajji or chutney recipe
Preparation time: 10 min
Cooking time: 10 min
Serves: 4

Ingredients: (measuring cup used = 240ml)
1/4 cup ellu or sesame seeds
1/2 cup grated coconut
2 - 3 green chili
A small marble sized tamarind
1 gooseberry sized jaggery
Salt as per your taste
Ingredients for tempering:
2 tbsp cooking oil
1/2 tsp mustard seeds
4 - 5 curry leaves
1 small sized onion, finely chopped
Instructions for making ellu pajji or chutney recipe:
Take sesame seeds in a frying pan. Roast until it starts popping under medium flame.
Take all ingredients like sesame seeds, grated coconut, green chili, tamarind, salt and jaggery together for grinding.
Transfer all ingredients into a mixie jar.
Grind it into a coarse paste using required water. Traditionally, grinding stone is used to grind this chutney.
Transfer it into a bowl.

Heat oil in a frying pan and add in mustard seeds. Followed by add in curry leaves.
Next add in finely chopped onion and start roasting under medium flame.
Roast until light brown and switch off the stove.
Next pour it over the chutney. Serve it with rice flour roti or chapathi or hot steaming rice.
Dear reader, We have a Kannada version of this recipe. Click here to read this recipe in Kannada.
You might like this: