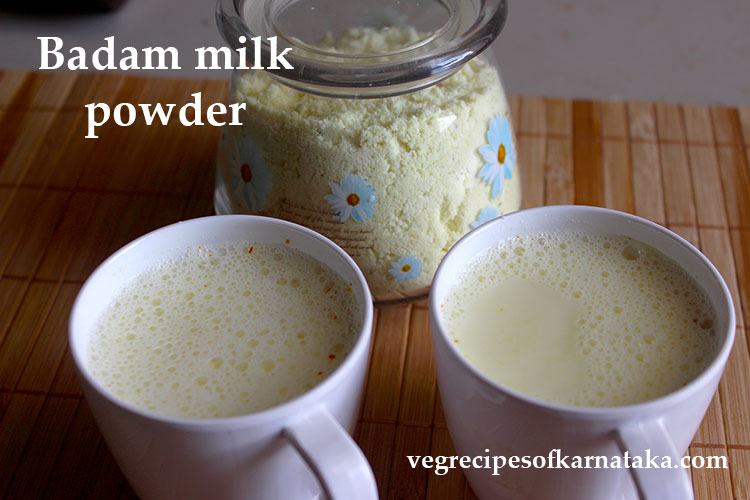 Badam milk powder recipe explained with step by step pictures and a video. Home made badam powder or MTR style badam milk powder is very easy to prepare. Badam milk powder is prepared using almond, sugar, milk powder, cardamom, saffron and little turmeric. Try this easy and healthy home made badam powder recipe.
Badam is a very tasty nut. I love them a lot. In my family, we soak badam in water, peel it and have 4 - 4 badams each early in the morning. Tastes good and is healthy as compared to commercially availabe badam milk powders. The badam powders, which are readily available in the shops are prepared with very minimum badam. And they do use some permitted preservatives. Also you can replace white sugar with brown sugar to make this badam powder more healthy. I have posted 3 more badam recipes on this website. They are badam burfi, badam halwa and carrot badam payasa recipes.
This is a MTR style badam milk powder and tastes too good. I prepare badam milk powder at home..as and when it is required. I have peeled the almonds in this recipe. However peeling is optional and you can skip them. I have posted this recipe under beverages and pickles-powders section. In beverages section you can varieties of juice, milkshake and kashaya recipes. And in pickles-powders section, you can find many masala powders and chutney powder recipes.
If you are looking for more sweet recipes then do check our saat or badusha, kayi holige, rave unde or rava laddu, badam puri recipe, halu bai, pineapple payasa, mungdal payasa, Shavige payasa, hurigadale unde or fried gram laddu, kesari bath, easy carrot halwa, easy milk peda and coconut burfi recipes.
I have made a video on this recipe with Kannada narration, which I have embedded it below. Kindly have a look.
Badam milk powder recipe
Preparation time: 30 min
Cooking time: 5 min
Serves: 1.5 cup

Ingredients: (measuring cup used = 240ml)
1/2 cup badam or almonds
1/2 cup sugar
1/2 cup milk powder
5 - 6 cardamom
A big pinch of saffron or kesari
A big pinch of turmeric powder
Instructions for making badam milk powder:
To begin with take almonds or badam in a bowl.
Add in hot boiling water and soak the almonds for 30 minutes.
After 30 minutes peel the almonds.
Take the peeled almonds in a pan and roast until they turn crisp. Idea is to remove the water content. Roasting under medium flame for 5 minutes will so the job.
Wait until roasted almonds are cool. And then transfer them into a mixie jar. You can even skip the above steps and use the badam without peeling.
Add in 1/2 cup of sugar.
Add in 1/2 cup of milk powder.
Also add in cardamom, saffron and turmeric powder. You can adjust these 3 ingredients as per your taste and preference.

Grind all the ingredients into a fine powder. Store it in an airtight container.
Now let us prepare badam milk. Take 1 tbsp badam powder in a cup (150ml cup). You can add extra sugar as per your taste.
Add in hot boiled milk and give a quick stir. Healthy and tasty home made badam milk is ready to serve.
Dear reader, We have a brief Kannada description of this recipe. Click here to read this recipe in Kannada.
You might like this: