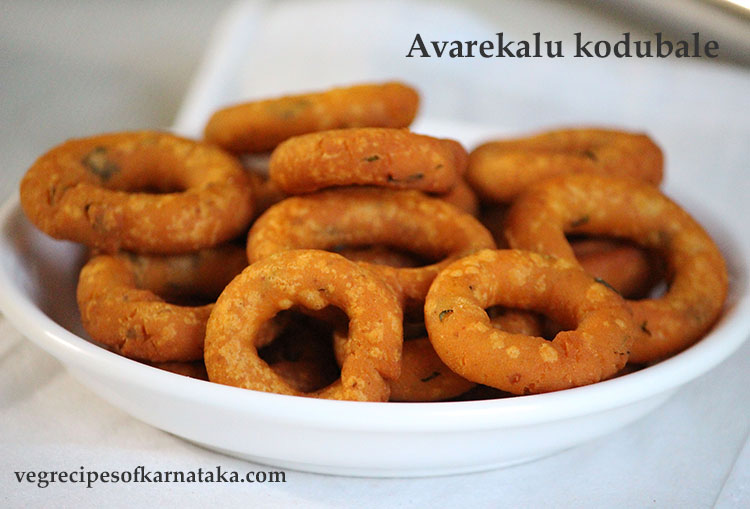 Avarekalu kodubale recipe explained with step by step pictures.Avarekalu kodubale prepared using rice flour, avarekalu, maida, coconut and spices. Avarekalu kodubale is popular deep fried snacks from Karnataka which will be in ring shape.
"Kodu" word has two meanings in Kannada language. One is "horn" and the other one is a generic name for whole dried beans or long beans. For example it is used like "alasande kodu" for dried long beans. And "bale" translates to bangles in Kannada language. So is the name kodu bale. You can find 3 more kodubale recieps on this website like malnad style kodubale, mysore style kodubale and a soft mosaru kodubale recipe.
In this recipe I have added 1 cup of avarekalu for 2 cups of rice flour. But if you want soft kodubales like mosaru kodubale, then reduce the quantity of rice flour. Adding hot oil and deep frying at medium flame is very important to prepare crispy kodubale. You can repace the hot oil with butter as well.
Now the avarekalu or hyacinth beans or filed beans season is going on. So do try this recipe..I am sure you will love this. You can find many avarekalu recipes on this website like avarekalu sagu, avarekalu saru, avarekalu uppittu, avarekalu akkirotti, avarekalu mixture and avarekalu usli recipes.
If you are looking for more Karnataka style snacks recipes then do check our snacks section. Or if you are looking for more deep fried snacks recipes then do check our kara kaddi, chattambade or masale vade, mangalore bajji, kayi vade, crispy chili bajji, stuffed mirchi bajji and onion pakoda recipes.
Avarekalu kodubale recipe
Preparation time: 5 hrs
Cooking time: 30 min
Serves: 4

Ingredients: (measuring cup used = 240ml)
2 cup rice flour
1 cup avarekalu
1/4 cup maida flour
1/4 cup dry coconut
1 tsp red chili powder
1 tsp salt (as per your taste)
1/2 tsp cumin seeds
A big pinch of asafoetida
2 sprig of curry leaves
2 tbsp of finely chopped coriander leaves
2 - 3 tbsp hot oil or big lemon sized butter
Oil to deep fry
Instructions for making avarekalu kodubale:
I have used this type of beans, which is popular by name avarekai in Kannada language. Only the inside beans are used in the cooking.
Peal the avarekai or hyacinth beans and collect 1 cup of beans.
Soak them in the water for 4 - 5 hours or overnight.
After soaking remove the outer skin of the beans or avarekalu to get "hitikida or hisukida" avarekalu.
Transfer it into a pressure cooker and cook until soft by adding required water.
Wait until cool, drain the water and mash it nicely. Drained water can be used for kneading the dough later.
Add in dry coconut powder (optional), asafoetida, cumin seeds and red chili powder. Give a quick mix.
Also add in finely chopped curry leaves and coriander leaves (optional). Give a quick mix.
Then add in rice flour and maida.
Now add in 2 - 3 tbsp of very hot oil. Carefully mix it using a spatula. Adding hot oil is important to get crispy kodubales. So do not skip it and make sure that the oil is hot. You can replace the hot oil with butter.

Next rub and mix well using hands. Also add in salt and give a quick mix.
Now add in water little by little and prepare a soft but stiff dough. Do not make it very soft. It should be soft enough to make the rings, thats all. If you make the dough more soft the kodu bale will not be crispy.
Now take a small gooseberry sized dough and roll it using palms. Next bring the edges together, seal it and make the rings.
Heat the oil in a wide frying pan. Drop the kodu bales into the hot oil. But after dropping the kodubales in the oil, reduce the flame and fry under low flame until all the bubbles are stopped.
Again for the next batch increase the heat and after dropping the kodubales reduce the flame. Continue like this and finish frying all the kodubales.
Dear reader, We have a Kannada version of this recipe. Click here to read this recipe in Kannada.

You might like this: