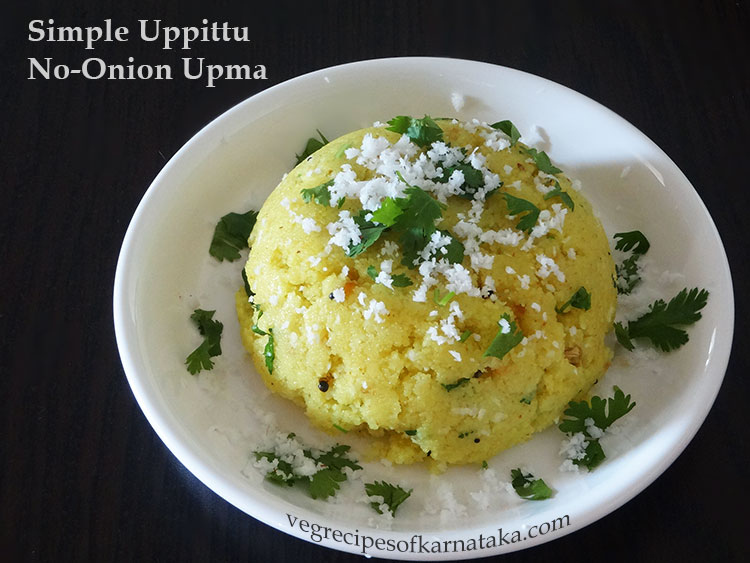 Karnataka style simple rave uppittu or rava upma recipe explained with step by step pictures. This is a no-onion uppittu or upma recipe. This type of rave uppittu is also familiar by name sajjige uppittu. This is a satvik upma or uppittu recipe as we are preparing this without onion.
You can find many different types of uppittu or upma recipes on this website like shavige uppittu or vermicelli upma, rave uppittu or rava upma, akki uppittu or rice upma and godhi kadi uppittu or broken wheat upma recipes.
Even though rava uppittu or rava upuma is extremely popular, there are people who loves this so much and there are some people who hates it as well. Anyway I like it very much. Since its very nutritious, if you like it or not dont forget to include in your diet. And in case if you do not like upma, then you can find many other rava recipes like rava dosa, rava stuffed paratha, rava kesari bath, rave unde or rava laddu, rave idli or rava idli and rava roti.
Generally this type of upma or uppittu is one of the breakfast item in Brahmins family especially during special events. Because on those special events or occasions onion is not banned. But no matter, this is a very simple yet tastes so good. This uppittu or upma is paired with masale avalakki or Mangalore style huli-avalakki or this gojjavalakki.
Upma or uppittu recipe varies from region to region through out South India. The differences are in the colour and the quantity of water used. Follow this recipe to prepare tasty, satvik, no-onion upuma or uppittu.
Rave uppittu or upuma recipe (No-onion)
Preparation time: 10 min
Cooking time: 15 min
Serves: 3

Ingredients: (measuring cup used = 240ml)
1 cup medium rava / sooji / semolina
2 cups water
1/2 tsp mustard seeds
1 tsp urad dal
1 tsp bengal gram dal or chana dal (optional)
1/4 tsp asafoetida or hing
1-2 green chili
5-6 curry leaves
1 tsp finely chopped ginger
1/4 tsp turmeric powder
3 tbsp cooking oil
1 - 2 tsp sugar (optional; recommended)
Salt as per your taste
2 tbsp chopped coriander leaves
1/4 cup fresh grated coconut
Instruction for making rave uppittu:
Take water, salt and sugar in a vessel and bring it to boil. Boil it under low flame and it takes few minutes to boil and in this time gap start preparing the upma or uppittu. Because we need the boiling water after 7 - 8 minutes.
Now in another stove prepare tempering using oil, mustard seeds, urad dal and chana dal in a large frying pan.
When the mustard seed splutters add in slit green chilies, curry leaves and chopped ginger. Saute for a while.
Add in turmeric powder and asafoetida.
Add in 2 cups of rava and start frying under medium flame.
Fry until you get nice aroma or the rava turns whitish.
By now water will be boiling and pour the boiling water to the pan little by little.

Mix well until thick. this will take hardly 2 minutes.
Add in grated coconut and chopped coriander leaves. Mix well and serve it hot with, masale avalakki or curd or pickle.
Dear reader, We have a Kannada version of this recipe. Click here to read this recipe in Kannada.
You might like this: