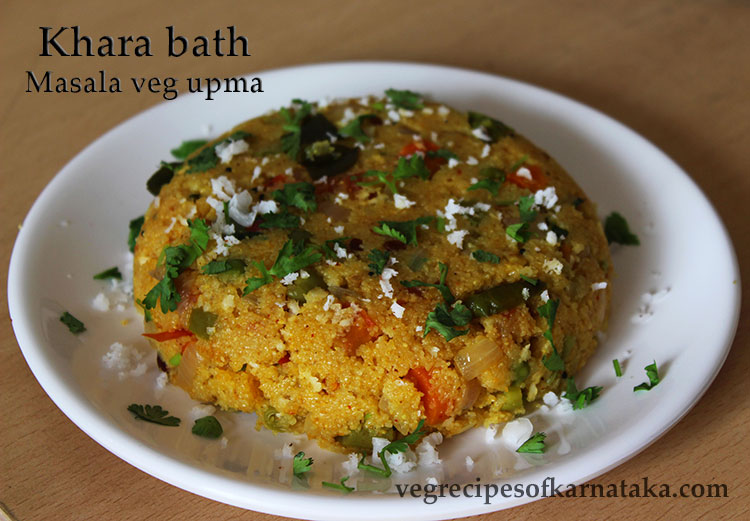 Khara bath or masala bath recipe explained with step by step pictures. Khara bath or rava bath is a very tasty and healthy breakfast item. This khara bath is prepared using rava, onion, tomato, mixed vegetables and vangibath powder. This MTR style Khara bath is a very popular breakfast recipe from Bengaluru-Mysuru region of Karnataka.
I have used bansi rave in this khara bath, which is little thicker than upma rava. Since it is thick, I did not roast it. This is a masala mixed vegetable uppittu or upma recipe and I have used carrot, beans, green peas and capsicum. You can use any vegetable of your choice.
You can find more rava or semolina recipes on this website like avarekalu uppittu, rava onion uttappa, Instant rava idli, rava dosa, uppittu (rava upma), rava kesari bath, rave unde or rava laddu, rave parota or rava paratha and rava roti.
Khara bath is familiar by different names like khara bath, masala bath, rava bath, rava vangibath, rava masala bath, masale uppittu, masala vegetable upma etc., As I said earlier, khara bath is very popular across Bengaluru-Mysure region of Karnataka. MTR hotel kharabath is very popular. And it tastes exactly like this.
If you are looking for other varieties of uppittu or upma recipes, then do check our rave uppittu or rava upma, no-onion uppittu or upma, shavige uppittu (vermicelli upuma) and navane (foxtail millet) upma recipes.
If you are looking for more Karnataka style breakfast recipes then do visit our breakfast section.
Khara bath recipe
Preparation time: 10 min
Cooking time: 30 min
Serves: 3

Ingredients: (measuring cup used = 240ml)
1 cup bansi rava
2.5 cups water (little more or less depending on the thickness of rava)
1/2 tsp mustard seeds
1 tsp urad dal
1 tsp bengal gram dal or chana dal
1 big onion
1/2 capsicum
1 medium sized tomato
1 medium sized carrot
5 - 6 beans
1/4 cup fresh or frozen green peas
1-2 green chili
4-5 curry leaves
1 tsp finely chopped ginger
1/4 tsp turmeric powder
2 - 3 tsp vangibath powder
3 - 4 tbsp cooking oil
1 tsp salt (or as per your taste)
2 tsp chopped coriander leaves
1/2 cup fresh grated coconut
Ingredients for masala powder: (if not having vangibath powder)
2 - 4 red chili
1 tsp coriander seeds
1 tsp urad dal
1 tsp bengal gram dal or chana dal
1/4 tsp poppy seeds
3 - 4 cloves
1/4 finger length cinnamon
1 tbsp dry coconut
Instructions for making khara bath:
To beginwith let's prepare masala powder. Skip this step if you have vangibath powder. Roast red chili, coriander seeds, urad dal, gram dal, poppy seeds, cloves and cinnamon. Powder it along with dry coconut and keep it ready.
Clean and chop the vegetables. Also chop onion, tomato and ginger. Slit green chilies. And also keep all other ingredients handy.
Take chopped carrot, beans and green peas in a pressure cooker. Add in little salt, a pinch of turmeric, required water (1/2 cup) and cook until soft.
Heat oil in a big wide frying pan. Add in mustard seeds. When mustard seed splutters add in urad dal and chana dal (gram dal). Keep the stove on medium flame.
When the dal turns brown add in curry leaves and slit green chilies.
Also add in chopped ginger.
Immediately add in chopped onion.
Also add in chopped capsicum and fry until onion turns soft.
Add in chopped tomato and saute for a while.
Add in salt and turmeric powder. Fry until tomatoes are soft.
Add in cooked vegetables along with the cooked water. Give a quick mix.
Add in vangi bath powder or palyada pudi.

Add in remaining (2 cups) water. The amount of water may vary slightly depending on the thickness of rava.
Wait until the water comes to rolling boil.
Then add in rava. I have used thick rava and I have not roasted it. Give a quick mix. After a minute close the lid and cook under low flame.
Stir occasionally and continue to cook under low flame until the water is almost dry. Add in chopped coriander leaves and 2 tsp of ghee (optional).
Add in grated coconut and give a quick mix. Switch off the stove and serve.
Dear reader, We have a brief Kannada description of this recipe. Click here to read this recipe in Kannada.
You might like this:

Dear Reader,
I am Latha and I am very happy that you have visited our website. Lot of efforts have been put in creating each and every page on this website. So if you like this page, please encourage us by liking, sharing and commenting. Thank you so much and keep visiting!!