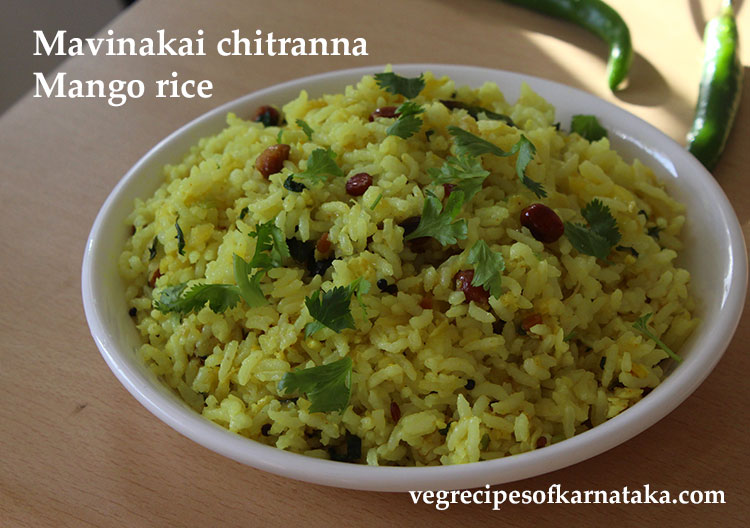 Mavinakai chitranna or mango rice recipe explained with step by step pictures. Mavinakayi chitranna or mavinakai chitranna is very tasty and healthy one pot meal recipe. It is very easy to prepare this mavinakai chitranna or mango rice.
You can find few more chitranna recipes like no-onion chitranna recipe, nellikai chitranna, mavinakayi chitranna and avalakki chitranna recipes.
Mango season has started. So you can check out for many mango recipes on this website like Mango pickle, Mango curry, Mango popsicles, Mango rasam and Mango chutney.
I love mangoes..both raw mango and the ripened ones. My Son also loves mangoes. Today he was asking me to prepare Mango pedas!. I really don't know the recipe. Anyway I am planning to share many more mango recipes in this season.
We have posted many ricebath recipes like bisi bele bath, veg pulav, tomato bath, curd rice, ghee rice, pongal, gorikayi rice bath, vangi bath, methi rice, puliyogare and pudina pulao recipes.
If you are looking for more Karnataka style breakfast recipes then do visit our breakfast section.
Mavinakai chitranna or mango rice recipe
Preparation time: 10 min
Cooking time: 30 min
Serves: 2

Ingredients: (measuring cup used = 240ml)
1/2 cup rice (sona masoori)
1/2 cup grated raw mango (depends on sourness)
1/4 cup grated coconut
1 - 2 green chili
1/2 tsp mustard seeds
1/4 tsp fenugreek seeds or menthe
2 tbsp groundnut or peanut
1 tsp urad dal
1 tsp chana dal or bengal gram dal
1 tsp salt (or as per your taste)
5 - 6 curry leaves
2 tbsp finely chopped coriander leaves
1/4 tsp turmeric powder
A big pinch of asafoetida
4 tbsp oil
Instructions for making mavinakai chitranna or mango rice:
Cook the rice and keep it aside. Rice should be cooked well but not mushy.
Now to begin with let us prepare tempering for the mavinakai chitranna. Take 4 tbsp of oil in a large frying pan and heat it under medium flame. At first add in ground nuts and fry until they start crackling.
When the groundnut crackles, add in mustard seeds, fenugreek seeds (menthe), gram dal and urad dal. Fry until mustard seed splutters.
Add in asafoetida and turmeric powder.
Add in slit green chili and curry leaves. Give a quick stir.
Add in grated mavinakai (raw mango) and fry it for 2 minutes. Mango will get cooked fast.
Add in grated coconut and mix well. Switch off the stove.

Add in salt and finely chopped coriander leaves. Give a quick mix.
Add in cooked rice.
Mix well using a flat spatula, serve and enjoy.
Dear reader, We have a Kannada version of this recipe. Click here to read this recipe in Kannada.

You might like this: