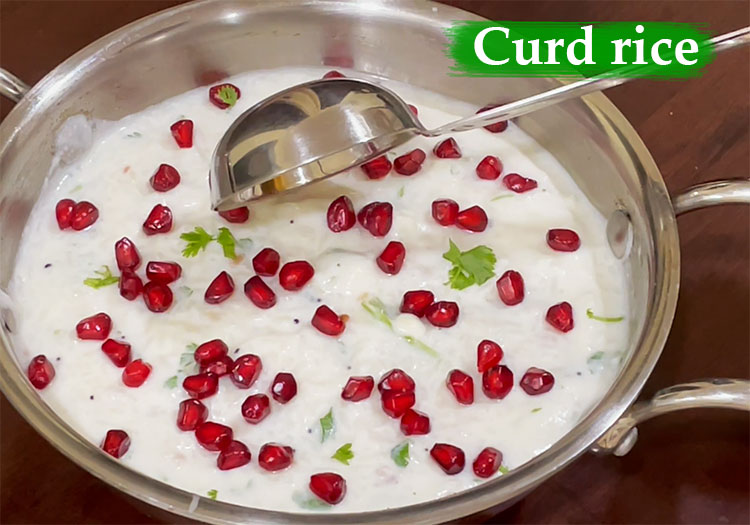 Curd rice or mosaranna recipe explained with step by step pictures. Curd rice or mosaranna or thayir sadam is prepared using cooked rice, curd and few other spices. This is a very simple curd rice or mosaranna recipe without onion and pomegranate.
This curd rice recipe is my own recipe. I have guessed the ingredients by tasting the curd rice, which they serve in Karnataka hotels. I do not know how others prepare curd rice because in our community plain curd is must with lunch as well as dinner. We all will eat curd with plain rice and pickles everyday, so no question of curd rice again.
In Karnataka, using onion and pomegranate are also in practice. My mother said she will use finely chopped onion while preparing tempering. My mother-in-law said she will use pomegranate. But I do not like adding both onion and pomegranate. I feel they will disturb the smooth creamy texture of curd rice. If you are looking for more curd based recipes then you must check my thambli or raita recipes like doddapathre hasi thambli, doddapathre hasi thambli, doddapthre thambli, brahmi thambli, dasavala thambli and ginger thambli.
You can serve this curd rice or mosaranna with any Karnataka style ricebath. We have posted varieties of Karnataka style ricebath recipes like bisi bele bath, veg pulav, tomato bath, lemon rice, ghee rice, pongal, gorikayi rice bath, vangi bath, methi rice, puliyogare and pudina pulao recipes.
If you are looking for more Karnataka style breakfast recipes then do visit our breakfast section.
Curd rice or mosaranna recipe
Preparation time: 30 min
Cooking time: 10 min
Serves: 3

Ingredients: (measuring cup used = 240ml)
1/2 cup rice (I used sona masuri)
2 cup thick curd
1/2 cup milk (only if curd is sour)
1/2 tsp mustard seeds
1 tsp urad dal
1 tsp bengal gram dal or chana dal
5 - 6 cashews
4 - 5 curry leaves
1cm length ginger finely chopped
A big pinch of asafoetida or hing
1 green chili slit lengthwise
1 tbsp finely chopped coriander leaves
2 tsp cooking oil
Salt as per your taste
Instructions for making curd rice or mosaranna:
Cook the rice and keep it aside. Please note the rice should be over cooked for curd rice. Add little extra water and cook for little more time to overcook the rice.
Now heat a frying pan and prepare tempering using oil, mustard seeds, urad dal, gram dal (chana dal) and broken cashews.
When the mustard seeds splutters, add in finely chopped ginger, curry leaves, slit green chili and asfoetida. Give a quick mix and switch off the stove. Please note if you want to add chopped onions, add it now and fry until soft.
Immediately add in over cooked rice and mix well.

If the rice is not over cooked then mash it using a masher. But please note the curd rice will taste better with over cooked rice. Wait until the rice is warm.
Once the rice is warm add in curd, milk and salt. If the curd is not sour you need not add the milk. My curd was not sour, so I didn't add the milk.
Mix well and garnish it with finely chopped coriander leaves. If you want add pomegranate add it now. Serve it with any rice bath and enjoy.
Dear reader, We have a brief Kannada description of this recipe. Click here to read this recipe in Kannada.
You might like this: