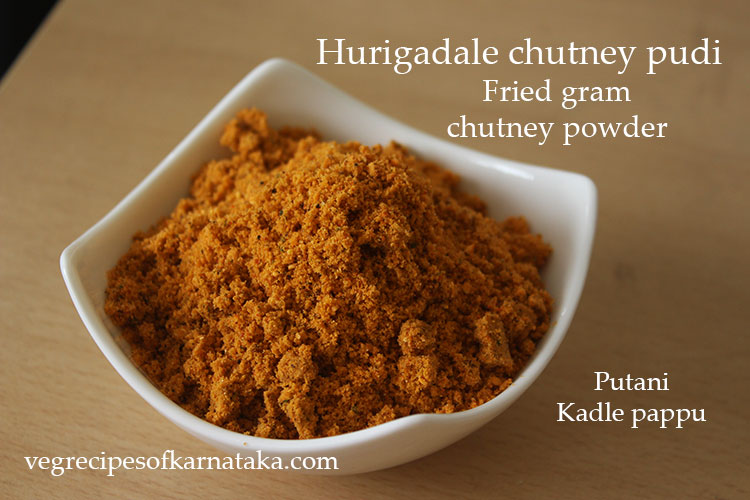 Hurigadale chutney powder recipe explained with step by step pictures and a video. This is a very easy and quick chutney powder or chutney pudi recipe. Hurigadale is familiar by different names like fried gram, roasted gram, roasted chana, putani, kadle pappu etc., Hurigadale chutney powder is prepared using red chili, roasted gram, dry coconut, curry leaves, coriander, tamarind, salt and asafoetida. All the ingredients are roasted, ground into a fine powder to prepare tasty chutney powder.
If you are looking for more chutney powder recipes then do check my plain chutney powder, pudina chutney powder, shenga hindi (peanut chutney powder - north Karnataka style), karibevu chutney pudi (curry leaves chutney powder), Flax seeds chutney powder and Flax seeds - Garlic chutney powder recipes.
Preparing home made chuteny pudi or powder is very easy and is a life saver too!! Especially this chutney pudi or chutney powder is very tasty and is very easy to prepare. You can prepare this fried gram and coconut chutney powder in just 5 minutes. This is a perfect recipe if you are a busy mother or a bachelor. Not only that, chutney powders will help you when there is a unexpected power cut or load shedding.
If you are looking for more fried gram recipes, then check my fried gram ladoo and hurigadale thambittu recipes.
I prefer home made masala powders and I have already posted udupi rasam powder, bisi bele bath powder, Mysore rasam powder, sambar powder, vangi bath powder and puliyogare powder recipes. Now let us get on to the hurigadale chutney pudi or roasted gram chutney powder recipe.
I have made a video on this recipe with Kannada narration, which I have embedded it below. Kindly have a look.
Hurigadale chutney pudi recipe
Preparation time: 5 minutes
Cooking time: 5 min
Serves: 1 cup

Ingredients: (measuring cup used = 240ml)
1/2 cup roasted gram
1/2 cup dry coconut or desiccated coconut
1/4 tsp asafoetida or 3 - 4 cloves of garlic
One sprig of curry leaves
1/2 tsp coriander seeds
1.5 - 2 tsp red chili powder
1/2 tsp jaggery
1 small marble sized tamarind
Salt as per your taste
1 tsp oil
Instructions for making hurigadale chutney powder:
To beginwith, heat 1 tsp of oil in a frying pan, add in coriander seeds and curry leaves. Roast the curry leaves until crisp under medium flame.
Next add in grated dry coconut. Roast it until crispy under medium flame.
Followed by add in roasted gram. And roast it for 1 - 2 minutes.
Finally add in red chili powder, jaggery, salt and tamarind (I have used vate huli powder). Give a quick mix.
Add in either asafoetida or garlic cloves. Switch off the stove and give a quick mix.

Wait until cool and transfer the fried ingredients in to a mixie jar.
Grind it into a fine powder using mixer grinder. Store it in an air tight container. Serve it with dose or idli or rice.
Dear reader, We have a Kannada version of this recipe. Click here to read this recipe in Kannada.

You might like this: