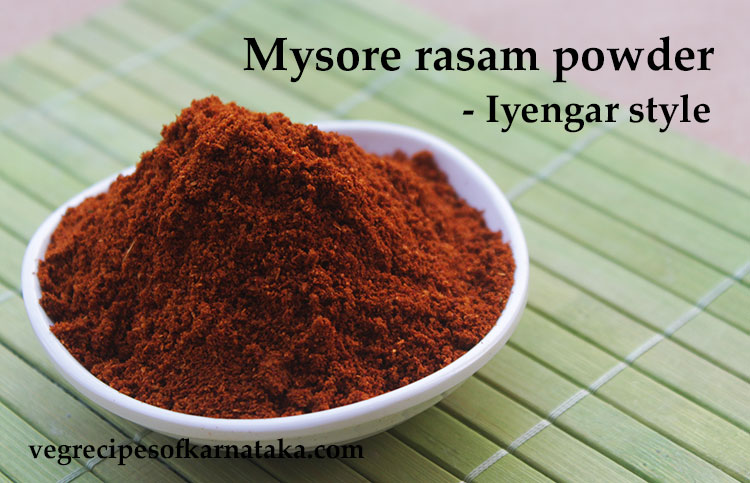 Mysore rasam powder or Iyengar puliyogare powder recipe explained with step by step pictures. Mysore Iyengars will use this rasam powder in puliyogare and rasam preparation. This is an authentic Mysore Iyengar style rasam powder which is used in Iyengar style puliyogare recipe. The spices like red chili, coriander seeds, cumin seeds, fenugreek seeds, asafoetida, pepper and mustard seeds are roasted and powdered to get fresh and aromatic Mysore rasam powder or puliyogare powder. You can use this saaru pudi or rasam powder and prepare tasty mysuru tomato saaru or mysore rasam.
In Karnataka there are 2 types of puliyogare recipes in practice. One is Iyengar and the other one in non-Iyengar. I had mentioned about this in my non-iyengar puliyogare recipe. This recipe is from my chilidhood friend Vanishri, who hails from a Mysore based Iyengar family. They used to run a Iyengar bakery in my native and we were studying together. Now she is settled in Bengaluru and her family is running a very popular bakery named "L J Iyengar bread house" in Hanumantha nagar, Bangalore.
To prepare puliyogare gojju or paste, this rasam powder, oil, salt, jaggery and tamarind juice are boiled for long time. Then it is stored for months. To prepare puliyogare puliyogare gojju and tempering is added to the cooked rice. Finally grated copra and roasted sesame seeds powder is sprinkled. I will be sharing the Iyengar style puliyogare gojju and puliyogare recipe soon.
This rasam powder or saaru pudi is very common in all Karnataka Iyengar houses. Rasam powder is prepared and stored in large quantity. And then it is used for making rasam and puliyogare. The rasam powder recipe, which I got from Vanishri was in large quantity. So I have reduced the quantity while preparing. I have given both large and small quntity in the recipe card. You are free to decide depending on your requirement.
If you are looking for more masala powder recipes then do check my vangibath powder, bisi bele bath powder, sambar powder and udupi rasam powder recipes.
Mysore rasam powder recipe
Preparation time: 2 min
Cooking time: 15 min
Serves: 1 cup

Ingredients for small quantity: (measuring cup used = 240ml)
15 - 20 red chilies (I used medium spiced kashmiri chilis)
8 tsp coriander seeds
2 tsp cumin seeds
1 tsp fenugreek seeds
1 tsp mustard seeds
1 tsp black pepper
1/2 tsp asafoetida
A small piece turmeric root
2 tsp cooking oil
Ingredients for large quantity: (measuring cup used = 240ml)
100gm byadgi red chili (less spicy chilies)
100gm guntur red chili (spicy chilies)
200gm coriander seeds
50gm cumin seeds
50gm fenugreek seeds
50gm mustard seeds
50gm black pepper
10gm asafoetida
One finger length turmeric root
10 tsp cooking oil
Instructions for making Mysore rasam powder or saarina pudi:
Take all ingredients like red chilies, coriander seeds, cumin seeds, fenugreek seeds, mustard seeds, asafoetida, turmeric root and pepper as per the measurement given in the ingredients list. Please note I have followed "ingredients for small quantity" and it is an approximate measure derived using "Ingredients for large quantity".
Take a frying pan, add 2 tsp of oil and heat it. Now to begin with add red chilies. Roast the red chilies under medium flame until crisp and swollen. Once the chilis are fried, take them out and keep it aside.
Now to the same pan add in fenugreek seeds, coriander seeds, cumin seeds, pepper, mustard seeds and turmeric root. Start frying them under low flame. Please note, If you are preparing in large quantity fry all the ingredients separately. Since this is small quanitity I am frying all together.
Fry until you get a nice aroma and until you observe a slight colour change in the spices. At his stage you can also observe the cumin and fenugreek seeds are slightly swollen. Add in asafoetida, mix it well and switch off the stove.

Wait until the fried spices are cool. Transfer it into a dry mixie jar.
Grind until fine powder. Spicy, aromatic mysore style rasam powder or puliyogare powder is ready. Soon I will share the Iyengar style rasam and puliyogare recipes.
Dear reader, We have a Kannada version of this recipe. Click here to read this recipe in Kannada.

You might like this: