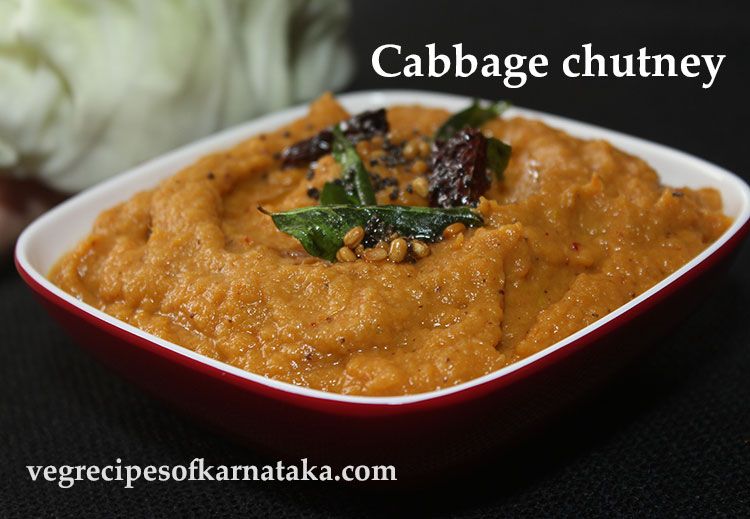 Cabbage chutney recipe explained with step by step pictures and a video. This cabbage chutney can be served with either dose or idli or rice. Cabbage chutney is prepared using red chili, urad dal, onion and tomato. This is a no-coconut chutney and tastes very good.
If you want to prepare a spicy and tasty chutney for dose or idli, that too without coconut, then this is the perfect recipe you are looking for. This cabbage chutney tastes too good and very easy to prepare. I have posted many no-coconut chutneys on this website like tasty onion chutney and tasty onion-tomato chutney recipes. These chutneys can be served along with dose or idli or rice.
Cabbage is a low calorie, fiber-rich, modified-leafy vegetable. It is a good source of vitamin K, vitamin C and vitamin B6. Cabbage can be eaten raw, steamed, boiled, or roasted. I have posted two more tasty cabbage recipes on this website like kosu rice bath or cabbage rice, kosu palya or cabbage stir fry, cabbage vade and cabbage dose or dosa recipes.
I have used one tomato in this onion chutney. But you can replace tomato with tamarind juice, if you like the cabbage chutney that way.. I keep preparing this onion chutney very often. This is a versatile chutney and goes well with dosa, rice and chapathi. Since this chutney is free from cabbage smell, one can not make out that it is a cabbage chutney.
Since coconut is not used in this recipe, you can store it in the fridge and use it for 2 - 3 days.
If you are looking for more chutney recipes then do check my doddapatre chutney, kadle-uddina bele chutney, spicy green chutney, urad dal chutney, watermelon-rind chutney, garlic chutney, coriander leaves chutney, ridgegourd peel chutney, brahmi chutney and radish chutney.
I have made a video on this recipe with Kannada narration, which I have embedded it below. Kindly have a look.
Cabbage chutney recipe
Preparation time: 10 min
Cooking time: 15 min
Serves: 4

Ingredients: (measuring cup used = 240ml)
2 cup chopped cabbage
1 onion
1/2 tsp chopped ginger
1 green chili (optional)
Few curry leaves
1 medium sized tomato or one marble sized tamarind
1 - 2 red chili
2 tbsp urad dal
1/4 tsp mustard seeds
A big pinch of turmeric powder
Salt as per your taste
1 tbsp cooking oil
Ingredients for tempering:
1 tbsp cooking oil
1 red chili
1/2 tsp mustard seeds
1/2 tsp urad dal
4 - 5 curry leaves
Instructions for making cabbage chutney:
Rinse and chop the cabbage. Also chop the onion and tomato.
Heat 2 tsp of oil in a frying pan. Add in red chili, urad dal and mustard seeds. Start roasting them under medium flame.
Roast until dal is slightly brown. Add in chopped ginger, green chili and curry leaves. Saute them for a while.
Followed by add in chopped onion and fry until onion turn translucent.
Next add in chopped tomato. And start frying them under medium flame. Adding tomato is optional.
Add in turmeric powder and fry the tomato until soft.
Next add in chopped cabbage and fry for 2 minutes under high flame.
Add in salt and give a quick mix.
Close the lid and cook the cabbage until soft.

Wait until cool.
transfer it into a mixer grinder and grind it until fine. No need to add extra water while grinding. Also if not using tomato, add little tamarind while grinding.
Transfer it into a bowl. And temper it with oil, mustard seeds, red chili, urad dal and curry leaves.
Dear reader, We have a Kannada version of this recipe. Click here to read this recipe in Kannada.
You might like this: