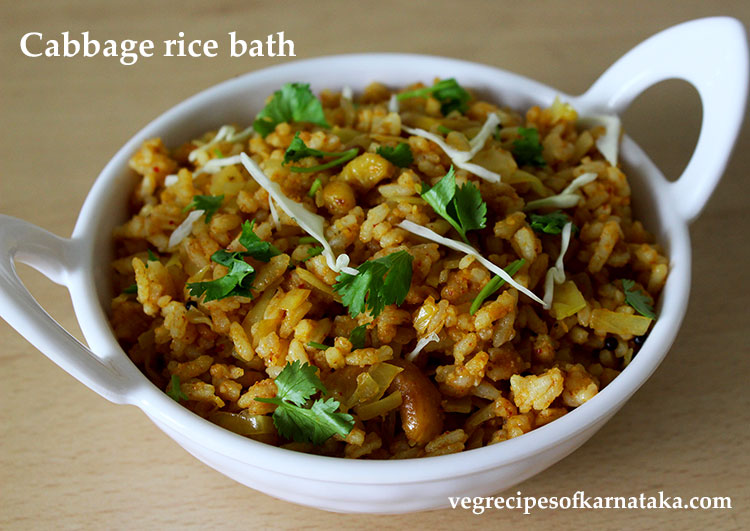 Cabbage rice or kosu ricebath recipe explained with step by step pictures. This Karnataka style cabbage rice or cabbage bath is a very tasty rice recipe prepared using cabbage, tamarind, jaggery, coconut and masala powder. Fresh ground spice powder or masala powder is used in this cabbage rice recipe, which is very similar to vangibath powder or palyada pudi. So if you have vangibath powder at home, then preparing this cabbage rice is very easy.
In Karnataka, especially in Bengaluru-Mysuru region, vangibath powder is familiar by name "palyada pudi" or "bathina pudi". Palyada pudi translates to curry or stir fry powder and bathina pudi translates to rice bath powder in Kannada language.
Cabbage is a low calorie, fiber-rich, modified-leafy vegetable. It is a good source of vitamin K, vitamin C and vitamin B6. Cabbage can be eaten raw, steamed, boiled, or roasted. I have posted two more tasty cabbage recipes on this website like kosu palya or cabbage stir fry, cabbage vade and cabbage dose or dosa recipes.
If you are looking for more Karnataka style ricebath recipes, then do check my easy bisi bele bath, veg pulav, tomato bath, lemon rice, ghee rice, pongal, gorikayi rice bath, vangi bath, puliyogare and pudina pulao recipes.
Or if you are looking for more Karnataka style breakfast recipes then do visit our breakfast section.
Cabbage rice recipe
Preparation time: 10 min
Cooking time: 20 min
Serves: 3

Ingredients: (measuring cup used = 240ml)
1 cup rice (I used sona masuri)
2 cups finely chopped cabbage or elekosu
4 tbsp cooking oil
1/2 tsp mustard seeds
1 tsp urad dal
1 tsp bengal gram dal or chana dal
7 - 8 cashews
4 - 5 curry leaves
1/2 gooseberry sized tamarind
1 gooseberry sized jaggery
1/4 tsp turmeric powder
1/4 tsp asafoetida
Salt as per your taste
Ingredients for masala powder:
2 - 4 red chilies (medium spiced)
2 tsp urad dal
2 tsp bengal gram dal or chana dal
4 tsp coriander seeds
1/2 finger length cinnamon or chakke
5 - 6 cloves or lavanga
1/4 tsp poppy seeds
2 - 4 tbsp dessicated or dry coconut
Instructions for making cabbage rice or cabbage bath:
Cook the rice and keep it aside. Please note the rice should not be over cooked for cabbage ricebath.
Rinse and finely chop the cabbage.
Heat a pan and add in 2 - 4 red chilies, 4 tsp coriander seeds, 2 tsp urad dal ad 2 tsp gram dal (chana dal) for dry roasting.
Roast until dal turns light brown under medium flame. Then add cinnamon, cloves and poppy seeds. Roast it for a while and switch off the stove.
Once they are cool, transfer them into a dry mixie jar and grind until fine powder.
At the end add in dry or dessicated coconut and grind it again. You can use fresh grated coconut if you do not have dry coconut.
Now take 4 tbsp of oil in a big wide frying pan and heat it. Add in mustard seeds, urad dal and chana dal.
When mustard seed splutters add in cashews and curry leaves. If you want to use onion, add the finely chopped onion now.
Add in turmeric powder and asafoetida.
Next add in chopped cabbage and fry for 2 minutes.
Add in jaggery and tamarind juice.

Also add in salt. Close the lid and start cooking under low flame.
Stir in between and cook the cabbage until soft by adding required water.
Once done, add in ground masala powder and mix well. (If you are using vangibath powder, add in vangibath powder and little coconut.)
Mix everything well and switch off the stove.
Add in cooked rice.
Mix well carefully. Take care not to make the rice mushy. Serve hot and enjoy.
Dear reader, We have a brief Kannada description of this recipe. Click here to read this recipe in Kannada.
You might like this: