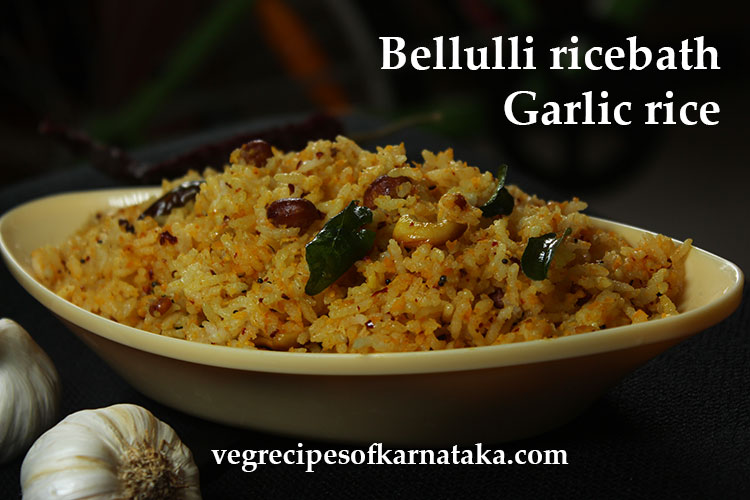 Garlic rice recipe explained with step by step pictures and video. This is a very easy and very tasty one pot meal recipe. Garlic rice is prepared using rice, garlic, coconut and red chili. Garlic rice or bellulli rice is very healthy.
In my family, we prepare garlic rice in a slightly different way. We use green chilies in the garlic rice and the recipe is similar to chitranna recipe.
I adapted this recipe from Mrs. Shobhana (blogger at cooking with shobhana) and Mrs. Indu Jayaram (blogger at Annapoorne).
Garlic is very good for health. It helps to lower cholesterol levels. Garlic is beneficial in regulating blood pressure and blood sugar levels. You can find one more tasty garlic chutney recipe on this website.
Karnataka is very popular for varities of rice or ricebath recipes. I have posted many ricebath recipes on this website like bisi bele bath, veg pulav, tomato bath, curd rice, ghee rice, pongal, gorikayi rice bath, vangi bath, methi rice, puliyogare and pudina pulao recipes.
If you are looking for more Karnataka style breakfast recipes then do visit our breakfast section.
I have made a quick video on this garlic rice recipe with Kannada narration, which I have embedded it below. Kindly have a look.
Garlic rice recipe
Preparation time: 10 min
Cooking time: 30 min
Serves: 2

Ingredients: (measuring cup used = 240ml)
1 cup rice (sona masoori)
1 garlic or bellulli
1/2 cup grated coconut
2 - 4 red chili
1/2 tsp mustard seeds
2 tbsp groundnut or peanut
1 tsp urad dal
1 tsp chana dal or bengal gram dal
1 tbsp cashews
1 tsp salt (or as per your taste)
5 - 6 curry leaves
1/4 tsp turmeric powder
2 tsp lemon juice (optional)
4 tbsp oil
Instructions for making garlic rice:
Cook the rice and keep it aside. Rice should be cooked well but not mushy.
Peel the garlic and chop them. Also finely chop few of them and keep it ready. Chopped garlic is used for grinding and finely chopped garlic will be used while tempering. You can also use entire garlic while grinding.
Next heat 1 tsp of oil in a frying pan. Add in red chilies and fry until done.
Next add in chopped garlic and roast them for a while. But do not burn them.
Next add in grated coconut and roast until light brown.
Wait until cool and grind the roasted ingredients using a mixer grinder. Do not add water while grinding.
Now prepare tempering for the garlic rice. Heat oil in a frying pan. At first add in ground nuts and fry until they start crackling.
When the groundnuts crackles, add in mustard seeds, gram dal, urad dal and cashews. Fry until mustard seed splutters and dal turns brown.
Next add in finely chopped garlic and roast them for a while.

Also add in curry leaves. Give a quick mix.
Immediately add in ground masala and turmeric powder. Give a quick mix.
Add in salt and switch off the stove.
Add in cooked rice.
Mix well using a flat spatula.
Optionally you can add lemon juice. Serve and enjoy.
Dear reader, We have a Kannada version of this recipe. Click here to read this recipe in Kannada.

You might like this: