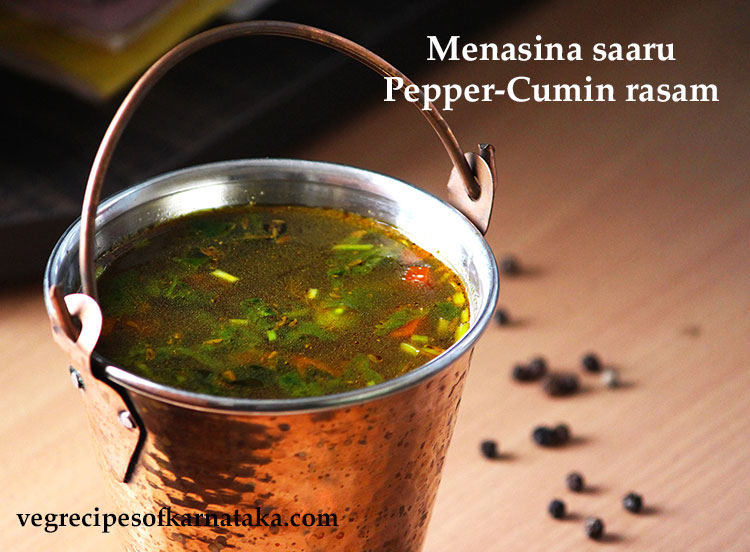 Menasina saaru or pepper rasam recipe explained with step by step pictures and a quick video. Menasina saaru or pepper cumin rasam is prepared using pepper, cumin, tomato, garlic, green chili, tamarind, salt and jaggery. This is a very tasty and easy rasam recipe.
You can find one more menasina saaru or pepper rasam recipe on this website, which makes use of toor dal. In that recipe no crushing or grinding involved. Instead pepper powder and cumin powders are added. It's very easy to prepare but tastes too good. Do have a look on that recipe too.
This hot and spicy menasina saaru or pepper rasam is a perfect choice for the chilling winter days and rainy days. That too especially if you are down with cold or fever, don't forget to sip a cup of menasina saaru or pepper rasam. This saaru or rasam works like a medicine. It gives instant relief from the common cold and rejuvenates your body.
In Karnataka rasam is familiar and popular by name "saaru". And pepper is familiar by name "menasu" or "kaalu menasu" or "kari menasu". So is the name menasina saaru. I have used crushed garlic also in this recipe. So all the three ingredients..that is pepper, cumin and garlic are very good for digestion and cold.
If you are looking for more rasam recipes then do check Mysore saaru or rasam, hunase thokku saaru or tamarind rasam, bili saaru, hesarubele saaru or mung dal rasam, Doddapathre rasam, Udupi rasam, cowpea rasam and fenugreek seed rasam, upsaaru, Mango rasam, avarekalu saaru and sabsige soppu (dill leaves) rasam recipes. I have made a quick video on this, which I have embedded it below.
Menasina saaru or pepper rasam recipe
Preparation time: 5 min
Cooking time: 20 min
Serves: 1 litre

Ingredients: (measuring cup used = 240ml)
1/2 tsp mustard seeds
1/2 tsp cumin seeds
5 - 6 cloves of garlic, crushed
1 - 2 green chili
5 - 6 curry leaves
A big pinch of asafoetida
4 tsp cooking oil or ghee
1 big tomato
A big pinch of turmeric powder
1 gooseberry sized tamarind
1 gooseberry sized jaggery (optional)
2 tsp pepper (for crushing)
1 tsp cumin seeds (for crushing)
Salt as per your taste
1 tbsp finely chopped coriander leaves
Instructions for making menasina saaru or pepper rasam:
Take 2 tsp of pepper and 1 tsp of cumin seeds in a mortar pestle. And crush them into a coarse powder. You can also use spice grinder.
Heat oil in a frying pan. Add in mustard seeds and cumin seeds.
When the mustard seeds starts spluttering, add in crushed garlic, green chili and curry leaves. Sautefor a while.
Followed by add in asafoetida and give a quick mix.
Next add in finely chopped tomato and a big pinch of turmeric powder.
Fry until tomatoes are soft and mushy. Or close the lid and cook until tomatoes are soft.
Add in tamarind extract. Boil for few minutes.
Add in crushed pepper and cumin.

Next add in required water.
Add in required salt.
Add in jaggery.
Bring it to boil. Add in finely chopped coriander leaves and switch off the stove. Serve it with hot steaming rice.
Dear reader, We have a Kannada version of this recipe. Click here to read this recipe in Kannada.
You might like this: