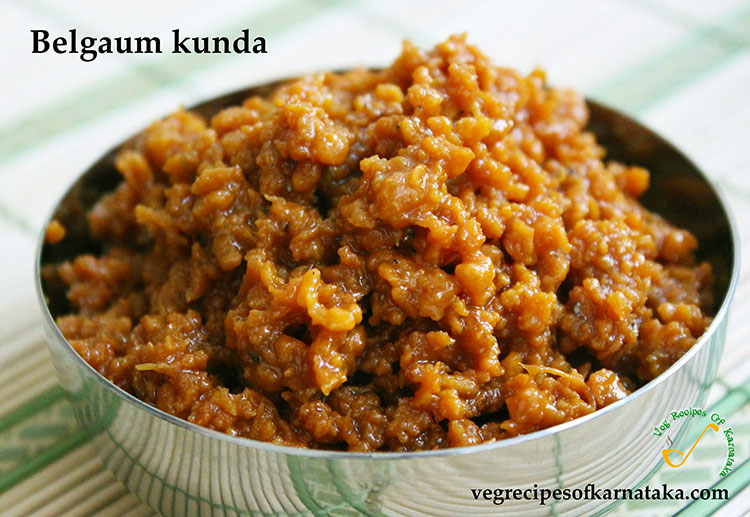 Belgaum kunda or belgavi kunda recipe explained with step by step pictures. Belgaum kunda is prepared using sugar, milk and curd. Belgaum kunda is an extremly popular sweet recipe from belagaum. Belgaum is a town in north Karnataka. Belgaum kunda is very tasty dessert recipe.
I have tasted original kunda from Belgaum many a times. But I didn't know the recipe. So I started discovering the recipe through my north Karnataka friends. I also did a quick online study. At the end I finalised this recipe, which I felt the taste is very similar to the original Belgaum kunda recipe. You can find north Karnataka recipes here.
When I was searching for the tasty kunda recipe, I came across this interesting story..."The discovery of this sweet was quite incidental. Once, Jakku Marwadi was boiling milk in his kitchen. In a hurry, he forgot to switch the stove off and the milk continued boiling for a long time. Gradually, the milk had taken a solid form by the time Jakku Marwadi came back to switch the stove off. When he tasted the solid form of milk, it tasted sweet. Then, he mixed some khowa into the milk and started boiling it for long hours. This time the taste was even better. A happy Marwadi gave the sweet a name — calling it Kunda"...(source: allaboutbelgaum.com).
Anyway whatever may be the story..we all enjoyed the tasty homemade Kunda. My son loved it so much and I was very happy as a Mother. So sharing this tasty recipe with you guys. Do try and give me the feedback.
If you are looking for more sweet recipes then do check Carrot badam payasa, hesarittina unde, hurigadale unde or fried gram laddu, kesari bath, easy carrot halwa, easy milk peda, badam burfi, coconut burfi, beetroot halwa and many more recipes.
Belgaum kunda recipe
Preparation time: 1 min
Cooking time: 40 min
Serves: 4

Ingredients: (measuring cup used = 240ml)
1 ltr milk
1/2 cup curd
1/2 + 1/4 cup sugar
2 cardamom
Instructions for making belgaum kunda:
To begin with take milk in a thick bottomed pan and keep it for boiling.
When it starts boiling reduce the flame to medium and allow it to boil by stirring occasionally.
Continue boiling until the milk reaches 1/4th of the original quantity. This took around 20 minutes for me.
Now add in 1/2 cup of curd and continue boiling under medium flame.
After few minutes the milk will start curdling.
Immediately add in 1/2 cup of sugar.
Continue boiling under medium flame by stirring occasionally.
Paralelly take remaining 1/4 cup of sugar in another pan and start heating it without adding any water.
In 2 - 3 minutes the sugar will start melting.
At one point sugar melts completely and caramelises.
Now pour this caramelised sugar into the pan which has curdled milk.

Continue stirring and boiling.
When the water content reduces..reduce the flame.
Add in cardamom powder.
Stir until excess water is dried and switch off the stove. Do not make it very dry. It will become thick once it is cool.
Dear reader, We have a Kannada version of this recipe. Click here to read this recipe in Kannada.
You might like this:

Dear Reader,
I am Latha and I am very happy that you have visited our website. Lot of efforts have been put in creating each and every page on this website. So if you like this page, please encourage us by liking, sharing and commenting. Thank you so much and keep visiting!!