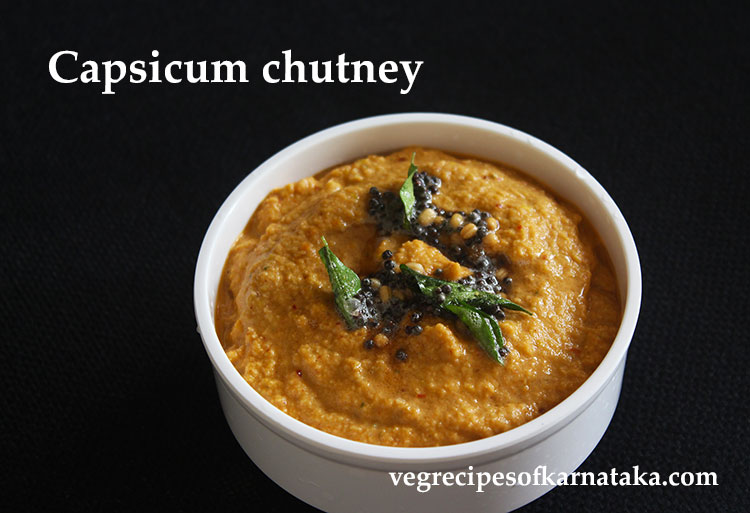 Capsicum chutney recipe explained with step by step pictures and video. This capsicum chutney is very tasty and is easy to prepare. Capsicum chutney is prepared using red chili, gram dal, urad dal, onion, capsicum, coconut and tomato. This chutney tastes good with idli or dose.
If you are looking for a variety chutney to pair it with idli or dosa, then try this easy and tasty capsicum chutney. Capsicum chutney can be prepared in 3 different ways. One is with onion (you can include garlic also), the second one is without onion and garlic and the third one is with sesame seeds. I will post the sesame seeds-capsicum chutney soon. I have posted similar chutney recipes like tasty onion-tomato chutney and a onion chutney recipes on this website.
Capsicum is a very tasty vegetable. You can prepare capsicum bath, capsicum menaskai, capsicum jhunka and capsicum bajji recipes using the same...
I have used one tomato in this onion chutney, which you can replace tomato with tamarind juice.
If you are looking for more chutney recipes then do check my doddapatre chutney, kadle-uddina bele chutney, spicy green chutney, urad dal chutney, watermelon-rind chutney, garlic chutney, coriander leaves chutney, ridgegourd peel chutney, brahmi chutney and radish chutney.
I have made a video on this recipe with Kannada narration, which I have embedded it below. Kindly have a look.
Capsicum chutney recipe
Preparation time: 10 min
Cooking time: 10 min
Serves: 4

Ingredients: (measuring cup used = 240ml)
2 - 4 red chili
2 tbsp gram dal
2 tbsp urad dal
1 medium sized onion
1 medium sized tomato or little tamarind
1 medium sized capsicum
4 - 5 curry leaves
A big pinch of turmeric powder
1/2 cup grated coconut
Salt as per your taste
1 tbsp cooking oil
Ingredients for tempering:
1 tbsp cooking oil
1 red chili
1/2 tsp mustard seeds
1/2 tsp urad dal
4 - 5 curry leaves
A big pinch of asafoetida
Instructions for making capsicum chutney:
Chop onion, capsicum and tomato.
Heat 1 tbsp of oil in a frying pan. Add in red chili, gram dal and urad dal. Start roasting them under medium flame. Roast until dals are slightly brown.
Add in curry leaves.
Add in chopped onion. And fry until onions are soft.
Followed by add in chopped capsicum. Fry until capsicum are soft and cooked.
Next add in chopped tomato. If you wish, you can avoid tomato and replace it with tamarind. Start frying tomato under medium flame.
Add in turmeric powder and fry tomato until soft and mushy.
Switch off the stove. Add in grated coconut and salt.

Wait until cool, transfer it into a mixer grinder and grind until fine.
Transfer it into a bowl. Prepare tempering using oil, mustard seeds, red chili, urad dal and curry leaves.
Dear reader, We have a Kannada version of this recipe. Click here to read this recipe in Kannada.
You might like this: