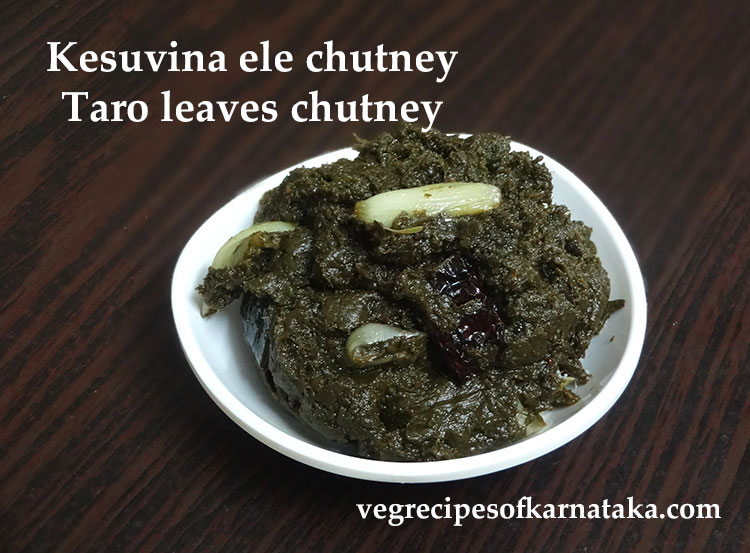 Kesuvina ele chutney recipe explained with step by step pictures. Kesuvina ele chutney or taro leaves chutney is very easy to prepare. This kesuvina ele chutney recipe is very popular across malnad region of Karnataka. Kesuvina ele chutney is a very tasty chutney recipe prepared using taro leaves, garlic, green chili, tamarind and salt.
This is a very healthy and traditional recipe. I learnt this recipe from my Mother. Taro leaves are highly nutritious. They are low in fat and high in protien. Taro leaves can be consumed regularly because they are rich in protein, dietary fiber, ascorbic acid and more other essential minerals including, iron, riboflavin, thiamin, phosphorus, vitamin B6, zinc, vitamin C, potassium, niacin, manganese, and copper. Based on some studies, taro leaves also bring anti-inflammatory and analgesic properties. But raw taro leaves are toxic. So he leaves must be cooked to avoid the toxicity.
For kesuvina ele chutney or taro leaves chutney is prepared using edible variety of leaves. Few varieties of taro leaves are considered as edible. Taro leaves stem and roots are also edible and are very tasty. You can find one tasty recipe, pathrode using these taro leaves or kesuvina ele. Also you can find one more tasty arbi fry or kesuvina gadde fry recipe on this website.
Kesuvina ele chutney is a no-coconut chutney recipe. This can be prepared and stored in refrigerator for few days. You can find 2 more similar recipes on this website like no-coconut corainder leaves chutney and mixed greens chutney (kudi gatti) recipes.
If you are looking for more chutney recipes then do check my doddapatre chutney, kadle-uddina bele chutney, spicy green chutney, urad dal chutney, watermelon-rind chutney, garlic chutney, coriander leaves chutney, ridgegourd peel chutney, brahmi chutney and radish chutney.
Kesuvina ele chutney recipe
Preparation time: 5 min
Cooking time: 15 min
Serves: 4

Ingredients: (measuring cup used = 240ml)
7 - 8 kesuvina ele or taro leaves
4 - 5 garlic, peeled and chopped
2 - 4 green chili
Gooseberry sized tamarind
2 tbsp cooking oil
Salt as per your taste
Ingredients for tempering:
2 tbsp coconut oil or any other cooking oil
1 red chili, broken
1/2 tsp mustard seeds
4 - 5 garlic, crushed
Instructions for making kesuvina ele chutney:
Wash, wipe and take the taro leaves or kesuvina ele. Remove the back stem portion. I have used 7 - 8 medium sized leaves.
Next chop the leaves.
Also chop the garlic and green chilis.
Heat oil in a frying pan. Add in chopped green chilies and garlic. Roast until garlic turns slightly brown.
Add in chopped taro leaves and fry until leaves are wilted.
Add in salt and tamarind juice. Switch off the stove.
Wait until cool, transfer it into a mixie jar and grind until smooth.

Prepare tempering using oil, mustard seeds and broken red chili.
Wait until mustard seeds splutter. Add in crushed garlic and curry leaves.
Next add in ground paste from previous step.
Stir and boil for 5 minutes and switch off the stove. Serve it with hot steaming rice and ghee.
Dear reader, We have a Kannada version of this recipe. Click here to read this recipe in Kannada.
You might like this: