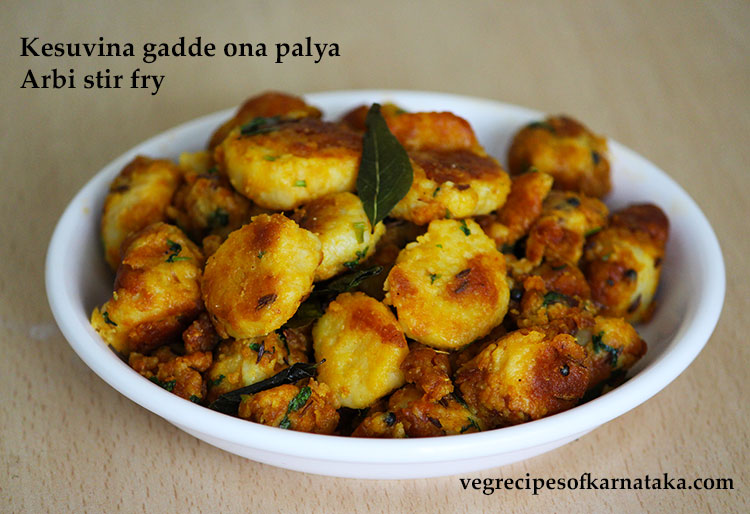 Kesuvina gadde palya or arbi stir fry recipe explained with step by step pictures. Kesuvina gadde palya or stir fry is prepared using colocasia root, spices, rice flour and curd. Kesuvina gadde palya or arbi stir fry is very healthy and tasty.
I generally prepare palya or sambar using kesuvina gadde or arbi. However this is my first post on this website using arbi. Kesuvina gadde or arbi contains a good amount of dietary fiber and carbohydrates. Arbi is also loaded with potassium, phosphorous, magnesium, manganese and copper. Arbi or Taro root also contains calcium, vitamin C, vitamin E and B vitamins. It also has several health benefits.
I get lot of root vegetables like arbi, tapioca, yam, sambrani gadde (chinese potato), sweet potato here. I will try to post more recipes in the future using these root vegetables.
You can find many palya or stir fry recipes on this website like thondekai palya, sorekai palya, bendekayi or ladies finger palya, bittergourd sweet curry, thondekai palya, Mixed vegetable palya, beans palya, badanekayi palya, Hagalakayi palya, Boodu kumbalakai or ash gourd palya and north karnataka special zunka vadi recipes.
Or if you are looking for more Karnataka style curry recipes then do visit our curries section.
Kesuvina gadde palya or arbi stir fry
Preparation time: 5 min
Cooking time: 20 min
Serves: 2

Ingredients: (measuring cup used = 240ml)
1/4 kg arbi or kesuvina gadde
1/2 - 1 tsp red chili powder
1 tsp coriander powder
1/2 tsp cumin powder
1 tbsp rice flour
A big pinch of asafoetida
A big pinch of turmeric powder
2 tbsp curd
Salt as per your taste
1 tbsp finely chopped coriander leaves
Ingredients for tempering:
1/2 tsp mustard seeds
1/2 tsp cumin seeds
4-5 curry leaves
2 tbsp oil
Instructions for making kesuvina gadde palya or arbi stir fry:
Wash and cook the arbi until soft by adding required water.
Once they are cooked, peel and slice them into thick slices.
Next take red chili powder, coriander powder, cumin powder, asafoetida, salt, turmeric powder and rice flour in a wide bowl.
Give a quick mix and add in curd. Mix it well again.
Next add in cooked and sliced arbi into the spice paste.
Give a quick mix and make sure that the slices are coated well with the spice paste.
Next take oil in a frying pan and heat it. Add in 1/2 tsp mustard seeds and 1/2 tsp cumin seeds.
When the mustard seeds splutters and in curry leaves.

Followed by add in marinated arbi slices.
Stir it often and cook until crisp and cooked.
Add in salt and give a quick mix.
Add in coriander leaves and mix well for a minute. Switch off the stove. Serve it as snacks. Or serve it with hot steaming rice or chapathi.
Dear reader, We have a brief Kannada description of this recipe. Click here to read this recipe in Kannada.
You might like this: