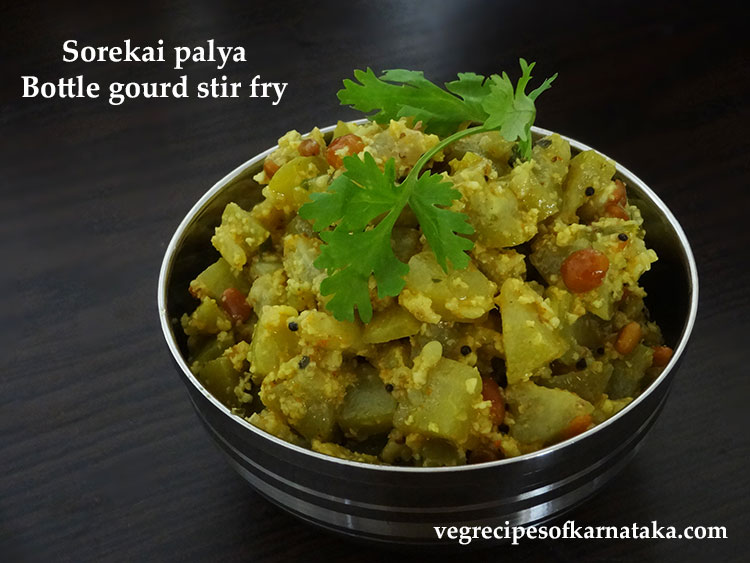 Sorekai palya or bottle gourd stir fry recipe explained with step by step pictures. Sorekai or sorekayi palya is prepared using bottle gourd, coconut, red chili and mustard seeds. Sorekai palya or bottle gourd curry goes very well with rice or chapathi.
Sorekai or bottle gourd is very good for health. It has been regarded as one of the healthiest vegetables. Bottle gourd cools your body, helps in weight loss, cures stomach problems and urinary infections. It keeps the heart healthy and relieves the stress.
I use Sorekai or bottle gourd regularly but this is my first recipe on this website. I prepare sambar, kalasu or jeerige kootu, palya, payasa, bolu huli etc., I will update the recipes soon.
You can find many palya or stir fry recipes on this website like bendekayi or ladies finger palya, bittergourd sweet curry, thondekai palya, Mixed vegetable palya, beans palya, badanekayi palya, Hagalakayi palya, Boodu kumbalakai or ash gourd palya and north karnataka special zunka vadi recipes.
Or if you are looking for more Karnataka style curry recipes then do visit our curries section. I have made a quick video using the photos. I have embedded it below for your easy reference.
Sorekai palya or bottle gourd stir fry
Preparation time: 10 min
Cooking time: 20 min
Serves: 4

Ingredients: (measuring cup used = 240ml)
1 medium sized sorekai or bottle gourd
1 tsp urad dal
1 tsp gram dal or chana dal
4 - 6 tsp cooking oil
1/2 tsp mustard seeds
1 red chili (optional)
A big pinch of turmeric powder
A big pinch of asafoetida
4-5 curry leaves
1 gooseberry sized jaggery (do not skip)
Salt as per your taste
1 tbsp finely chopped coriander leaves
1 - 2 tsp lemon juice (optional)
Ingredients for grinding:
1/2 tsp mustard seeds
1 tsp rasam powder or red chili powder or red chili or green chili
1/2 cup grated coconut
4 - 5 curry leaves (optional)
Instructions for making sorekai palya or bottle gourd stir fry:
Wash, peel and chop the bottle gourd. If the seeds are hard then discard them.
Next take oil in a frying pan and heat it. Add in 1/2 tsp mustard seeds, 1 tsp urad dal and 1 tsp chana dal.
When the mustard seeds splutters and urad dal turns brown, add in asafoetida, turmeric powder, broken red chili and curry leaves.
Next add in chopped bottle gourd. Give a quick mix. Please note, you can pressure cook the bottle gourd before adding to save fuel.
Add in salt and jaggery.
Add 1/4 cup of water and bring it to boil.
When it starts boiling reduce the flame, close the lid and cook until soft.
Stir in between and cook until soft under low flame. If the bottle gourd is tender, it will get cooked fast.

Meantime dry grind grated coconut, rasam powder (or red chilies), curry leaves (optiona) and 1/2 tsp of mustard seeds using a small mixie jar.
Add in ground masala. Give a quick stir.
Add in coriander leaves and mix well for a minute.
Switch off the stove. Add in lemon juice (optional) and serve it with hot steaming rice or chapathi.
Dear reader, We have a brief Kannada description of this recipe. Click here to read this recipe in Kannada.
You might like this: