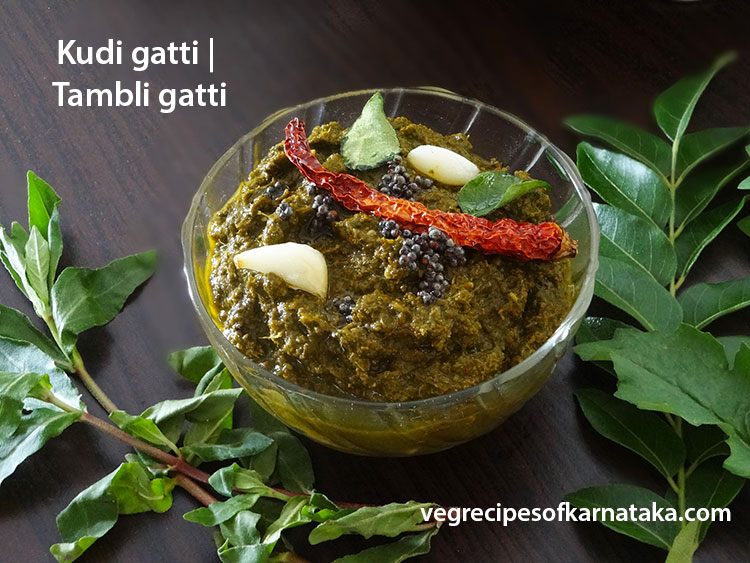 Kudi gatti ot thambli gatti recipe explained with step by step pictures. Kudi gatti or tambli gatti is a traditional and very healthy recipe. This recipe is popular in Mangalore region of Karnataka. Kudi gatti is a very tasty chutney recipe prepared using mixed leaves or herbs, coriander seeds, ajwain seeds, red chili, pepper, salt, tamarind and garlic. This chutney goes very well with hot steaming rice and ghee.
This is a very healthy and traditional recipe. I learnt this recipe from my Mother in law. I remember my grand mother was also preparing this. This is one recipe during postnatal care. My Mother in law says.., this is very good for digestion, all stomach related disorders and common cold.
For kudi gatti or thambli gatti varieties of tender leaves are used. To name some of the leaves drumstick leaves, guava leaves, cashew nut tender leaves (geru soppu), Ivy gourd leaves (thonde soppu), curry leaves, ili kivi, garaga, bilpatre kudi, honnagine soppu, kaki soppu, nekkare, nela nekkare, nela nelli, chakramuni, elluri kudi, vayuvilanga kudi etc., Soon I will post different names and pictures of these leaves. You can also add little palak and methi leaves. Or any other leaves. This chutney can stay good for 2 days. After 2 days you can boil it again and reuse it.
If you are looking for more chutney recipes then do check my doddapatre chutney, kadle-uddina bele chutney, spicy green chutney, urad dal chutney, watermelon-rind chutney, garlic chutney, coriander leaves chutney, ridgegourd peel chutney, brahmi chutney and radish chutney.
Kudi gatti or mixed leaves chutney recipe
Preparation time: 10 min
Cooking time: 5 min
Serves: 4

Ingredients: (measuring cup used = 240ml)
1 big bowl of mixed green leaves (refer above description)
2 tsp coriander seeds
1 tsp ajwain seeds or carom seeds
1/2 - 1 tsp pepper
4 - 5 red chili
Small gooseberry sized tamarind
Salt as per your taste
Ingredients for tempering:
4 tbsp coconut oil or any other cooking oil
1 red chili, broken
1/2 tsp mustard seeds
1 medium sized garlic, peeled and chopped
Instructions for making banana flower chutney:
Collect, clean and take a big bowl of mixed green leaves. I have used around 15 varieties of leaves.
Transfer it to a wide deep pan. add in coriander seeds, carom seeds (ajwain seeds), red chili, pepper, salt and tamarind.
Add in 1/2 cup of water, close the lid and cook until soft.
Wait until cool, transfer it into a mixie jar and grind until smooth.
Prepare tempering using oil, mustard seeds, broken red chili and chopped garlic.

Next add in ground paste from previous step.
Stir and boil it for 2 minutes and switch off the stove. Serve it with hot steaming rice and ghee.
Dear reader, We have a Kannada version of this recipe. Click here to read this recipe in Kannada.
You might like this: