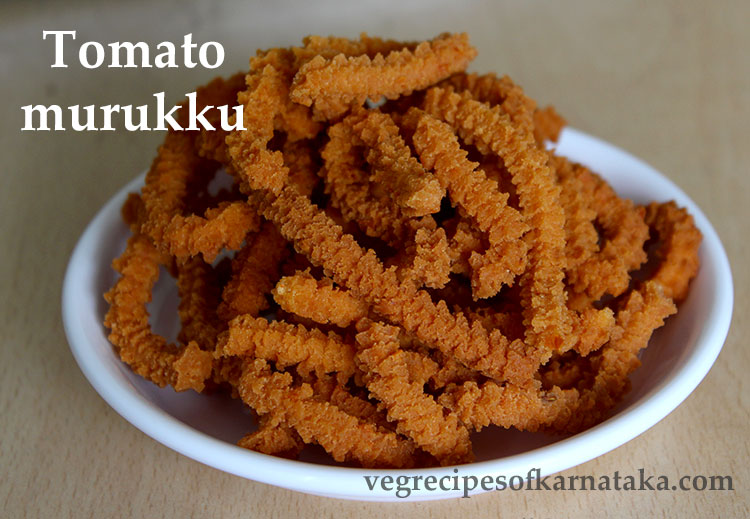 Tomato murukku or tomato chakli recipe explained with step by step pictures and a video. This is a tasty and crispy tomato murukku or tomato chakli recipe. Tomato murukku is prepared using rice flour, roasted gram, gram flour, butter, tomato, asafoetida and cumin seeds. This is an easy and instant tomato murukku recipe.
This tomato murukku or tomato chakli tastes good and is very crispy and light. The best part is, it is very easy to prepare. Just mix in the flours, prepare the dough using tomato paste and deep fry it. These murukkus or chaklis are instant deep fried snacks.
Kids will love this tomato murukku because of the tomato taste. You can find one butter murukku or butter chakli recipe. Also you can find 2 traditional rice+urad dal chaklis on my website like chakli-type1 (roasting urad dal method) and chakli-type2 (cooking urad dal method). Traditional urad dal chaklis are a bit difficult to prepare but tastes better.
If you are looking for more Karnataka style snacks recipes then do check our snacks section. Or if you are looking for more deep fried snacks recipes then do check our kodubale, thin sev recipe, kara kaddi, mangalore bajji, kayi vade, crispy chili bajji, stuffed mirchi bajji and onion pakoda recipes.
I have made a video on this recipe with Kannada narration, which I have embedded it below. Kindly have a look.
Tomato murukku or tomato chakli recipe
Preparation time: 15 min
Cooking time: 15 min
Serves: 10

Ingredients: (measuring cup used = 240ml)
1 cup rice flour
1/4 cup roasted gram or hurigadale or putani
1/4 cup gram flour or besan or kadlehittu
2 medium sized tomatoes
1 tsp red chili powder
A big pinch asafoetida
1 tsp cumin or 1/2 tsp cumin powder
1 tsp salt (or as per your taste)
1 lemon sized butter
Oil to deep fry
Instructions for making tomato murukku or tomato chakli:
To prepare tomato murukku, to begin with take roasted gram or fried gram in a mixie jar. And grind it into a fine powder. Please note, it should be a fine powder. You can sieve it if required. Keep it aside.
Next take tomatoes in the same mixie jar. And grind it into a fine paste.
Next take rice flour in a wide container.
Add in gram flour (kadle hittu) and 2 - 3 tbsp of roasted gram flour (from step 1).
Next add in red chili powder, salt, asafoetida and cumin powder. You can add any spice of your choice.
Also add in one lemon sized butter.
Rub and mix it well.
Add in required tomato paste(from step 2) little by little and start kneading the dough.
Knead well and prepare a stiff dough.
Make cylindrical shape and keep it ready.

Now make use of the chakli mould or murukku mould, which has one single star hole.
Heat the oil in a frying pan. When the oil is hot, press the murukkus directly into the hot oil.
Flip after few minutes and fry under medium flame.
Fry under medium flame until the bubbles are stopped. Finish making all the murukkus and enjoy.
Notes:
Grind the roasted gram into a fine powder. if required sieve it before using.
The dough should be stiff. Just soft enough to press through the moulds. If you make it more soft, murukku may not turn crispy or turn dark while frying.
Adding right amount of butter is important to prepare crispy murukku. But same time if you increase the butter, murukku may suck more oil, while frying.
Oil should be hot. Later after pressing the murukku reduce the flame and deep fry under low medium flame.
Do not over crowd the murukkus in the oil.
Do not disturb the pressed murukkus for a while. When the bubbles reduces then only flip it. If you try to flip it immediately after pressing it may break into pieces.
You can add sesame seeds or carom seeds, if you like it that way.
You can sprinkle little chat masala after deep frying for a different taste.
Dear reader, We have a Kannada version of this recipe. Click here to read this recipe in Kannada.

You might like this: