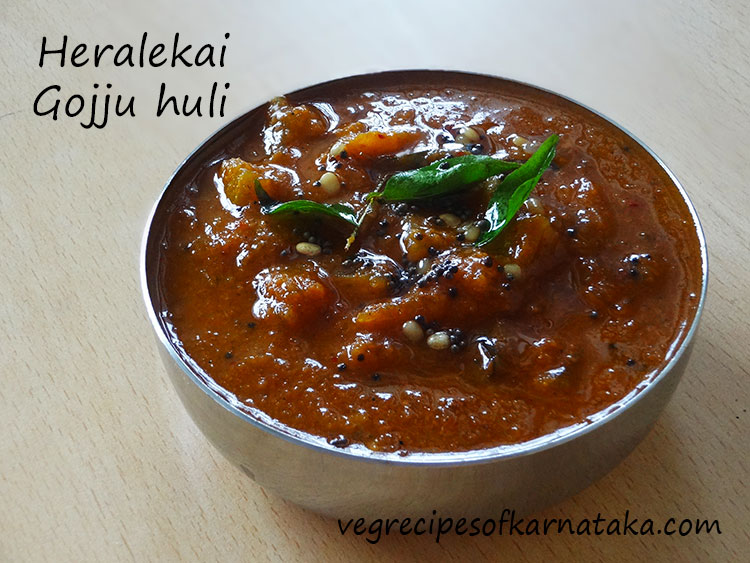 Heralekai gojju huli recipe explained with step by step pictures. Heralekai gojju huli also known as kanchikai gojju huli is prepared using citron lime, red chili, sesame seeds, urad dal, chana dal, coriander seeds, coconut, jaggery and salt. Heralekai gojju huli is a very tasty gravy from Malnad region of Karnataka.
A similar gravy familiar by name menaskai is prepared across Udupi-Mangalore or Karavali region of Karnataka. You can find one capsicum menaskai on this website. But in Malnad region it is popular by name gojju huli. Gojju huli can be prepared using bitter gourd, pineapple and mango also.
I wanted to post few recipes using Heralekai or Kanchikai or Citron lime. So this is my first recipe using Citron lime on this website. Citron lime is familiar by different names like Naarthangai, Kanchikai, Dhongakaya etc., Citron lime or heralekai is very good for health. But it is recommended to eat this in moderation.
If you are looking for more gravy recipes then do check my Harive soppu huli or dantina soppu saaru, Beetroot onion sambar recipe, upsaaru, dill leaves rasam, massoppu, yellow cucumber sambar, tomato rasam, Snakegourd kootu, bittergourd sweet curry, shunti thambuli and okra sambar recipes.
Or simply visit our gravies section to read many sambar, rasam, thambli, kootu and other gravy recipes.
Heralekai gojju huli recipe
Preparation time: 15 min
Cooking time: 20 min
Serves: 6

Ingredients: (measuring cup used = 240ml)
1 medium sized citron lime or heralekai
A pinch of turmeric powder
2 big lemon sized jaggery
2 tsp of cooking oil
Salt as per your taste
Ingredients required for grinding:
1 tsp coriander seeds
5 - 6 red chilies
2 tsp urad dal
1 tsp gram dal or chana dal
3 tsp sesame seeds
1/4 tsp asafoetida
1 cup grated coconut
1 tsp cooking oil
Ingredients required for tempering:
1 red chili
1/2 tsp mustard seeds
4-5 curry leaves
4 tsp cooking oil
Instructions for making heralekai gojju huli:
Squeeze, wipe and remove bitterness of heralekai or citron lime. Or if you are not sure how to do it, simply scrape or peel off the yellow skin.
Cut the heralekai or citron lime into 2 pieces.
And then remove the juice using juicer. This helps to remove the seeds. We will be adding this juice later in the recipe.
Finely chop the heralekai or citron lime.
Next gather all the dry ingredients, which are listed under for grinding.
To begin with take a frying pan and dry roast the ellu or sesame seeds. Roast until they start popping but do not burn them.
Next add in 1/2 tsp of oil and roast remaining ingredients (red chili + coriander seeds+gram dal + urad dal + asafoetida). Once done take them out and keep it aside.
Take all the fried ingredients and grated coconut in a mixie jar. Use required water and grind until smooth paste.
Next in the same pan add in 2 tsp of oil, chopped citron lime (Heralekai). Give a quick stir.

Add in turmeric powder, 2 big pieces of jaggery and salt. Give a quick mix.
Next add in heralekai juice from step 3. Also add in water. Close the lid and cook the chopped heralekai until soft.
Once the heralekai is cooked and soft, add the ground masala.
Add in required water. Gojju huli shall have thick gravy. Adjust salt, sweet and sour level. Bring it to boil and switch off the stove.
Temper it with oil, red chili, mustard seeds and curry leaves. Serve it with rice or chapathi.
Dear reader, We have a Kannada version of this recipe. Click here to read this recipe in Kannada.

You might like this: