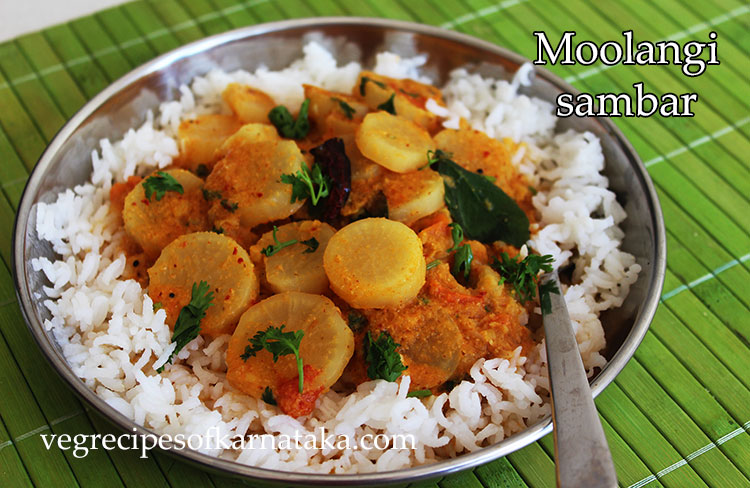 Radish or moolangi sambar recipe using explained with step by step pictures. Radish or moolangi sambar is prepared using fresh roasted spices, onion, tomato and grated coconut. This is a very tasty sambar recipe using radish or moolangi or mullangi or mooli. In Karnataka sambar is called by different names like "Huli" or "Huli-saaru" in malnad region, "Koddel" or "Huli" in mangalore and udupi region, "saaru" or "sambar" in rest of the places.
Radish is very haelthy and I have posted few more tasty recipes using radish like radish or moolangi or mooli recipe, radish raita or moolangi sasive recipe and radish chutney recipe. Do try them as well.
The Karnataka cuisine is so rich that there are so many varities of sambar recipes. Actually the sambar recipe varies from region to region, family to family and the type of vegetables used. I prepare this type of radish sambar regularly and it tastes very good.
Please note, that I have marked jaggery and tamarind as optional ingredients. So depending on your taste adjust jaggery and tamarind. I generally do not add tamarind because of tomato. Or you can even skip tomato and increase the tamarind quantity.
If you are looking for more sambar or rasam recipes then do check my amaranthus or harive soppina huli, upsaaru, dill leaves rasam, bendekayi kayirasa, massoppu, yellow cucumber sambar, tomato rasam, recipes from doddapatre, shunti thambuli and okra sambar recipes.
Radish or moolangi sambar recipe
Preparation time: 5 min
Cooking time: 30 min
Serves: 4

Ingredients: (measuring cup used = 240ml)
2 medium sized radish or moolangi or mullangi or mooli
1 big tomato
1 big onion
4 tbsp toor dal
1/4 tsp turmeric powder
2 tsp crystal salt (or as per your taste)
1/2 tsp jaggery (optional)
Small marble sized tamarind (optional)
Ingredients for masala: (measuring cup used = 240ml)
1/2 cup grated coconut
2 - 4 red chili
1.5 tsp urad dal
2 tsp coriander seeds
1/4 tsp jeera or cumin seeds
7 - 8 fenugreek seeds
A pinch of asafoetida
1 tsp cooking oil
Ingredients for tempering:
1 red chili
5 - 6 curry leaves
1/4 tsp mustard seeds
1 tsp cooking oil
Instruction for making radish or moolangi sambar:
Clean, wash and chop all the vegetables like radish, onion and tomato.
Take toor dal in a pressure cooker and rinse. Add in turmeric powder, few drops of oil, 1/2 cup of water and cook the dal by making 2 whistles. Dal will be half cooked at this stage.
Now to the same cooker add in chopped vegetables, little salt, 1 more cup of water and cook by making 2 more whistles. After this stage dal will be fully cooked along with the vegetables.
Take all the ingredients listed under "for masala" like red chili, urad dal, coriander seeds, cumin seeds, fenugreek seeds and asafoetida as per the measurement.
Heat a frying pan and roast red chilies, urad dal, coriander seeds, cumin seeds, fenugreek seeds and asafoetida under medium flame using a tsp of oil. Fry until dal turns brown but take care not to burn any of them.
Grind roasted spices and grated coconut using a mixer grinder. Use required water and grind until smooth.

Then add this ground masala into the cooker, which has cooked vegetables and dal. Add in required salt, 1/2 tsp jaggery (optional) and tamarind extract.
Add in required water, mix well and bring it to boil.
Temper it with oil, red chili, mustard seeds and curry leaves. Serve tasty radish or moolangi sambar with hot rice.
Dear reader, We have a Kannada version of this recipe. Click here to read this recipe in Kannada.

You might like this: