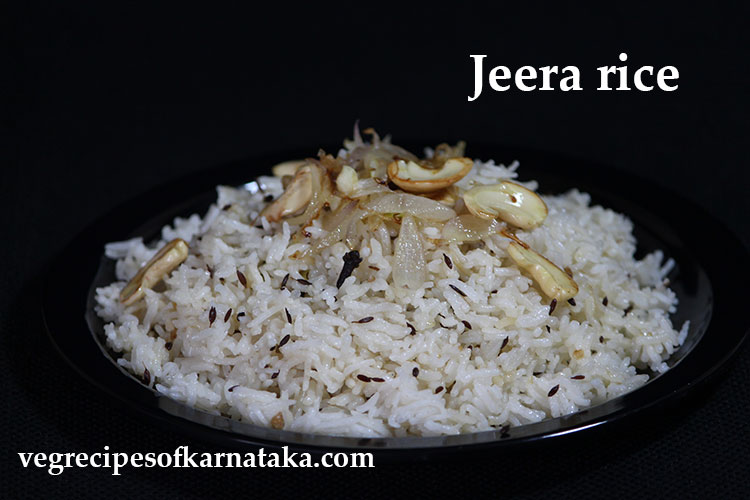 Jeera rice recipe explained with step by step pictures and a video. Jeera rice is prepared using ghee, basmati rice, cumin seeds, ginger, bay leaf, cinnamon, cloves, cardamom and salt. Jeera rice is a tasty and simple rcie recipe. This is a hotel style jeera rice recipe.
Jeera rice is a very simple and tasty rice recipe. My son loves it, I generally pack it for his lunch. He likes east jeera rice and ghee rice with tomato sauce. You can prepare vegetable kurma along with this. However I like to eat jeera rice as is..without any accompaniment.
If you are looking for more Karnataka style rice recipes then click on the links given below. We have posted many ricebath recipes like bisi bele bath, veg pulav, tomato bath, curd rice, ghee rice, pongal, gorikayi rice bath, vangi bath, methi rice, no-onion chitranna, nellikai chitranna, mavinakai or mango chitranna, puliyogare and pudina pulao recipes.
If you are looking for more Karnataka style breakfast recipes then do visit our breakfast section.
I have made a video on this jeera rice recipe with Kannada narration, which I have embedded it below. Kindly have a look.
Jeera rice recipe
Preparation time: 10 min
Cooking time: 30 min
Serves: 2

Ingredients: (measuring cup used = 240ml)
1 cup basmati rice
2 tbsp ghee
2 tsp cumin seeds or jeera
1 small bay leaf
1 cardamom
1/2 finger length cinnamon
5 - 6 cloves
1 - 2 green chili chopped
1/2 tsp finely chopped ginger (optional)
2 cups water (depends on rice quality)
Salt as per your taste
Ingredients for garnishing:
5 cashews
1/4 onion slit lengthwise
Instructions for making jeera rice:
Rinse the rice, soak it in the water and keep it aside. Soaking for about 20 - 30 minutes is enough.
Take ghee in a pressure cooker and heat it. Add in cumin seeds.
Follwed by add in bay leaf, cardamom, cinnamon and cloves.
Also add in chopped green chili and ginger. Please note adding ginger is optional.. Fry them for few seconds.
Add in drained rice and fry for 2 minutes.
Add in water and salt.
Give a quick stir and bring it to boil.

Close the lid make 2 whistles under medium flame.
As soon as the pressure subsidies, take a fork and fluff the jeera rice.
Just before serving, You can top it with roasted onion and cashews. Serve it hot with tomato sauce or pickle or kurma or raita.
Dear reader, We have a Kannada version of this recipe. Click here to read this recipe in Kannada.
You might like this: