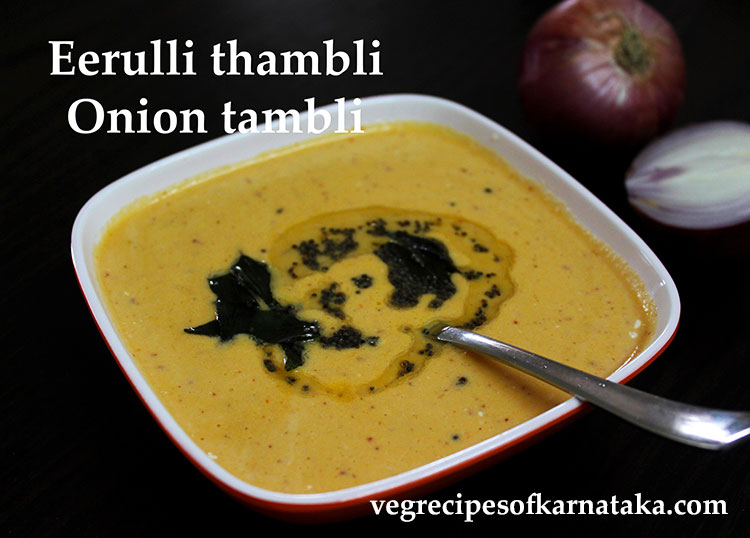 Eerulli thambli or onion tambli recipe explained with step by step pictures and a video. Eerulli thambli or neerulli thambuli is prepared using onion, curd, red chili and coconut. Onion thambli is a very simple recipe and tastes too good with rice.
As I have mentioned in my earlier posts, thambuli or thambli is a curd or yoghurt based gravy recipe, and is served as a first coarse in a multi coarse meal. And thambli or thambuli is "Thampada Huli", which translates to "cold sambar" in Kannada language.
I love onion and you can find 4 more tasty onion recipes on this website like onion dose, onion chutney, onion pakoda and potato onion sambar recipes.
Onions are good for health. They are a very good source of vitamin C and B6, iron, folate, and potassium. The Vitamin C and manganese content in onions provides cold and flu relief with its anti-inflammatory abilities. Onion helps to improve immunity, it prevents cancer, improves digestion and is good for hair growth.
If you are looking for more tambli or thambuli recipes then do check my coriander leaves thambli, spring onion thambli, doddapathre hasi thambuli, Shunti or ginger thambli, doddapthre thambuli, brahmi thambuli, dasavala thambuli and ginger thambuli recipes.
I have made a video on this recipe with Kannada narration, which I have embedded it below. Kindly have a look.
Eerulli thambli recipe
Preparation time: 5 min
Cooking time: 5 min
Serves: 2

Ingredients: (measuring cup used = 240ml)
1/2 medium sized onion
1 red chili
1/2 cup grated coconut
1/2 cup curd or 3/4 cup buttermilk
1 tsp salt or as per your taste.
Ingredients for tempering: (measuring cup used = 240ml)
1/2 red chili
2 tsp cooking oil / ghee
1/2 tsp mustard seeds
few curry leaves
Instructions for making spring onion thambli:
To begin with chop the onion. I have used half of a medium sized onion. Also take coconut and red chili.
Transfer all the above ingredients into a mixie jar.
Add in required water and grind it into a fine paste.
Transfer it into a bowl or container.
Add in salt.
Add in 1/2 cup of water.

Also add in whisked curd or butter milk.
Give a quick mix.
Temper it with oil, mustard seeds and red chili. Serve it with hot steaming rice.
Dear reader, We have a Kannada version of this recipe. Click here to read this recipe in Kannada.

You might like this: