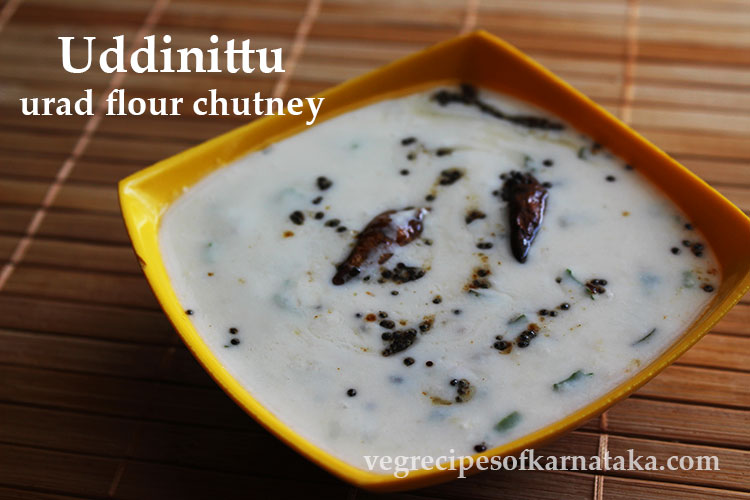 Uddinittu or udnittu recipe explained with step by step pictures and video. Uddinittu or uddina hittu is a curd based chutney and is very tasty. Udnittu is very popular across Udupi-Mangalore region of Karnataka and goes very well with rice. Udnittu bajji or uddinittu gojju is prepared using urad flour, curd, green chili, ginger, curry leaves and coriander leaves.
A very easy recipe or a sidedish for rice, which you can ever think of is...this tasty uddinittu or urad flour gojju. Preparation of udnittu or urad flour chutney hardly takes five minutes...but it tastes too good. This protien rich, traditional recipe is extremely popular across Karavali region of Karnataka.
I have posted many urad dal recipes on this website like medu vada or uddina vade, plain dosa or uddina dose, urad dal chutney or uddina bele chutney, urad dal laddu or uddina hittina unde, uddu-menthe dose, soft idli, masale dose etc.,
I learnt this recipe from my sis-in-law, Savitha Shanthapriya, a renowned writer. This is a perfect recipe, when you are in hurry or when you don't have any veggies in stock or you are too lazy to cook for the day or you just want to add one more dish in your menu. Urad dal is very nutritious and good protein source for vegetarian diet. It has many health benefits. It aids digestion, boosts energy and improves the skin health.
I have used majjige menasu or sandige menasu or buttermilk chili in this recipe. It is a a common ingredient and is used in general while tempering and while serving the uddinittu. However if you don't have it, go ahead and use the red chili instead.
I have posted badanekayi mosaru bajji and alugadde mosaru bajji or potato-yoghurt curry recipes on this website. They follow the same recipe.
If you are looking for more Karnataka style curry recipes then do visit our curries section.
I have made a video on this recipe, which I have embedded it below. Kindly have a look.
Uddinittu or udnittu
Preparation time: 5 min
Cooking time: 2 min
Serves: 2

Ingredients: (measuring cup used = 240ml)
1/4 cup urad dal or 4 tsp heaped urad flour
1 tsp finely chopped green chili
1 tsp finely chopped ginger
1 tsp chopped curry leaves
1 tsp chopped coriander leaves (optional)
1 tsp salt or as per your taste
1 cup curd or buttermilk (not sour)
Ingredients for tempering:
1 tsp oil
1/4 tsp mustard seeds
A big pinch of asafoetida
1 chili (I used majjige menasu or sandige menasu)
Instructions for making uddinittu or udnittu:
Take urad dal in a mixie jar and grind it into a fine powder.
Next take around 4 tsp (heaped) of urad flour in a bowl.
Add in finely chopped ginger, green chili, curry leaves and coriander leaves. Give a quick mix.
Add in whisked curd or buttermilk and mix it well. Make sure no lumps are left out. It shall have thick milkshake consistency. You can also substitute a part of curd (or buttermilk) with water. Also please note, curd or buttermilk should not be sour.
Add in salt and mix it well again.
Temper it with oil, mustard seeds, asafoetida and buttermilk chili. Serve it with hot steaming rice and enjoy.
Dear reader, We have a brief Kannada description of this recipe. Click here to read this recipe in Kannada.
You may also like