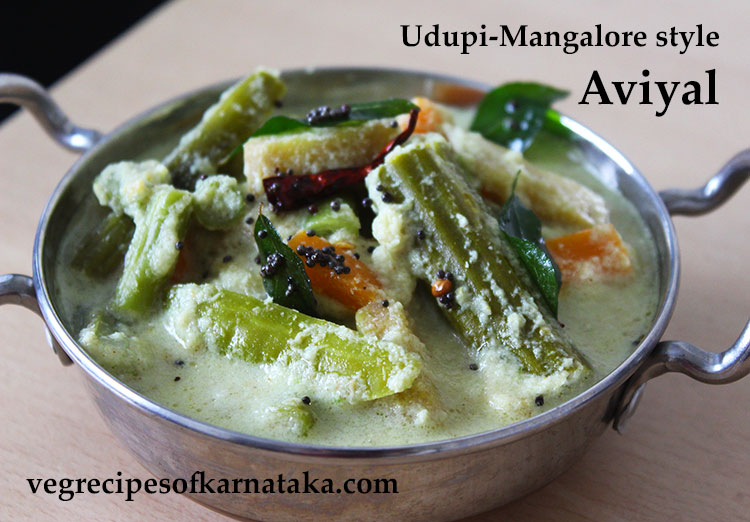 Aviyal recipe or avial recipe explained with step by step pictures and a quick video. Aviyal or avial is a mixed vegetable sambar or kootu recipe. Aviyal is prepared using mixed vegetables, coconut, cumin seeds and green chili. Aviyal or avial is very popular across Udupi Mangalore region of Karnataka.
Aviyal is very tasty, very healthy and a wholesome food. The mixed vegetables used in the gravy makes it different and you will enjoy eating this with either rice or chapathi. I have used curd in this recipe, which you can replace it with either raw mango or tamarind. If you are using raw mango, include it with the vegetables. If you are using tamarind, add it after cooking the vegetables. Also I have added a tsp of coconut oil at the end, which enhances the avial taste. But if you are not used to coconut oil, then just skip it.
My Mother-in-law prepares very tasty aviyal. While speaking we call this gravy as "Avil". Including varieties is always good. You must include varieties of vegetables or varieties of fruits or varieties of grains in your diet. So the varieties of vegetables used in this recipe makes it more healthy. A dry version of this recipe is very popular in the neighbouring state, Kerala. Even that tastes too good and both are my favourites.
If you are looking for more gravy recipes then do check my padavalakayi jeerige kootu, harive soppu huli or dantina soppu saaru, beetroot onion sambar recipe, upsaaru, dill leaves rasam, massoppu, yellow cucumber sambar, tomato rasam, recipes from doddapatre, bittergourd sweet curry, shunti thambuli and okra sambar recipes.
I have made a quick video on this aviyal recipe, which I have embedded it below. Kindly have a look.
Aviyal recipe or avial recipe
Preparation time: 15 min
Cooking time: 20 min
Serves: 4

Ingredients: (measuring cup used = 240ml)
1/2kg Mixed vegetables (choose from yam, carrot, raw banana, drumstick, sambar cucumber, ashgourd, beans, long beans, ivy gourd, snake gourd, potato)
A pinch of turmeric powder
1 tsp oil
Salt as per your taste
Ingredients for grinding: (measuring cup used = 240ml)
1 tsp cumin seeds
1 cup grated coconut
2 green chili (adjust as per your spice level)
Ingredients for tempering:
1 red chili
5 - 6 curry leaves
1/2 tsp mustard seeds
2 tsp cooking oil
Instructions for making aviyal or avial:
Peel and chop the yam (suvarna gadde) and raw banana. And then soak them in the water.
Also chop other vegetables (I have used carrot, beans, snakegourd, ivygourd, drumstick).
Let us prepare the masala as well. For that transfer the coconut, green chili and cumin seeds into a mixie jar.
Grind until smooth by adding required water. Keep it aside.
Heat a pressure cooker or a container. Add in a tsp of oil. And start adding vegetables. I have added yam (suvarnagadde) here. Adding oil avoids, the vegetables turning mushy.
Followed by add in all other vegetables (I have added carrot, beans, snakegourd, ivygourd, drumstick and raw banana).
Add in turmeric powder and salt.
Give a quick mix and add in a cup of water. Allow it to cook under medium flame by stirring occasionaly.
Wait until the vegetables are cooked. But make sure they are not mushy.
Once the vegetables are cooked add in ground masala.

Add in water if required. Please note this recipe shall have thick gravy. Allow it to boil for 5 minutes under medium flame.
Adjust salt level and switch off the stove.
After switching off the stove, add in a tsp of coconut oil and 1/4 cup of curd. Adding coconut oil is optional. You can avoid adding the curd by including raw mango along with the vegetables.
Temper it with oil, mustard seeds, red chili and curry leaves. Serve it with hot rice and enjoy!!
Dear reader, We have a Kannada version of this recipe. Click here to read this recipe in Kannada.

You might like this: