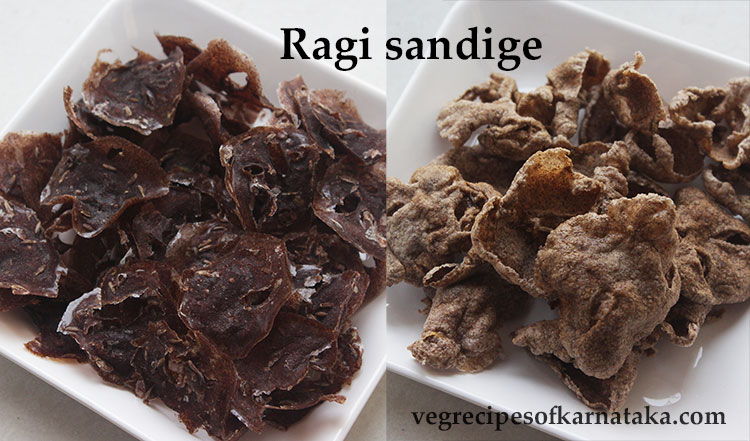 Ragi sandige or finger millet fryum recipe explained with step by step pictures. Ragi sandige is nothig but sun dried fryum recipe prepared using ragi flour. Ragi sandige is very easy to prepare and is very tasty also.
All these sun dried items are familiar by name either sandige or happala (papad) in Kannada language. Generally during summer, varieties of sandige and happala (papad) are prepared, stored and consumed throughout the year. Especially in Malnad and Karavali region...as it rains heavily there. Munching on some spicy fryums or papads along with the lunch during those cool-cool rainy or winter days is a bliss!
Both my Mother and Mother-in-law prepares a lot of fryums and papads every year. I don't prepare them much as I get parcel from both the houses. I don't have good access to sunlight as I live in the apartment. Still I have managed to post 2 papad recipes, one sun dried potato chips recipe, one amla powder recipe and one sandige menasu (sun dried chilies) recipe on this website. Take a minute and have a look on genasina happala or sweet potato papad, halasinakai happala or raw jack fruit papad, sandige menasu, nellikai pudi or amla powder and sun dried potato chips recipes. I am planning to post many more sun dried recipes in coming days.
Preparing ragi sandige or finger millet fryum is very easy. Mix in the flour with good amount of water, cook on the stove top, add in spices of your choice and sun dry them...that's all! I have used green chili, asafoetida, salt and cumin seeds in this recipe. You can add the spices of your choice.
Ragi has numerous health benefits. You can find many ragi recipes on this website. If you are looking for more tasty and healthy ragi recipes then do check our ragi rotti, ragi mudde or ragi ball, ragi ambli, ragi manni or baby food, ragi halbai or halwa, ragi malt or health drink and ragi dose recipes.
I have filed this recipe in pickles-fryums-powders section. I have filed all masala powders, chutney powders, thokku, pickles and papad recipes in this section. All are very useful recipes. Do have a look..
Ragi sandige recipe
Preparation time: 3 - 4 days
Cooking time: 10 min
Serves: 1 cup

Ingredients: (measuring cup used = 240ml)
1/4 ragi flour or fingermillet flour
1.5 cup water (includes the water used for grinding)
2 - 3 green chili
A big pinch of asafoetida
1/2 tsp cumin seeds
1/2 tsp salt or as per your taste
Instructions for making ragi sandige:
Take ragi flour, salt, asafoetida and green chilies in a mixer grinder. Please note you may add the green chili (crushed), salt and asafoetida in the later stage (step 5) and skip the grinding.
Add in required water and grind it for a while. Please note grinding is optional. I felt grinding everything together is easy rather crushing the chilies. After grinding keep it aside for a minimum duration of 30 minutes.
After 30 minutes, transfer it into a pan, add in remaining water and keep it for boiling. Don't reduce the water (for 1 cup of flour, 6 - 7 cups of water). If you reduce the water, fryums will turn hard.
Bring it to boil and keep stirring it for 5 - 6 minutes or until you get a thin porridge. It will become more thick once it is cool.
Add in cumin seeds. (Add in crushed green chili, asafoetida and salt...if not added in the first step) Give a quick mix and rest it until warm. Once it is warm, optionally you can add a tbsp of curd.
Then take a plastic sheet or greased plate. Pinch and put the fryums or sandiges. Keep them out under sunlight for drying.

After one day of drying, flip and transfer the sandige or fryum into a plate. Keep it out for sun drying again.
Allow it to dry until crisp. It takes around 2 - 3 days, depending on the sunlight.
Once dried, heat the oil and deepfry the ragi sandige. Serve it with lunch or dinner. Please note, while frying oil should be hot and you need to be very quick. Otherwise you will end up in burning them.
Dear reader, We have a Kannada version of this recipe. Click here to read this recipe in Kannada.

You might like this: