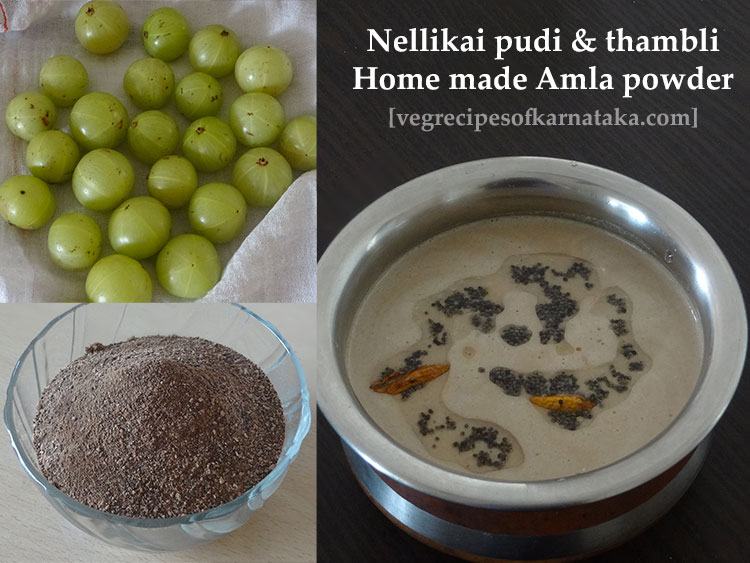 Home made amla powder or nellikai pudi recipe explained with step by step pictures. Learn how to prepare amla powder or gooseberry powder at home and a tasty thambli or raita using the dry powder. Preparing nellikai thambli or amla raita using dry amla powder is very easy and tasty. Amla powder, grated coconut, whisked curd and salt are the main ingredients used in the thambli recipe.
I grew up in a village. And we had a huge Gooseberry tree or "nellikai mara" nearby. So every year my Mother prepares all possible dishes, distribute it to others and store it in all possible forms. Making amla powder or gooseberry powder, storing it and using it through out the year is one way to store and use nellikai. My mother will distribute this powder to me, my sister, my sister in law and many other relatives.
Nellikai or Indian gooseberry is very good for health. It is packed with Vitamin C and it has numerous health benefits. If you are looking for more nellikai or amla recipes then do check my nellikai uppinakayi or gooseberry pickle, nellikai chitranna or amla rice, nellikai thokku or dry chutney and nellikai chutneyrecipes.
I have heard that Gooseberry retains it's goodness irrespective of drying it or cooking it. So you can either use this powder in your cooking or for beauty purposes like hair care. We all prepare tasty thambli using this powder, which is more tasty as compared to the thambli or raita prepared using fresh gooseberries or nellikai.
Recipe is quite simple, but still I wanted to have this very useful and tasty recipe in my collection.
You can find many sasive or raita recipes on this website like moolangi sasive or radish raita, Hibiscus raita and many thambli recipes like coriander leaves thambli, spring onion thambli, doddapathre hasi thambuli, Shunti or ginger thambli, doddapthre thambuli, brahmi thambuli, dasavala thambuli and ginger thambuli recipes.
Nellikai pudi and thambli recipe
Preparation time: 5 days
Cooking time: 10 min
Serves: 4

Ingredients: (measuring cup used = 240ml)
Nellikai or gooseberry or amla as required
1/4 cup grated coconut
1/2 cup curd or yoghurt
water as required
Salt as per your taste.
Ingredients for tempering:
1 red chili
2 tsp cooking oil
1/2 tsp mustard seeds
Instructions for making nellikai pudi and thambli:
Rinse the nellikai or gooseberry well.
Keep them out in the Sun for 2 days.
After 2 days, cut open the gooseberries and deseed them. Gooseberries will turn soft after drying and it will ease the deseeding.
Again keep it out in the sun for drying.
After a day, when they turn light brown, coarse grind them and continue drying under sun.
Within a day or two, it will get dried completely and turn crisp.
Grind it into a fine powder and store it in an airtight container.
Now to prepare thambli or raita, take 1/4 cup of coconut and 1 - 2 tsp of amla powder in a mixie jar.

Grind it into a smooth paste by using required water. And then transfer it into a bowl.
Add in buttermilk or whisked curd. Also add in required water. It shall have milkshake consistency.
Add in salt and give a quick mix.
Temper it with oil, mustard seeds and red chili. Serve it with hot steaming rice.
Dear reader, We have a Kannada version of this recipe. Click here to read this recipe in Kannada.

You might like this: