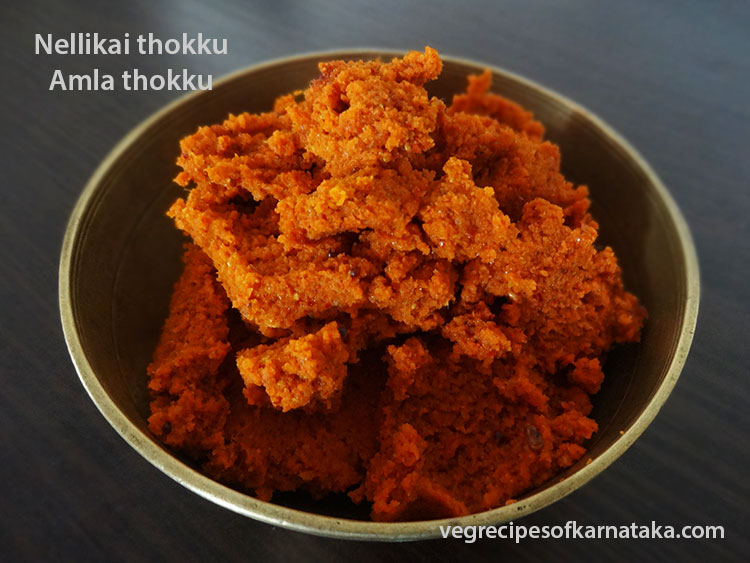 Nellikai thokku or amla thokku recipe explained with step by step pictures and a video. Nellikai thokku is a type of dry chuteny prepared using gooseberry, red chili, mustard and fenugreek seeds. This nellikai thokku or chutney is a very easy recipe and can be stored for few days.
Thokku is a general name used for dry chutneys. Thokku are prepared without water and can be stored for 1 or 2 weeks. Thokkus are used as pickle. You can even enjoy it with pain rice along with ghee or oil.
We have posted 3 more nellikai or amla recipes on this website namely nellikai uppinakayi or pickle, nellikai chutney and nellikai chitranna recipes. Also you can find coriander leaves thokku recipe, which is a most flavored thokku recipe.
Indian Gooseberry has numerous health benefits. It provides remedies for many diseases. Gooseberry is very rich in Vitamin C, and contains many minerals and vitamins like Calcium, Phosphorus, Iron, Carotene and Vitamin B Complex. Gooseberry is also a powerful antioxidant agent. Soon we will be posting a lot of details about Gooseberry in the upcoming post.
You can find more pickle or uppinakayi recipes like tomato pickle, tender mango pickle and lemon and green chili pickle recipes.
I have made a quick video on this nellikai thokku recipe with Kannada narration, which I have embedded it below. Kindly have a look.
Nellikayi thokku or amla tokku
Preparation time: 10 min
Cooking time: 20 min
Serves: 1 cup

Ingredients: (measuring cup used = 240ml)
10 Indian gooseberry / Amla / Nellikai (big sized)
8 - 10 red chilies
2 tsp mustard seeds
2 tsp fenugreek or methi seeds
Salt as per your taste
Ingredients for tempering:
1/2 tsp mustard seeds
1/2 tsp asafoetida
1/4 tsp turmeric powder
4 tsp oil
Instructions for making nellikai thokku or amla thokku:
Wash, pat dry, chop (or grate) and deseed the gooseberries.
In a frying pan dry roast red chilies, 2 tsp mustard seeds and 2 tsp fenugreek seeds under medium flame until mustard seed splutters.
Wait until cool and grind it into a fine powder.
Next to the same jar, add in chopped gooseberries and dry grind it.
Please note the mixie jar should be dry and do not add any water while grinding. Keep it aside.
Next take a frying pan and heat the oil. Add in mustard seeds.

When mustard seed splutters, add in asafoetida and turmeric powder. Immediately switch off the stove and wait until warm.
Once it is warm, add in ground gooseberry and spices. Also add in salt.
Mix it well and store it in a glass jar. Enjoy it with hot rice and ghee (or coconut oil). If you want to store it for more days, then refrigerate it. Also if you are preparing it in large quantity, then tempering can be done just before the use.
Dear reader, We have a Kannada version of this recipe. Click here to read this recipe in Kannada.

You might like this: