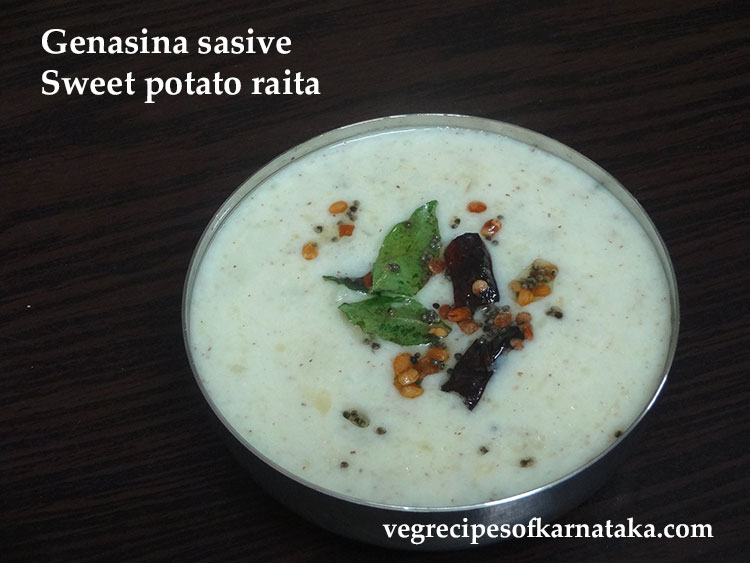 Genasina sasive or sweet potato raita recipe explained with step by step pictures. Genasina sasive or raita is prepared using cooked sweet potato, curd and coconut. Sweet potato raita is a very simple recipe and is very tasty too.
Sasive or sasuve or sasmi is nothing but a curd+coconut based raita recipe. This raita is served as an accompaniment with rice. Generally this will be one of the sidedish in a multicourse meal. This type sasive or sasmi is in practice across Malenadu and Karavali region of Karnataka.
Sweet potatoes are good for health, especially for growing kids. They are rich in fibre, vitamins and minerals. So try to include sweet potatoes in your diet.
If you are looking for more sweet potato recipes then do check my sweet potato papad (genasina happala), sweet potato chutney and sweet potato stir fry (genasina palya) recipes.
Curd or yoghurt based recipes are very common across Karavalai and Malnad region of Karnataka. So the ones with mustard and coconut gravy is familiar by name sasive or sasmi. And the cumin and coconut based gravy is familiar by name thambli.
You can find many sasive or raita recipes on this website like moolangi sasive or radish raita, Hibiscus raita and many thambli recipes like coriander leaves thambli, spring onion thambli, doddapathre hasi thambuli, Shunti or ginger thambli, doddapthre thambuli, brahmi thambuli, dasavala thambuli and ginger thambuli recipes.
Genasina sasive recipe
Preparation time: 15 min
Cooking time: 10 min
Serves: 2

Ingredients: (measuring cup used = 240ml)
1 medium sized sweet potato
1/2 cup curd or yoghurt
water as required
Salt as per your taste.
Ingredients for grinding: (measuring cup used = 240ml)
1/4 tsp mustard seeds
1/4 cup grated coconut
Ingredients for tempering:
1 red chili
2 tsp cooking oil
1/2 tsp mustard seeds
Instructions for making genasina sasive or sweet potato raita:
Rinse and cook the sweet potato.
Next peel and mash the sweet potato.
Take coconut and mustard seeds in a mixer grinder. Use required water and grind until smooth paste. And then transfer it into a bowl, which has mashed sweet potato.
Add in required salt and whisked curd.

Also add in required water. It shall have thick milkshake consistency. Give a quick mix.
Temper it with oil, mustard seeds and red chili. Serve it with hot steaming rice.
Dear reader, We have a Kannada version of this recipe. Click here to read this recipe in Kannada.

You might like this: