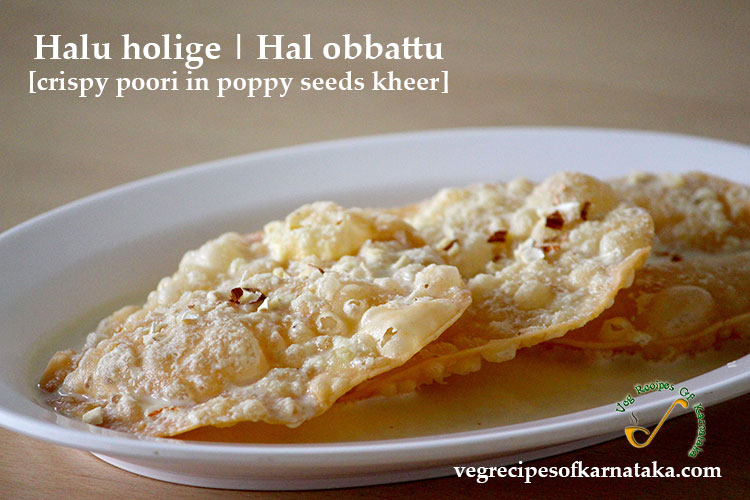 Halu holige or hal obbattu recipe explained with step by step pictures. Halu holige or hal obbattu is prepared using maida, poppy seeds, cashew, almond, coconut, milk and sugar. Halu holige is familiar by names poori payasa and pal poli. Crispy pooris are soaked in poppy seeds kheer to prepare halu holige.
This halu holige or hal obbattu is a traditional sweet recipe from Karnataka. Different varieties of holige or obbattu are prepared during festivals or on special occasions. You can find many holige or obbattu or poli recipes on this website like kayi holige or obbattu, kayi holige or obbattu using wheat flour, shenga holige or obbattu and bele holige or obbattu recipes. You can also find one plain holige or bili holige on this website.
I am posting this halu holige recipe ahead of Hindu festival Yugadi or Ugadi. Coming Sunday is Yugadi festivaland for Yugadi, holige or obbattu is prepared in most of the houses. This halu holige or obbattu tastes too good. So this year for a change prepare this halu holige and enjoy the festival. You can find entire collection of Yugadi recipes here.
This recipe is a combination of shankar poli and gasagase payasa, which I have posted earlier. For making poori, shankar poli ingredients are used and the halu or payasa recipe is very similar to my gasagase payasa post.
If you are looking for similar sweet recipes, then do check my badam poori, suruli poori and saat recipes.
If you are looking for more payasa or kheer recipes then do check my halu payasa or rice kheer, shavige or vermicelli payasa, carrot badam payasa, hesaru bele or mung dal payasa and pineapple payasa recipes.
If you are looking for more Karnataka style sweet recipes then do visit our sweets section. Now let us get on to the tasty gasagase payasa or poppy seeds kheer recipe.
Halu holige or hal obbattu recipe
Preparation time: 10 min
Cooking time: 30 min
Serves: 10

Ingredients for halu or payasa: (measuring cup used = 240ml)
2 tsp gasagase or poppy seeds or khus khus
1/4 cup sugar (adjust as per your taste)
1/4 cup grated coconut
4 - 5 cashews
4 - 5 almonds
A pinch of saffron or kesari (optional)
1 cup milk
1/2 cup water (used while grinding)
One cardamom
Ingredients for poori: (measuring cup used = 240ml)
1/2 cup maida or all purpose flour
1 tbsp ghee or oil
1/2 tsp salt or as per your taste
Oil for deep frying
Instructions for making halu holige or hal obbattu:
To begin with let us prepare halu or payasa for halu holige. So for that soak almonds (badam) and cashews for an hour. Then peel the almonds.
Next take gasagase (poppy seeds) in a frying pan and roast until light brown.
Wait until roasted poppy seeds are cool. Then transfer it into a mixer grinder. Also add in grated coconut, soaked badam and cashews.
Grind until smooth paste by using required water. You can also add cardamom while grinding. I have added the cardamom powder later.
Transfer the ground paste into a container.
Add in sugar.
Add in cardamom powder if not added while grinding.
Add in milk. Give a quick mix and keep it for boiling.
Optionally you can add a pinch of saffron or kesari.

Bring it to boil by stirring occasionally and switch off the stove. Halu or payasa or kheer is ready. Keep it aside.
Instructions for making poori:
Take maida flour in a bowl. Add in salt and ghee (or oil).
Add in salt and hot ghee (or oil).
Rub and mix well. Sprinkle water little by little and prepare a stiff dough.
Make gooseberry sized balls and roll it into a very thin poori. Make it as thin as possible or else it will fluff up while deep frying. We need flat and crispy pooris.
Now heat oil in a frying pan and deep fry the rolled pooris.
Keep flipping the pooris and fry them under low flame.
Once they are fried, crispy and turns light brown it is done. Take them out and wait until cool. You can store these pooris in an airtight container if not serving immediately.
Now to serve take 2 - 3 pooris in a plate and pour 2 - 3 laddle full of halu or payasa over it. Rest it for 5 - 10 minutes and serve it. Enjoy tasty halu holige or hal obbattu.
Dear reader, We have a Kannada version of this recipe. Click here to read this recipe in Kannada.
You might like this: