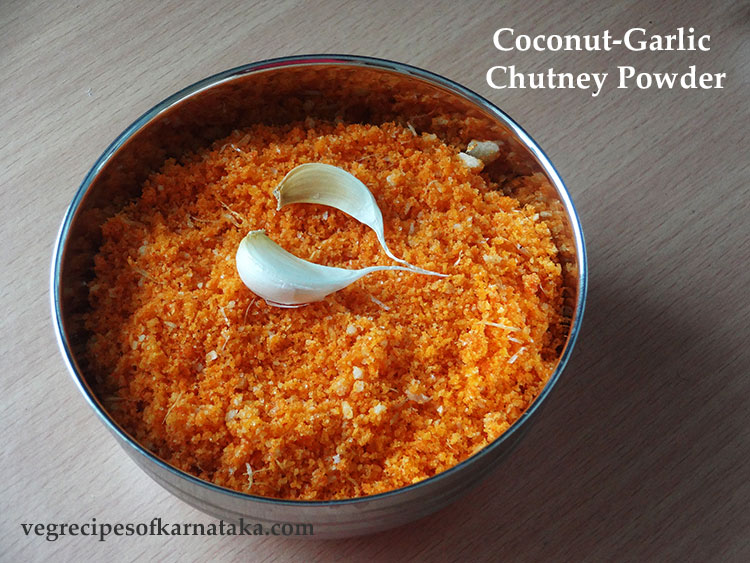 Coconut garlic chutney powder recipe explained with step by step pictures and a video. This is a very easy chutney powder or chutney pudi recipe and is generally served along with dosa. This dry coconut and garlic chutney powder is prepared using dry coconut, red chili powder, garlic and salt. You can find tasty garlic chutney recipe and tasty garlic rice recipe on this website.
This coconut-garlic chutney powder is very simple and easy to prepare. I learnt this recipe from a Hotel. They serve this with plain dose and masale dose. It requires very minimum ingredients. And you can serve this as an accompaniment with dose or idli or rice.
You can find more chutney powder recipes on this website like plain chutney powder, curry leaves chutney powder, agase chutney pudi (flax seeds chutney powder) and Flax seeds - Garlic chutney powder recipes.
It's always better to have one or two chutney powders at home. I find them very useful during hurry-burry days. And during other days, you can use them as an additional sidedish for dose or idli. Chutney powder and ghee tastes good with rice too!
Apart from chutney powders, I prepare many home made masala powders. I have posted udupi rasam powder, bisi bele bath powder, Mysore rasam powder, sambar powder, vangi bath powder, agase or flax seeds chutney powder and puliyogare powder recipes on this website. Do check them as well.
I have made a video on this recipe with Kannada narration, which I have embedded it below. Kindly have a look.
Coconut garlic chutney powder recipe
Preparation time: 10 minutes
Cooking time: 5 min
Serves: 1 cup

Ingredients: (measuring cup used = 240ml)
1 cup dry coconut or desiccated coconut
1 tsp red chili powder (adjust as per your spice level)
4 - 5 cloves of garlic
Salt as per your taste
1/4 tsp sugar (optional; I didn't use)
Instructions for making coconut garlic chutney powder:
Grate the dry coconut and collect one cup of grated dry coconut. Skip this step if you are using dessicated coconut powder.
Heat a frying pan and roast the grated dry coconut. Roast it until slightly brown and crispy under low-medium flame.
Wait until cool. Next grind it into a semi fine powder using mixer grinder. Skip grinding if using dessicated coconut powder.
Next add in garlic cloves and grind it again. Please note, you need not peel the garlic.
Then add in red chili powder and salt. Grind it again. If you are adding sugar, add it now.

Taste it and adjust and salt and spice level. Store it in an airtight container and serve it with dose or idli or rice.
Dear reader, We have a Kannada version of this recipe. Click here to read this recipe in Kannada.

You might like this: