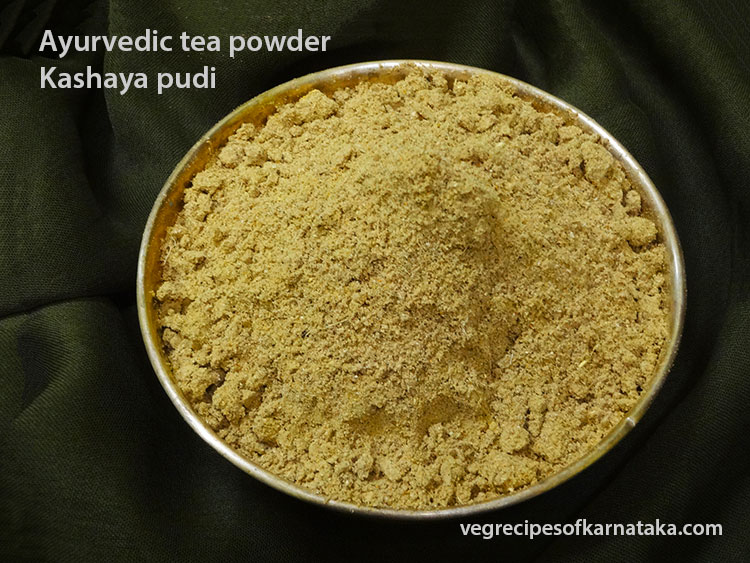 Kashaya powder or kashaya pudi recipe explained with step by step pictures and a video. Learn how to make home made ayurvedic drink powder or herbal drink powder.
I have explained 2 types of kashaya powder recipes here. The first type of kashaya powder is prepared using 13 herbs and spices. This kashaya powder or herbal drink powder is prescribed by an ayurvedic doctor and tastes very good. But you need some special and rare ingredients to prepare this. Whereas the second type is quite simple. It is prepared using less number of ingredietns, which are commonly available in your kitchen.
For the first type, all ingredients are sun dried and ground into fine powder to prepare tasty kashaya powder or kashaya pudi. But if you do not have access to sunlight then roast them under medium flame for few minutes. The second type is prepared by roasting the ingredients. Kashaya powder is very healthy as compared to coffee or tea. Once you prepare kashaya powder, preparing kashaya is very easy. Boil Water along with jaggery, add the kashya powder and brew it for few minutes. Finally add in boiled milk to prepare tasty kashaya or kashayam.
This Kashaya powder ingredietns and quantity are given by a popular ayurvedic doctor. How ever if you can't get one or two ingredients, then leave them and prepare kashaya powder using rest of the ingredinets.
I prefer home made masala powders and I have already posted udupi rasam powder, Bisi bele bath powder, vangi bath powder, Mysore rasam powder, Sambar powder, biriyani masala powder and Puliyogare powder recipes. Do not forget to check them as well.
I have made a video on this recipe(type2 kashaya powder) with Kannada narration, which I have embedded it below. Kindly have a look.
Kashaya powder recipe
Preparation time: 1 day
Cooking time: 0 min
Serves: 1 kg

Ingredients for type 1: (measuring cup used = 240ml)
100gm coriander seeds
100gm cumin seeds
50gm fenugreek seeds
100gm green gram
20 cardamom
50gm fennel seeds
50gm dried ginger
100gm black pepper
100gm sugandhi
100gm ashwagandha
100gm negginamullu or Tribulus_terrestris
100gm jeshtamadhu or yashtimadhu
100gm turmeric root (optional)
Ingredients for type 2: (measuring cup used = 240ml)
1/2 cup coriander seeds
1/4 cup cumin seeds
1 tbsp fenugreek seeds
2 tbsp fennel seeds
2 tbsp black pepper
1 nutmeg or jaikai
2cm length turmeric root
1cm length dried ginger
4 - 5 cardamom
10 cloves
Ingredients for making kashaya: (measuring cup used = 240ml)
1/2 cup water
1/2 cup milk
Small lemon sized jaggery
1/2 tsp kashaya powder
Instructions for making kashaya powder - type1:
Take all the ingredients as per the measurement. Now we need to either sun dry them or roast them for a while under very low flame. You can see in this picture, sugandhi, ashwagandha, jeshtamadhu and dry ginger are kept under sun.
In this picture negginamullu is kept under the sun.
And in this picture all other ingredients are kept under the sun.
Next crush the hard roots or herbs using a mortar and pestle. Or else it will be difficult to powder them.
Next grind all the ingredients using a mixer grinder. Take a fine mesh sieve and sieve it. Grind the remaining particles and sieve it again.
Like this finish making kashaya powder. Give a quick mix. Wait until cool. And then store it in an airtight container. Preparing kashaya is explained at the end along with the type2.
Instructions for making kashaya powder - type2:
Take a pan. Add in coriander seeds, cumin seeds, fenugreek seeds and fennel seeds.
Also add in black pepper, nutmeg, turmeric root, cardamom and cloves.

Now we need roast them for a while under very low flame. Roasting for 5 minutes under low flame should be alright.
Wait until cool and grind them into a fine powder using mixer grinder.
To prepare kashaya, first boil water along with jaggery.
Then add in kashaya powder and contine boiling for 2 more minutes. 1/2 tsp should be enough to prepare 2 cups of Kashaya. Adjust as per your taste.
Switch off the stove. Wait for a minute, and then add hot milk. Avoid adding milk immediately and also avoid adding boiling milk to avoid milk curdling. Serve it hot and enjoy.
Dear reader, We have a Kannada version of this recipe. Click here to read this recipe in Kannada.

You might like this: