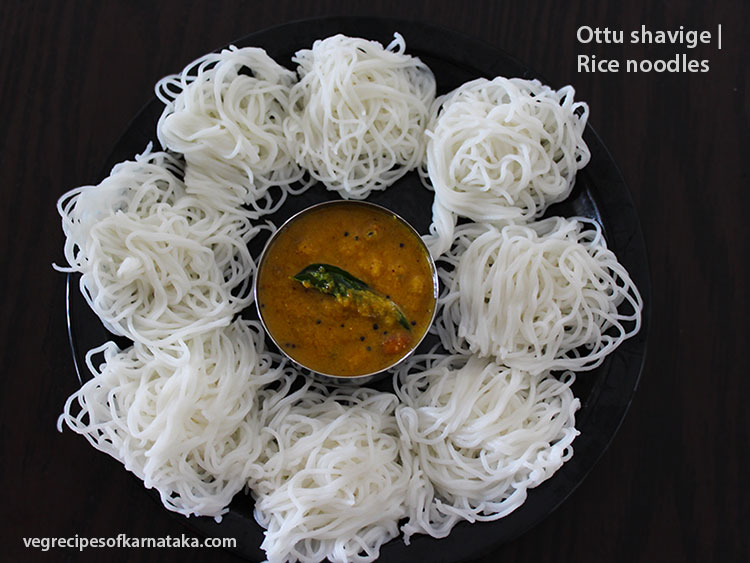 Ottu shavige or akki shavige recipe explained with step by step pictures. Ottu shavige or rice noodles is prepared using rice, salt and water. Ottu shavige or akki shavige is a breakfast recipe and is popular by different names like semettu, shamige, shyavige, idiyappam and nool puttu. Ottu shavige is a very easy steamed rice noodles recipe.
In Karnataka, authentic ottu shavige or akki shavige is prepared by grinding the soaked rice. The rice batter is half cooked, dumplings are steamed and then finally pressed using the noodles mould (shavige mane). The ottu shavige recipe, which I have explained here is prepared using rice flour. Here the noodles ae prepared and then steamed. Actually this is how rice noodles are prepared in Indian state of Kerala and Tamil nadu. There they call it by name Idiyappam or Nool puttu. As I live in Kerala now, I learnt this recipe and I felt it is an easy way to prepare ottu shavige if prepared in small quantity.
These ottu shavige or akki shavige are best served with either chitranna bajji (a sweet chutney) or coconut chutney or tempered like chitranna.
If you do not get good quality rice flour or if you want to prepare in large quantity... I still feel, shavige by grinding soaked rice is the best method and I will share it soon. But that method needs the actual shavige mane or big noodles mould. But in this recipe I have used murukku mould or chakli acchu.
I have posted few steamed recipes like kayi kadubu, kara kadubu, seke undlaka, unde kadubu and eeradye (arishina ele gatti). Do check them as well.
We have posted many Karnataka style breakfast recipes. Do read, try and enjoy the drool worthy food!!
Ottu shavige recipe
Preparation time: 20 min
Cooking time: 12 min
Serves: 2

Ingredients: (measuring cup used = 240ml)
1 cup rice flour
1.5 cup water (litle more or less depending on rice flour quality)
1 tsp ghee or cooking oil
1 tsp salt (or as per your taste)
Instructions for making kayi kadubu:
Boil the water in a wide pan along with 1/2 tsp ghee and salt.
When it starts boiling add in rice flour all at once and switch off the stove.
Mix it well. Cover and set it aside.
Wait until the excess heat is reduced. Grease your fingers with ghee or oil and knead it well. The dough should be soft but stiff. Make long cylindrical shaped dumplings.

Now take the shavige press or noodles mould and press the dumplings on to a greased idli plate.
Steam cook it for 10 - 12 minutes. I have pressed all remaining dough on the last idli plate.
Dear reader, We have a Kannada version of this recipe. Click here to read this recipe in Kannada.

You might like this: