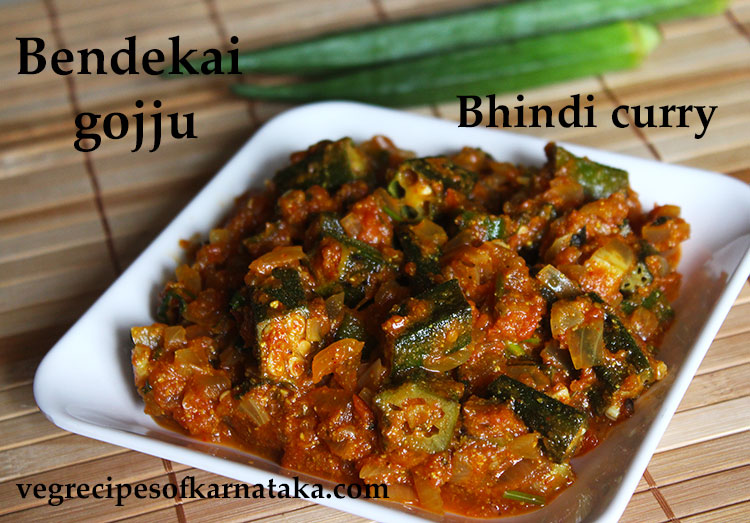 Bendekai gojju recipe or bhindi curry recipe explained with step by step pictures. Bendekai curry or ladies finger curry goes well with chapathi or roti. This is a very simple curry recipe prepared using ladies finger, tomato, onion, ginger, garlic and spices..Bendekai gojju or curry goes very well with rice or chapathi. This is a very tasty curry recipe using Lady's finger.
If you are looking for more Ladies finger recipes, then do check our bendekayi palya(ladies finger stir fry), bendekayi hasi kayirasa, bendekayi kayirasa, bendekayi palya - type 2 and Bendekayi sambar recipes.
My husband loves bendekai or Lady's finger. This is a very common vegetable in our house. One day I wanted to prepare a tasty curry for chapathi using Lady's finger. Then I adopted this recipe from my aloo-gobi recipe with slight modifications. The curry turned out to be super tasty. Now I keep preparing this often. So I thought, I will share this tasty okra curry recipe with you all.
If you are looking for more curry or gojju recipes for chapathi or rotti then do check my Zunka vadi, menthe palle or methi dal, ennegayi or stuffed brinjal, mixed veg curry, gorikayi kara or cluster beans curry, mixed veg sagu, hesaru kalu gojju or green gram curry and hagalakayi or bitter gourd curry recipes.
I have made a video on this recipe with Kannada narration, which I have embedded it below. Kindly have a look.
Bendekai gojju or bhindi curry recipe
Preparation time: 10 min
Cooking time: 30 min
Serves: 4

Ingredients: (measuring cup used = 240ml)
1/4 kg ladies finger or bendekai
1 big onion finely chopped
1/2 tsp jeera or cumin seeds
1 tsp red chili powder
1/4 tsp garam masala
1 tsp coriander or dhaniya powder
1/4 tsp turmeric powder
2 tbsp curd
1 tbsp finely chopped coriander leaves
1 tbsp kasuri methi or dried methi leaves (optional)
2 tbsp cooking oil
Salt as per your taste
Ingredients for grinding:
2 - 4 cloves garlic
1cm length ginger
2 tomato chopped
Instructions for making bendekai gojju or bhindi curry:
Rinse and chop the tomatoes. Next take the chopped tomatoes, ginger and garlic in a mixie jar.
Grind them into a fine paste. Set it aside.
Next heat a frying pan. Add in 2 tbsp of oil and chopped ladies finger.
Roast them until soft and keep it aside.
Next in the same frying pan heat 1 tbsp oil and add in 1/2 tsp cumin seeds.
When the cumin seed splutters add in finely chopped onion.
Fry until onion turn translucent.
Add in ground tomato+giner+garic paste. Fry for 2 minutes.
Add in dry spice powders like red chili powder, coriander powder, turmeric powder and garam masala powder. Also add in salt.

Mix it well and allow it to cook for 5 minutes.
Add in 2 tbsp of curd and continue cooking for 2 more minutes.
Next add in roasted ladies finger. Give a quick mix.
Add in 1/2 cup of water (or as required) and allow it to cook for 5 minutes.
At the end sprinkle coriander leaves, kasuri methi (optional) and switch off the stove. Serve it with roti or chapathi or rice.
Dear reader, We have a Kannada version of this recipe. Click here to read this recipe in Kannada.

You might like this: