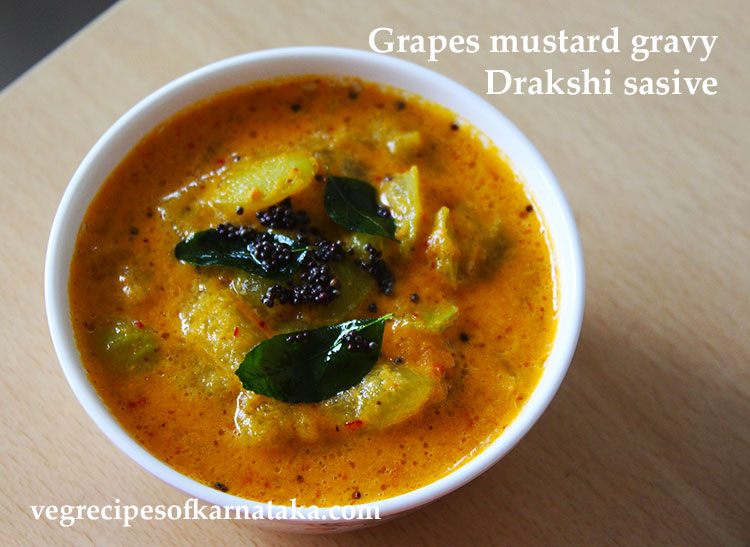 Drakshi hannina sasive or green grapes gravy recipe explained with step by step pictures. Hasi drakshi sasive or sweet and spicy angoor ki sabji is prepared using green grapes, red chili, mustard, jaggery and coconut. Drakshi sasive is a very tasty gravy or curry recipe. Drakshi sasive is familiar by different names like drakshi sasuve, drakshi sasmi, angoor ki sabji, green grapes curry etc.,
This hasi drakshi sasive goes very well with either dose or idli or chapathi or poori or rice. This is a perfect recipe, if you have some not-so-good grapes lying in your pantry or refrigerator. Sometimes it does happen, you buy some grapes and then either it will be sour or it will be tasteless. Samething happened to me..the grapes were not tasting so good. So instead of throwing them, I tried this recipe and believe me it turned out to be a super hit recipe.
I have posted one more sweet and spicy drakshi gojju or raisins curry on this website, which is prepared using raisins or dried grapes.
There are several types of sasive or sasmi recipes in practice across Malnad and Karavali region of Karnataka. Curd based sasive recipes, sasive or sasmi recipes using cooked vegetables and no-curd sasive recipes are some of the types. So in general, the mustard and coconut based gravy is familiar by name sasive or sasmi.
You can find many sasive recipes on this website like mavina hannina sasive or mango curry, genasina sasive, moolangi sasive, hibiscus sasive and beetroot sasive recipes.
Drakshi hannina sasive recipe
Preparation time: 10 min
Cooking time: 15 min
Serves: 4

Ingredients: (measuring cup used = 240ml)
2 cups green grapes
1 lemon sized jaggery (adjust as per your taste)
water as required
Salt as per your taste.
Ingredients for grinding: (measuring cup used = 240ml)
1/2 tsp mustard seeds
2 - 4 red chili
1/2 cup grated coconut
Ingredients for tempering:
1 red chili
2 tsp cooking oil
4 - 5 curry leaves
1/2 tsp mustard seeds
Instructions for making drakshi hannina sasive:
Pick and rinse the green grapes..
Chop the grapes in to 2 - 4 pieces depending on the size of the grapes. Also deseed them if it is not seedless grapes.
Next transfer them into a container. Add in little salt and turmeric powder.
Add in 1/4 cup of water, bring it to boil and cook them for 5 - 6 minutes under low flame.
Now taste it and add in required jaggery. Please note, if the grapes are sweet, you can skip adding the jaggery and instead you can add little tamarind. Continue boiling for few more minutes.
Meanwhile, take coconut, red chili and mustard seeds in a mixer grinder. Use required water and grind until smooth paste.

And then transfer it into the container, which has cooked grapes.
Adjust the salt level, give a quick mix and boil it for a while. Or switch off the stove when it just starts boiling.
Temper it with oil, mustard seeds, curry leaves and red chili.
Dear reader, We have a Kannada version of this recipe. Click here to read this recipe in Kannada.

You might like this: