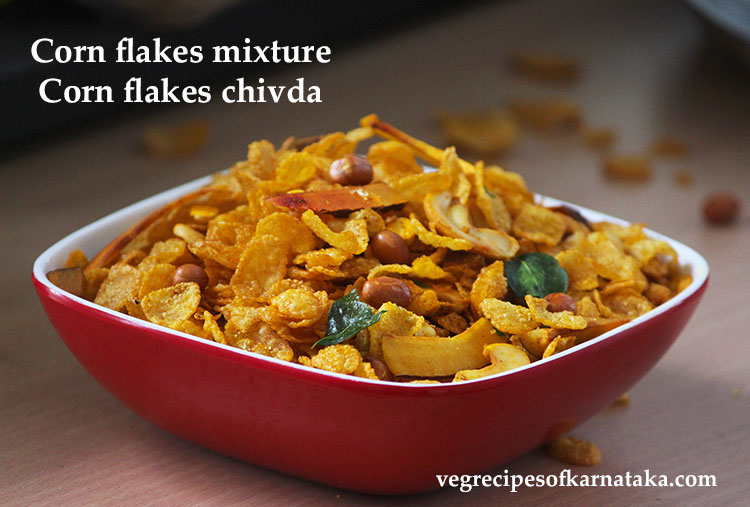 Corn flakes mixture or corn flakes chivda recipe explained with step by step pictures and a quick video. Cornflakes mixture or chivda is a tea time snacks recipe prepared using thin corn flakes, peanuts, roasted gram, cashews, dry coconut and spices. This is a very easy and tasty recipe. It is best served with a cup of tea.
If you are a mixture or chivda lover like me, and looking for more mixture recipes, then do check my avalakki or thin poha mixture, avarekalu mixture, thin sev mixture recipe, congress kadlekai and hurigalu recipes.
I have not deep fried the cornflakes in this recipe. Deep frying the corn flakes makes it very light and more tasty. But to make it more healthy, I have just roasted it for few minutes under low flame.
This cornflakes mixture or chivda is very tasty and crispy. It stays crispy for a month, if stored in an air tight container. I have listed the spices as per my taste, which you can adjust as per your taste. If you like chat masala, you can add 1/2 tsp of chat masala too.
If you are looking for tasty snacks recipes then check my Mangalore churumuri, maddur vada, crispy chili bajji, mangalore bajji, girmit, kadle usli and nuchinunde recipes.
If you are looking for more Karnataka style snacks recipes then do check our Karnataka snacks recipes section. I have made a quick video on this recipe, which I have embedded it below. Kindly have a look.
Corn flakes mixture recipe
Preparation time: 5 min
Cooking time: 10 min
Serves: 2 cup

Ingredients: (measuring cup used = 240ml)
2 cup corn flakes
2 tbsp ground nuts or peanuts or shenga
2 tbsp roasted gram or hurigadale
2 tbsp cashews
2 tbsp sliced dry occonut
2 tbsp oil
1/2 - 1 tsp red chili powder (adjust as per your spice level)
2 big pinch of hing or asafoetida
2 big pinch of turmeric powder
4 - 5 curry leaves
1/2 - 1 tsp fine sugar (or as per your taste)
1/2 tsp salt (or as per your taste)
Instructions for making corn flakes mixture or cornflakes chivda:
Now take 2 tbsp of oil in a pan and heat it. Add in ground nuts or peanuts and fry until it starts crackling.
Next add in cashews and sliced dry coconut. Roast until cashews turn light brown.
Next add in roasted gram (hurigadale) and curry leaves and fry until curry leaves turn crisp.
Add in red chili powder, turmeric powder, asafoetida, salt and sugar. Optionally you can add 1/2 tsp of chat masala, if you like it that way. Give a quick mix.

Finally add in corn flakes. You can also deep fry the cornflakes before adding it.
Give a good mix under very low flame for about 5 minutes. Enjoy crispy and tasty corn flakes mixture or cornflakes chivda with a cup of tea.
Dear reader, We have a Kannada version of this recipe. Click here to read this recipe in Kannada.

You might like this: