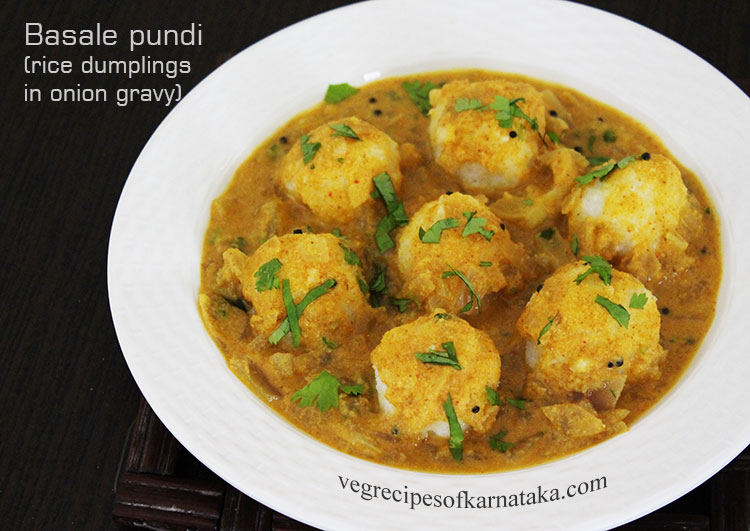 Basale pundi recipe explained with step by step pictures. This is a typical Mangalore style or tulunad style traditional breakfast recipe. Basale pundi is nothing but steamed rice dumplings in onion gravy. Basale pundi is prepared using rice, onion, coconut and spices.
Pundi gatti or unde kadubu is a very popular breakfast recipe across Malnad and Mangalore-Udupi region of Karnataka. Whereas this basale pundi is slighlty different. Here small rice dumplings are made and then they are soaked in onion sambar or gravy. This basale pundi is a traditional recipe and I learnt this recipe from my Mother-in-law.
Preparing basale pundi is time consuming. But once it is prepared, you need not worry about chutney or any side dishes. You can straight away serve it with ghee or coconut oil. The steamed rice dumplings tastes great, when they are soaked in the onion sambar or gravy. I would say this is a must try recipe.
I have posted many steamed recipes on this website like Pundi gatti or unde kadubu, kayi kadubu, kara kadubu, eeradye, pathrode, nuchinunde, idli, cucumber idli and pumpkin sweet idli recipes. Steamed recipes are very healthy.
Apart from these you can find many sweet recipes, snacks recipes, breakfast recipes, Malnad recieps and Udupi-Mangalore recieps on this website. Do Read, Try and Enjoy!!
Basale pundi recipe
Preparation time: 8 hours + 10 min
Cooking time: 30 min
Serves: 3

Ingredients for pundi: (measuring cup used = 240ml)
1 cup good quality dosa rice or sona masuri rice
2 cup water
1/4 cup grated coconut
Salt as per your taste
Ingredients for gravy: (measuring cup used = 240ml)
2 big onions
1/4 tsp turmeric powder
1 tsp crystal salt (or as per your taste)
Small marble sized tamarind
Ingredients for roasting and grinding:
1/2 cup grated coconut
2 - 4 red chili
1 tsp urad dal
2 tsp coriander seeds
1/4 tsp jeera or cumin seeds
7 - 8 fenugreek seeds
1 tsp cooking oil
Ingredients for tempering:
5 - 6 curry leaves
1/4 tsp mustard seeds
A pinch of asafoetida
2 tsp cooking oil
Instructions for making basale pundi:
Rinse the rice, drain the water and spread it on a cloth or plate. Wait until dry.
Once it is dry, dry grind it until coarse powder. The consistency should be in between fine powder and rava.
Once it is done, add in grated coconut pulse it few times. Or just run the mixie for few more seconds.
Next boil the water in a wide pan along with salt.
When it starts boiling add in rice rava gradually by stirring continuously using a flat spatula. Stirring continuously is very important to avoid lumps.
Keep stirring continuously for few minutes under medium flame. In no time it will become thick. If the spatula can stand erect in the dough, it is done. Switch off the stove. The dough will be very soft at this stage.
Wait until warm. Wet your fingers with water and make gooseberry sized balls. Steam cook it for 15 minutes under medium flame.
Now to prepare gravy, heat a frying pan and roast red chilies, urad dal, coriander seeds, cumin seeds and fenugreek seeds under medium flame using a tsp of oil. Fry until dal turns brown but take care not to burn any of them.
Grind roasted spices and grated coconut using a mixer grinder. Use required water and grind until smooth. Set it aside.
Next prepare tempering using oil, mustard seeds, asafoetida and curry leaves.

Add in finely chopped onion and fry until soft.
Add in a pinch of turmeric powder and 1/4 cup of water. Close the lid and let it cook completely.
Then add in the ground masala.
Add in required salt, tamarind extract and required water to make a thin gravy.
Mix well and bring it to boil. Optionally add in coriander leaves and switch off the stove.
Finally add in steamed dumplings and rest it for 10 minutes. Serve with ghee and enjoy.
Dear reader, We have a Kannada version of this recipe. Click here to read this recipe in Kannada.

You might like this: