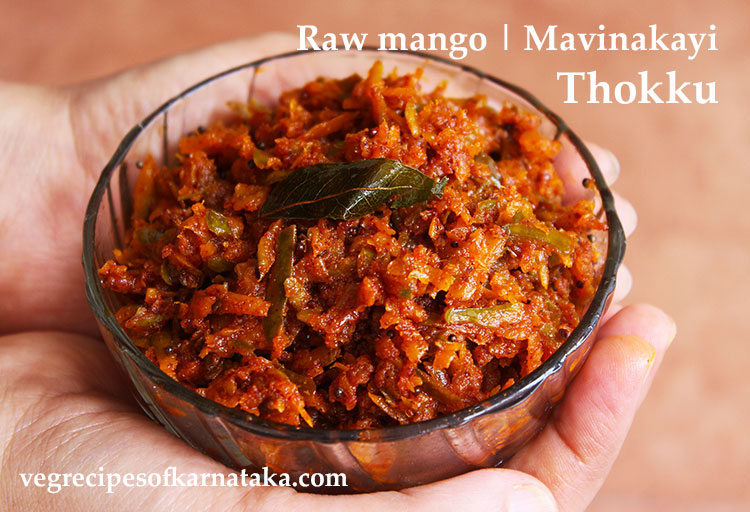 Mango thokku or mavinakayi thokku recipe explained with step by step pictures and a quick video. Raw mango thokku or mavinakayi thokku is prepared using raw mango, mustard, fenugreek seeds, red chili powder, asafoetida and oil. Mango thokku or mavinakayi thokku is very tasty, goes very well with rice.
Mavinakayi thokku or mango thokku is very tasty and it's my personal favorite. I love to eat this thokku with hot steaming rice, topped with either coconut oil or ghee. I do prepare different types of thokku and you can find nellikayi thokku (amla thokku), coriander leaves thokku and hunasekayi thokku (tamarind thokku) recipes on this website.
Thokku is dry chutney or pickle kind of preparation. Thokku is used like pickle. You can eat it with plain rice or along with curd rice.
Mango season is going on. And if you are looking for more mango recipes then do check our mavina hannina sasive, Mango pickle, Raw mango rasam, Mango curry, Mango popsicles and Raw mango chutney recipes. I am planning to post more Mango recipes this year.
I have a recipe section where I file all papad recipes, fryum recipes, pickle recipes, masala powder recipes and chutney powder recipes. All these recipes are prepared and stored for the long term use. So do visit our pickles-fryums-powders section and go through the recipes. I have made a video on this mango thokku or mavinakayi thokku recipe, which I have embedded it below. Kindly have a look.
Mango thokku or mavinakayi thokku recipe
Preparation time: 10 min
Cooking time: 20 min
Serves: 1 cup

Ingredients: (measuring cup used = 240ml)
2 raw mangoes
1 - 2 tbsp red chili powder
1/4 tsp turmeric powder
2 tbsp salt or as per your taste
Ingredients for roasting:
2 tsp mustard seeds
1 tsp fenugreek seeds
Ingredients for tempering:
4 bsp cooking oil
1/2 tsp mustard seeds
1/4 tsp asafoetida
4 - 5 curry leaves
Instructions for making mango thokku or mavinakayi thokku:
Rinse and pat dry the raw mangoes. I have taken 2 medium sized raw mangoes.
Peel and grate the mangoes. Please note peeling is optional; I didn't peel them.
Next in a pan take 2 tsp mustard seeds and 1 tsp fenugreek seeds. Roast until fenugreek seeds turn brown and mustard seeds starts spluttering under medium flame.
Wait until cool and grind them into a fine powder using mixer grinder. Set it aside. We will be using it later.
In another pan, heat 4 tbsp of oil and prepare tempering using 1/2 tsp mustard seeds, 1/4 tsp asafoetida and curry leaves.
Add in grated raw mango and give a quick mix.

And then add in red chili powder, turmeric powder, salt and the ground mustard+fenugreek powder from step 4.
Cook them under low flame by stirring continuously until the oil oozes out. It took around 6 - 7 minutes for me.
Switch off the stove, wait until cool and store it in a glass container. Stays good for months if refrigerated.
Dear reader, We have a Kannada version of this recipe. Click here to read this recipe in Kannada.

You might like this: