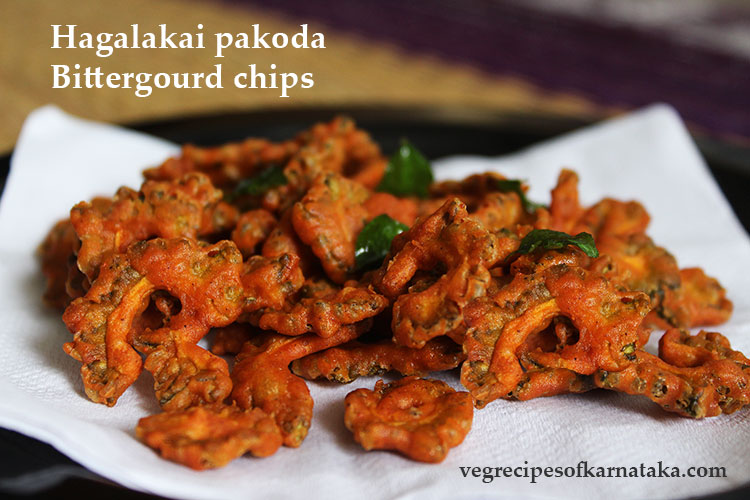 Hagalakai pakoda or bitter gourd chips recipe explained with step by step pictures. Hagalakayi pakoda or Karela fry is prepared using bitter gourd, gram flour, rice flour, red chili powder, salt and asafoetida. Hagalakai pakoda or karela chips are deep fried bittergourd fritters.
I have posted 2 more pakoda or crispy fry recipes on this website. Click on the names to read crispy onion pakoda and cabbage pakoda or kosu vade recipes.
I have made this hagalakai pakoda or karela fry recipe simple. I used only red chili powder and asafoetida. However you can add carom (ajwain) seeds or cumin seeds or crushed coriander seeds or amchur powder, depending on your taste. You can also add finely chopped ginger and garlic, if you like your hagalaki pakoda or karela fry that way. Try this tasty, crispy and easy snack on this weekend and enjoy with a cup of tea.
This is a very tasty snacks recipe using bitter gourd. Bitter gourd has numerous health benefits. I have posted 3 more tasty recipes using bitter gourd like bitter gourd sweet curry or hagalakayi sihi gojju, bitter gourd stir fry or hagalakai palya and bitter gourd or hagalakayi chutney recipes.
These hagalaki pakoda or karela fry can be served as a teatime snacks or as a sidedish along with a multi course meal. But adjust the salt and spices accordingly.
If you are looking for more deep fried snacks or fritters recipes then do check my mangalore buns, doddapathre bajji, crispy chilli bajji, goli baje, stuffed mirchi bajji, kayi vade and maddur vada recipes.
Hagalakai pakoda recipe
Preparation time: 30 min
Cooking time: 10 min
Serves: 2

Ingredients: (measuring cup used = 240ml)
1 big bitter gourd or hagalakai
3 tbsp gram flour
1 tbsp rice flour
1 tsp red chili powder
1/4 tsp asafoetida
Salt as per your taste
Ingredients for soaking the bitter gourd slices:
1/4 tsp turmeric powder
1 tsp salt
Water as required
Optional ingredients: (I didn't use)
1/4 tsp carom seeds or ajwain
1/4 tsp cumin seeds
A big pinch of amchur powder
1/2 tsp ginger garlic paste
Instructions for making hagalakai pakoda:
To beginwith slice the bittergourd and deseed.
Transfer the bittergourd slices into a bowl. Add in water, 1 tsp of salt and 1/4 tsp turmeric powder. Leave it for 15 - 20 minutes.
After about 15 - 20 minutes, squeeze and remove the bittergourd from the salted turmeric water. Doing so will remove the excess bitterness from the bitter gourd. Also it helps us to get rid of pesticides.
In a bowl take gram flour and rice flour. Give a quick mix.
Followed by add in chili powder, asafoetida and salt. Give a quick mix. Do not add any water. Optionally you can add any ingredients of your choice from the list above (optional ingredietns list).
Next add in the bitter gourd slices.
Sprinkle very little water (around 2 tsp) and mix well again. Water should be very little just to coat the batter to the bittergourd slices.

Heat oil in a deep frying pan. When the oil is hot take a fistful of bitter gourd slices and drop it in to the hot oil. Take care not to overlap the bittergourd slices.
Fry until bubbles are stopped under medium flame. You can also feel the crispy sound while flipping them.
Once sone, take them out and spread them on a tissue paper to remove the excess oil. Serve it as a teatime snacks or as a sidedish along wit the meal.
Dear reader, We have a Kannada version of this recipe. Click here to read this recipe in Kannada.

You might like this: