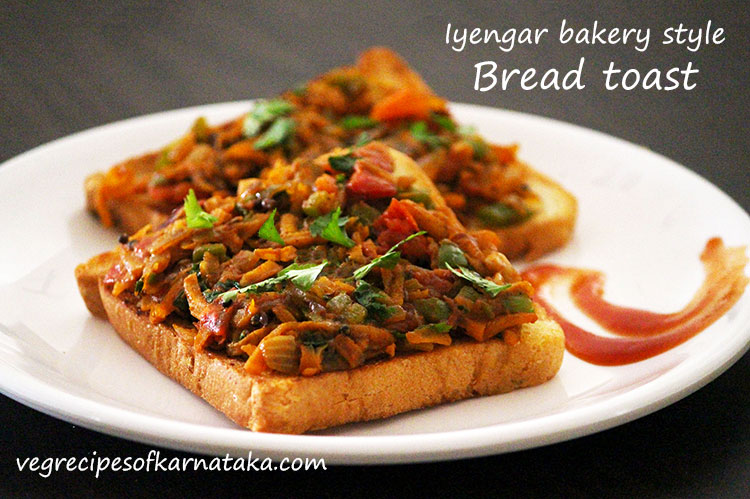 Iyengar bread toast or masala bread toast recipe explained with step by step pictures and a quick video. Iyengar style bread toast is a open sandwich recipe prepared using vegetables and spices. This is a very tasty and kids friendly masala bread toast recipe. You can serve this as a healthy evening snacks. Or you can even pack it for kids snacks box.
Iyengar bread toast or masala toast is prepared using very common vegetables like onion, carrot, green chili, capsicum, tomato and coriander leaves. And few spices like mustard seeds, cumin seeds, red chili powder, chat masala and garam masala powder are used in this recipe. Iyengar bread toast or masala bread toast is very easy to make and is very tasty.
As I said in my earlier curd sandwich recipe post, I keep preparing different types of sandwiches for my son's snacks box. Whenever I prepare, it will be 1 or 2 sandwiches as we don't have the habit of eating whole lot of bread. But I don't get time to click the photos in the morning. I will be in hurry, preparing breakfast and packing boxes for my son. I have listed this recipe under kids friendly recipes.
If you are looking for more kids friendly recipes, then do check our babycorn manchurian, gobi manchurian, babycorn golden fry, curd sandwich, pasta, fried rice and veg cutlet recipes.
I have made a quick video on this recipe, which I have embedded it below. Kindly have a look.
Iyengar bread toast recipe
Preparation time: 30 min
Cooking time: 10 min
Serves: 3

Ingredients: (measuring cup used = 240ml)
6 bread slices
2 tbsp butter
1 tbsp of oil
1/2 tsp mustard seeds
1/2 tsp cumin seeds
1 green chili finely chopped
1 onion finely chopped
1 small carrot grated
1/2 capsicum finely chopped
1 tomato finely chopped
2 tbsp finely chopped coriander leaves
1/2 tsp red chili powder (adjust as per your spice level)
1/4 tsp chat masala
1/4 tsp garam masala
A big pinch of turmeric powder
Salt as per your taste.
Instructions for making masala bread toast:
Finely chop onion, green chili, capsicum, tomato and coriander leaves. Also grate the carrot. Keep all other ingredients handy.
Heat oil in a frying pan. Add in mustard and cumin seeds.
When the mustard seed aplutters, add in finely chopped green chili and onion. Fry until onions are soft.
Followed by add in grated carrot and capsicum. Again fry until carrot and capsicum are half cooked.
Followed by add in finely chopped tomato and give a quick stir.
Add in turmeric powder and salt. Fry until tomatoes turn soft and mushy.
Next add in all spice powders. Add in red chili powder, garam masala and chat masala. Give a quick mix. Adjust the spice powders as per your spice level.
At the end add in finely chopped coriander leaves and switch off the stove. Masala for bread toast is ready.

Next heat another pan. Add the butter and start toasting the bread slices.
Keep flipping and toast the bread slices until light brown, under low-medium flame.
Once the bread is toasted, reduce the flame, and top it with prepared masala. Serve it immediately.
Dear reader, We have a Kannada version of this recipe. Click here to read this recipe in Kannada.

You might like this: