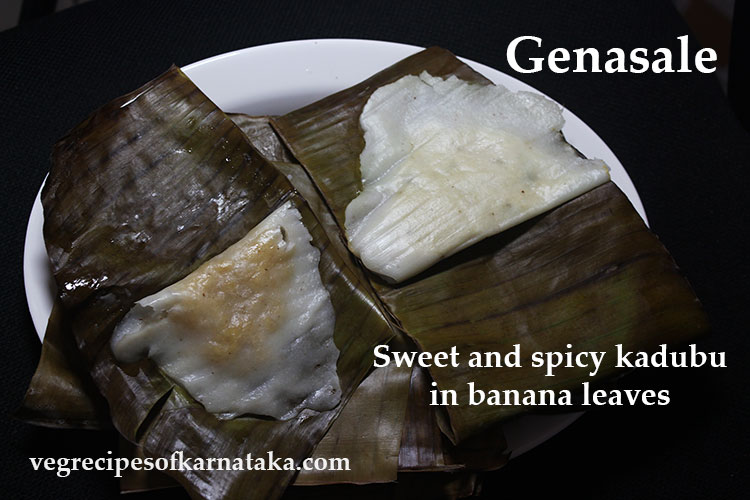 Genasale or khara kadubu recipe explained with step by step pictures and a video. Khara kadubu and sweet kadubu are steamed in banana leaves. Kara kadubu is prepared using rice, urad dal, coconut and spices. Sweet kadubu is prepared using rice, jaggery and coconut. This is a no fermentation and instant breakfast item.
You can serve this genasale or kadubu with coconut chutney and ghee. This is a very tasty recipe and can be prepared in jiffy. I have posted many steamed recipes on this website like Pundi gatti or unde kadubu, kayi kadubu, kara kadubu, eeradye (turmeric leaves sweet dumplings), pathrode, nuchinunde, idli, basale pundi, cucumber idli and pumpkin sweet idli recipes. Steamed recipes are very healthy.
I have also posted one similar southekayi kadubu recipe prepared using sambar cucumber. Also I have posted one more southekayi kadubu or cucumber idli recipe, which is prepared using cucumber and idli rava.
You can find many sweet recipes, snacks recipes, breakfast recipes, Malnad recieps and Udupi-Mangalore recieps on this website. Do Read, Try and Enjoy!!
I have made a video on this recipe with Kannada narration, which I have embedded it below. Kindly have a look.
Genasale or kadubu in banana leaves
Preparation time: 3 hours
Cooking time: 15 min
Serves: 4

Ingredients: (measuring cup used = 240ml)
1 cup dosa rice
1/2 cup coconut
1/2 cup urad dal
2 cm length ginger
2 - 3 green chilies
1 tbsp finely chopped curry leaves
A big pinch of asafoetida
Salt as per your taste
Banana leaves
Extra ingredients for sweet kadubu: (measuring cup used = 240ml)
1/2 cup coconut
1/4 cup jaggery
Instructions for making sweet and khara kadubu:
Soak the rice for 2 - 3 hours.
Also soak the urad dal for 2 - 3 hours.
Now take banana leaves and clean it thoroughly. Next either steam it or hold it on the stove top for few seconds. This is done to avoid breaking of the leaves while folding.
Once the rice is soaked transfer it into a mixie jar, add in 1/2 cup of coconut and required salt.
Grind it into a fine paste using required water. Make sure you add very minimum water required. The batter consistency should be thicker than milkshake. Transfer it into a container.
Next take soaked urad dal, ginger, green chili and salt in a mixie jar.
Add in minimum required water and grind it into a smooth paste. Transfer it into a container. Add in finely chopped curry leaves and asafoetida. Give a quick mix and keep it aside.
Next put the water in a steamer and keep it for boiling. Parallely take a banana leaf and spread the rice batter.
On top of it, add in urad dal batter.

Fold it and place it carefully in the steamer.
To prepare sweet kadubu, spread jaggery-coconut mixture instead of urad dal batter.
Like this continue and finish making all the kadubu and place them in the steamer.
Steam it for 20 minutes. Serve the spicy kadubu with coconut chutney and sweet kadubu with ghee.
Dear reader, We have a Kannada version of this recipe. Click here to read this recipe in Kannada.

You might like this: