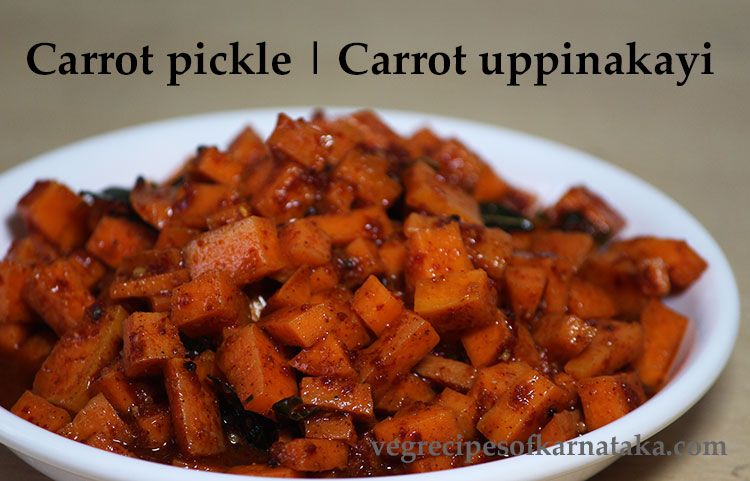 Carrot pickle or carrot uppinakayi recipe explained with step by step pictures and a video. This is an instant, healthy and easy pickle using carrot. This carrot uppinakayi or carrot pickle is prepared using chopped carrot, red chili, lemon juice, salt, mustard, cumin and fenugreek seeds. Chopped carrot is marinated in salt and lemon juice. All other ingredients are roasted, ground into a fine powder and added to the marinated carrot to prepare tasty pickle.
This is an instant pickle recipe using carrot, generally prepared during weddings or on any other functions. This carrot pickle can be prepared in jiffy and is very tasty too. Since this is an instant pickle you can not store it for long time. 1 or 2 days without refrigeration and a week with refrigeration.
If you are looking for more carrot recipes, then do check our carrot sasive, carrot payasa, carrot kosambari, carrot paratha, carrot halwa and carrot juice recipes.
If you are looking for more pickle recipes then check our gooseberry pickle, lemon pickle, tender mango pickle and tomato pickle recipes.
I have made a video on this recipe with Kannada narration, which I have embedded it below. Kindly have a look.
Carrot pickle or uppinakayi recipe
Preparation time: 10 min
Cooking time: 2 min
Serves: 15

Ingredients: (measuring cup used = 240ml)
1 cup chopped carrot
1 large lemon
2 tbsp salt (or as per your taste)
Ingredients for masala powder:
5 - 6 red chilies (or as per your spice level)
1 tsp mustard seeds
1/2 tsp jeera or cumin seeds
Few fenugreek seeds
Ingredients for tempering:
2 tsp oil
1/2 tsp mustard seeds
1/4 tsp asafoetida
Few curry leaves
Instructions for making carrot pickle or uppinakayi:
Take 1 cup of finely chopped carrot in a container.
Add in 2 tbsp of salt.
Also add in lemon juice extracted from 1 big lemon.
Give a quick mix and rest it for 5 minutes.
Mean while let us prepare pickle masala powder. For that take red chilies, mustard seeds, cumin seeds and fenugreek seeds in a frying pan.
Dry roast until mustard seeds start spluttering and switch off the stove. Roast them under medium flame to avoid burning.
Wait until roasted ingredients are cool. Next grind it into a fine powder using mixer grinder.
Add in ground spice powder to the container, which has marinated carrot.

Give a quick mix.
Next prepare tempering using oil, mustard seeds, asafoetida and curry leaves.
Wait until excess heat is reduced. Then add it int the pickle.
Give a final mix and the pickle is ready. This is an instant pickle so you can't store it for long time. 1 or 2 days without refrigeration and a week with refrigeration.
Dear reader, We have a Kannada version of this recipe. Click here to read this recipe in Kannada.

You might like this: