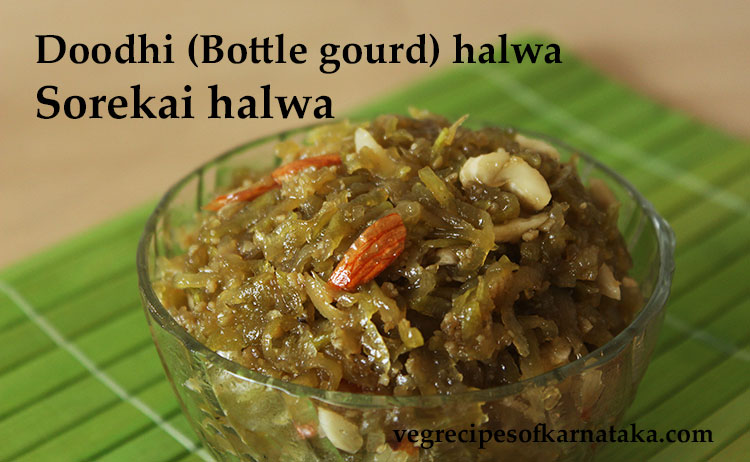 Sorekai halwa or dooshi halwa recipe explained with step by step pictures and a video. Sorekai halwa is an easy desert and is prepared using grated bottle gourd, milk, sugar and little ghee. This is a very tasty and healthy sorekai halwa or doodhi halwa recipe. You can prepare this sorekai halwa or doodhi halwa using very minimum ingredients and it consumes very less time. Anyone can try this halwa recipe as this is a beginner or bachelor friendly recipe.
I am happily sharing this healthy sweet recipe to mark 500th recipe on my website. With this sorekai halwa recipe, I completed 500 posts on my website.
You can find more halwa recipes on this website like beetroot halwa, banana halwa, carrot halwa, Halubai or rice halwa, Ragi halubai or ragi halwa and ashgourd halwa recipes.
Sorekai or bottle gourd is very good for health. It has been regarded as one of the healthiest vegetables. Bottle gourd cools your body, helps in weight loss, cures stomach problems and urinary infections. It keeps the heart healthy and relieves the stress.
If you are looking for more sorekai or bottle gourd recipes, then do check my sorekai payasa or bottle gourd kheer, sorekai palya or bottle gourd stirfry and sorekai sambar recipes. You can prepare many more recipes using bottle gourd and I will try to share them soon.
You can find many more Karnataka style sweets, snacks, breakfast, gravies and curry recipes on this website.
I have made a video on this recipe with Kannada narration, which I have embedded it below. Kindly have a look.
Sorekai halwa recipe
Preparation time: 10 min
Cooking time: 20 min
Serves: 2

Ingredients: (measuring cup used = 240ml)
2 cup grated bottle gourd or sorekai
1 cup milk
1/2 cup sugar (adjust as per your taste)
2 tbsp ghee
1 tbsp chopped cashews + badam
1/4 tsp cardamom powder
Instructions for making sorekai halwa or doodhi halwa:
Peel, wash and grate the bottle gourd. If it is not tender, you will have to deseed the bottle gourd.
Heat 1 tbsp of thick ghee in a deep frying pan.
Add in grated beetroot and start frying under medium flame. Fry for few minutes until bottle gourd is soft.
Next add in a cup of milk.
Allow it to boil on medium high flame by stirring it occasionally.
Allow it to boil until milk is reduced. When the milk is reduced add in sugar and continue cooking by stirring it occasionally.
The sugar will melt and the halwa turns syrupy. Continue to cook until halwa turns thick by stirring more often.

When the halwa is almost dry, add in chopped nuts (cashew + badam) and cardamom powder.
Reduce the flame and stir it until excess water content is dried. At the end add in one more tbsp of ghee.
Mix it well and switch off the stove. Make sure the halwa is not very dry as it turns more dry once it is cool. Serve it hot or cold.
Dear reader, We have a Kannada version of this recipe. Click here to read this recipe in Kannada.
You might like this: