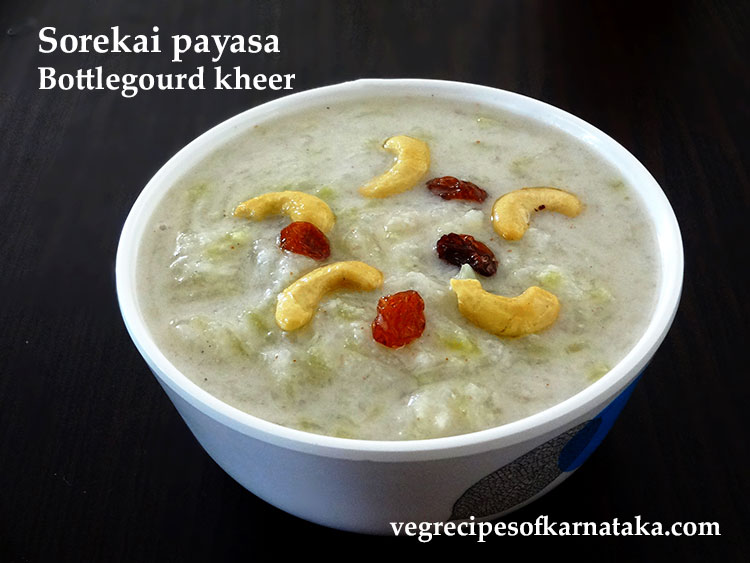 Sorekai payasa or bottle gourd kheer recipe explained with step by step pictures. Sorekai payasa or botle gourd payasam is prepared using grated bottle gourd, coconut and jaggery. Sorekai payasa is very tasty and healthy. This is a malnad style sorekai payasa.
Sorekai or bottle gourd is very good for health. It has been regarded as one of the healthiest vegetables. Bottle gourd cools your body, helps in weight loss, cures stomach problems and urinary infections. It keeps the heart healthy and relieves the stress.
If you are looking for more sorekai or bottle gourd recipes, then do check my sorekai palya or bottle gourd stirfry, sorekai halwa and sorekai sambar recipes. You can prepare many more recipes using bottle gourd and I will try to share them soon.
This is a malnad style payasa and my mother prepares it in this way. She won't extract the milk. But across Udupi-Mangalore region of Karnataka, for payasa more coconut is used and coconut milk is extracted. I like both ways. Using coconut milk gives better taste. But this recipe is light for tummy and good for digestion.
If you are looking for more payasa or kheer recipes then do check my halu payasa or rice kheer, shavige or vermicelli payasa, carrot badam payasa, hesaru bele or mung dal payasa and pineapple payasa recipes.
If you are looking for more Karnataka style sweet recipes then do visit our sweets section. Now let us see the recipe of payasa or payasam or kheer.
Sorekai payasa or bottle gourd kheer
Preparation time: 10 min
Cooking time: 20 min
Serves: 2

Ingredients: (measuring cup used = 240ml)
1 cup grated bottle gourd or sorekai
2 lemon sized jaggery (adjust as per your taste)
1/2 cup grated coconut
1 tsp rice, rinsed
1 tbsp ghee
5 - 6 cashews
7 - 8 raisins
One cardamom
A small pinch salt
Instructions for making sorekai payasa or bottle gourd kheer:
To begin with peel the bottle gourd, wash it and then grate it.
Transfer the grated bottle gourd into a container. Add in a a pinch of salt and a cup of water. And then keep it for boiling.
When it starts boiling, reduce the flame, close the lid and cook it until soft.
When the bottle gourd is cooked and is soft, add in jaggery and continue boiling until jaggery is dissolved. Please note, we use whitish jaggery and it will be clean.
Meanwhile, take grated coconut, rinsed rice and cardamom in a mixie jar. Grind it until very smooth paste by adding required water.
Add this to the cooked bottle gourd. If you wish, you can extract the milk from the ground paste and then add.

Bring it to boil by stirring it often. Switch off the stove.
Now heat the ghee in a skillet. Fry the cashews and raisins. And then add it into the payasa along wit the ghee. Serve it and enjoy.
Dear reader, We have a Kannada version of this recipe. Click here to read this recipe in Kannada.
You might like this: