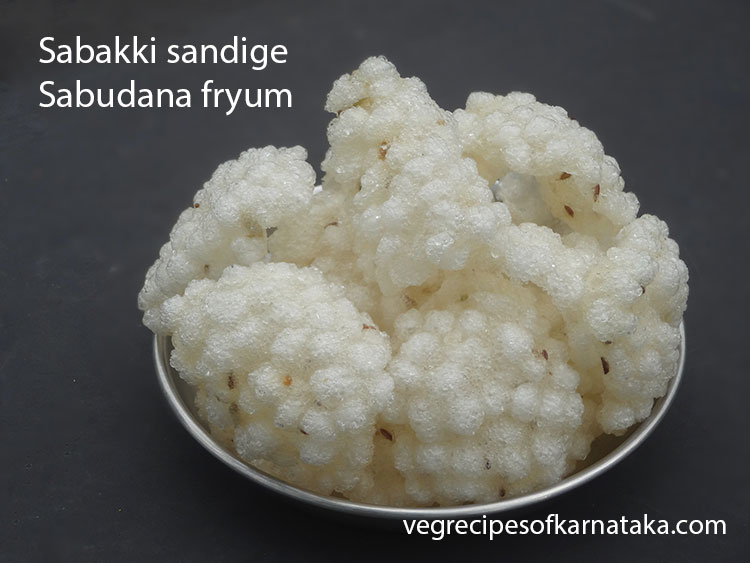 Sabakki sandige or sabudana fryum recipe explained with step by step pictures. Sabakki sandige or sago vadam is prepared using sabudana, green chili, salt and asafoetida. Sabakki sandige or sabudana fryum is very easy to prepare and is very tasty. Sabakki sandige is familiar by different names like sabudana fryum, sago papad, javvarisi vadam, sabbakki sandige, seeme akki sandige and sago vathal.
Sandige (or fryums) and papads preparation is very common in every household. Different varieties of sandige and papads are prepared, stored and consumed throughout the year.
You can find few more sun dried recipes on this website like sun dried potato chips, sandige menasu or buttermilk chili, sun dried amla powder, sweet potato or genasina happala and halasinakai happala recipes.
I love this sandige or fryum. This is a kids friendly recipe and is my Son's favorite too! So if you have access to sunlight, then this is must try recipe for you.
I have posted 2 more tasty recipes using sabakki or sabudana. Have a look on my sabakki paddu or sabudana appe and sabakki payasa or sabudana kheer recipes.
I have filed this under pickles-papads-fryums section. Where you can find many home made powders, pickles, thokku or dry chutney recipes, papad recipes and fryums recipes.
Sabakki sandige recipe
Preparation time: 2 - 3 days
Cooking time: 20 min
Serves: 30 no

Ingredients: (measuring cup used = 240ml)
1/2 cup sabakki or sabudana
2 cups water
2 - 4 green chili (adjust as per your spice level)
1 tsp salt (or as per your taste)
1/2 tsp cumin seeds or jeerige
1/4 tsp asafoetida
Oil to deep fry
Instructions for making sabakki sandige:
Soak sabakki or sabudana for 30 minutes. Please note, soaking is optional.
Drain the water and transfer it into a pressure cooker. Add in 2 cups of water (for 1 cup of sabakki 4 cups of water).
Cook it until sabakki or sabudana turns soft and transparent. I usually pressure cook it by making 2 whistles.
Next take salt and green chili in a bowl. Either grind it or crush it.
Next add in crushed green chili and salt into the cooked sabudana. Also add in cumin seeds. Give a quick mix.
Also add in asafoetida. Give a quick mix. The consistency should be like dosa batter.
Wait until warm. Then take a cotton cloth or plastic sheet and put the sandige using a spoon. Keep it out under sunlight for drying.
This is at the end of the second day.

Flip them and continue drying them for a day or 2 depending on the sunlight.
Now deep fry them in the oil. And here you go, crispy, light and mouth watering fryum or sandige or vadam. Serve it along with the meal or serve it as a tea time snacks.
Dear reader, We have a Kannada version of this recipe. Click here to read this recipe in Kannada.

You might like this: