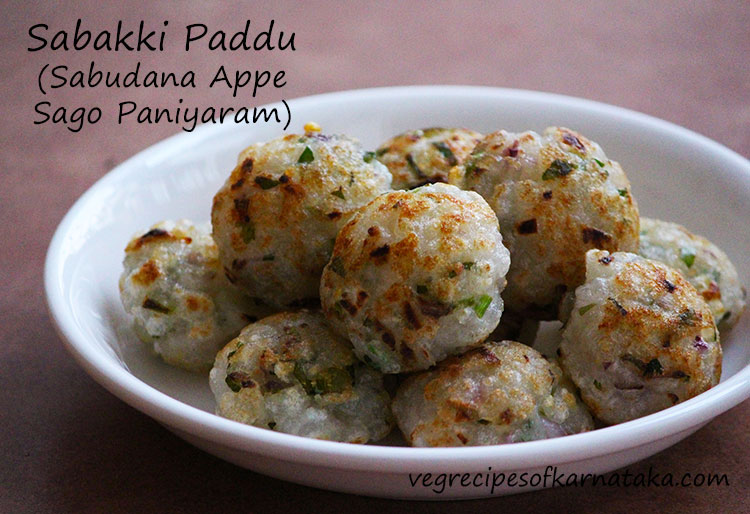 Sabakki paddu or sabbakki guliyappa recipe explained with step by step pictures and a quick video. Sabakki paddu is familiar by different names like sabbakki guliyappa, sabudana appe, sago paniyaram, saggubiyyam gundponglu, javarisi paniyaram etc., Sabakki paddu or Sabudana appe is very healthy and tasty. Sabakki paddu is prepared using soaked sago pearls, fine rava, chopped onion, ginger, green chili, curry leaves and coriander leaves.
This is a healthy alternate for deep fried sabakki or sabudana vada. I love paddu pan or appe pan. I have posted few recipes on this website, which makes use of this pan. They are normal paddu, sabsige soppu paddu or dill leaves appe and sweet banana paddu recipes.
I learnt this recipe from my Mother-in-law. She also prepares sabakki sandige or fryums. I will try to share that recipe soon. I have already posted sabakki payasa or sabudana kheer recipe on this website.
To prepare paddu or guliyappa or paniyaram or appe, a different type of pan with pits is used. You can prepare this for the breakfast or as a healthy evening snacks. I use sabakki or sabudana or tapioca pearls in moderation as it is filled with carbohydrates and is a good source of protien. So one can use this for weight gain.
If you are looking for more Karnataka style breakfast recipes then do visit our breakfast recipes section. I have made a video on this recipe, which I have embedded it below. Kindly have a look.
Sabakki paddu recipe
Preparation time: 5 hours
Cooking time: 15 min
Serves: 4

Ingredients: (measuring cup used = 240ml)
1/2 cup sabakki or sabudana
1/4 cup fine rava or upma rava
1 tbsp curd (optional)
1 onion finely chopped (optional)
1 tbsp finely chopped curry leaves
1 tbsp finely chopped coriander leaves
1 - 2 green chili finely chopped
2cm length ginger finely chopped
Oil for cooking
Salt as per your taste
Instructions for making sabakki paddu:
To prepare sabakki paddu or guliyappa, soak the sabakki for 4 - 5 hours in required water. The soaking time may vary depending on the size of sabudana or tapioca pearls. So if you are able to mash and break the sabudana using 2 fingers, then it is done.
Finely chop onion, green chilli, ginger, curry leaves and coriander leaves.
Once the sabudana is soaked, drain the water and transfer the soaked sabbakki or sabudana into a container.
Next add in fine rava or chiroti rava. If you don't have fine rava, then add upma or uppittu rava.
Followed by add in salt and a tsp of curd.
Squeeze and mix them well.
Now add in finely chopped onion, green chilli, ginger, curry leaves and coriander leaves.
Mix well and the sabakki paddu batter is ready. It shall have thick dropping consistency.
Now heat the paddu pan and put few drops of oil in all the pits.

Pour the batter in all the pits.
Close the lid for a minute. Allow it to cook under low-medium flame.
Open the lid and drizzle oil on top.
Flip the paddus and cook on the other side as well. Serve it either hot or cold.
Dear reader, We have a Kannada version of this recipe. Click here to read this recipe in Kannada.

You might like this: