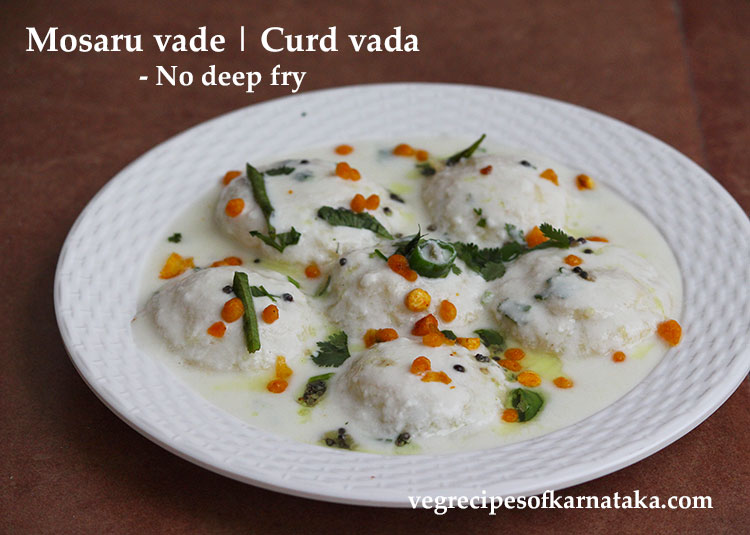 Mosaru vade or curd vada recipe explained with step by step pictures. This is a healthy mosaru vade or curd vada as it is prepared using paddu pan or appe pan. This mosaru vade or curd vada is prepared without deep frying. This is a no deep fry mosaru vade or curd vada prepared using urad dal.
You can serve mosaru vade or curd vada for breakfast or as evening snacks. I was little hesitant to prepare mosaru vade as it involves deep frying. But one fine day I tried this paddu pan method and my curd vada turned out just perfect. So no extra oil, no compromise in the taste, very healthy, easy to prepare..what else you need? Now I follow this method and I prepare mosaru vade or curd vada quiet often.
However if you still want to follow the deep fried method then refer my uddina vade or medu vada post. And then the rest of the process remains same.
You can find many more recipes on this website, which makes use of paddu or appe pan. Normal paddu, cucumber paddu, sabakki or sabudana paddu, sabsige soppu paddu or dill leaves appe and sweet banana paddu recipes are some of them. Soon I will post more recipes using paddu pan..
As I said here vadas are prepared using paddu pan, a different type of pan with pits, which is also familiar by name appe pan or paniyaram pan. "guli" translates to "pits" in Kannada language so is the name guliyappa or guliappa.
You can find more Karnataka style breakfast recipes in our breakfast recipes section and many snacks recipes in our snacks section.
Mosaru vade or curd vada recipe
Preparation time: 5 hours
Cooking time: 15 min
Serves: 4

Ingredients: (measuring cup used = 240ml)
1/2 cup urad dal
1/2 tsp ginger finely chopped
1 tsp finely chopped curry leaves
Little oil for cooking
Salt as per your taste
Sugar as per your taste
Ingredients for tempering:
1/2 tsp mustard seeds
1 tsp urad dal
1/4 tsp ginger finely chopped
4 - 5 curry leaves
1 - 2 green chilli chopped
2 tbsp finely chopped coriander leaves (optional)
2 tsp oil
Instructions for making mosaru vade or curd vada:
Take urad dal in a container. Rinse very well and soak it in water for 4 - 5 hours.
After 4 hours, drain the water and transfer it into a mixie jar.
Grind until smooth and fluffy using required water. I have used 1/2 cup of water for 1/2 cup of urad dal.
Transfer it into a bowl.
Next add in chopped ginger, curry leaves and salt.
Give a quick mix. The batter should be of thick idli batter consistency.
Now heat the paddu or appe pan and put few drops of oil in all the pits.
Pour the batter in all the pits and close the lid.
Open the lid and flip the vade or vadas and cook on the other side as well.
Once done transfer them into a container, which has hot water. The water need not be very hot.

After about 10 minutes, squeeze lightly and take them out and keep it aside.
Now in another pan take curd. Add in sugar and salt as per your taste. Whisk it well.
Now add the vade or vada from step 11.
Next prepare tempering using little oil, mustard, urad dal, chopped green chili, ginger and curry leaves.
Next sprinkle coriander leaves. Rest it for 10 minutes and serve.
Dear reader, We have a Kannada version of this recipe. Click here to read this recipe in Kannada.

You might like this: