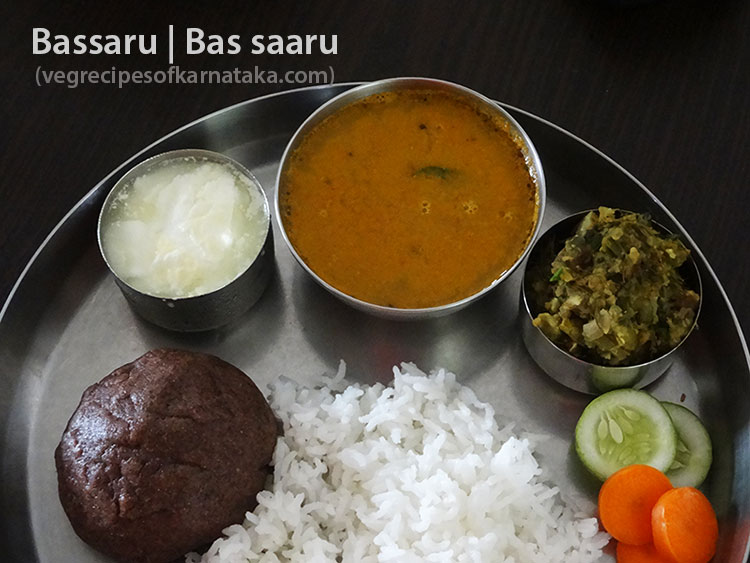 Bassaru or bas saaru recipe explained with step by step pictures. Bassaru or bas saaru is a very popular gravy recipe from Karnataka. This bassaru or bas saaru is prepared using toor dal, green gram, beans, dill leaves and palak leaves. Bassaru or bas saaru is is a two in one gravy and curry (sabji) recipe served as an accompaniment with ragi mudde (ragi balls) or rice. Bassaru or bas saaru is a tasty gravy recipe and is very popular in Bangalore, Mysore, Mandya, Hassan, Tumkur and Kolar region of Karnataka.
This recipe is from my dear friend Sushma or her Mother Saroja aunty, who also shared upsaaru recipe with me. Massoppu, bassaru, upsaaru and sabsige soppu saaruare very popular gravies served with ragi mudde.
"basida" translates drained and "saaru" translates to rasam or sambar in kannada language. And to prepare this two in one gravy+curry recipe you can use any green leaves except fenugreek or methi leaves or you can use any vegetables like cabbage, beans, ridgegourd etc., Veggies and lentils are cooked together and the stock is used to prepare the gravy or rasam or bassaru. And remaining cooked veggies and lentils are tempered to prepare curry.
If you are looking for more gravy recipes then do check my massoppu, Majjige huli, yellow cucumber sambar, tomato rasam, shunti thambuli, menthe huli and okra sambar recipes. We have posted many more gravy recipes posted on this website. So please visit our "gravies" section to read them all.
Bassaru or bas saaru recipe
Preparation time: 10 min
Cooking time: 30 min
Serves: 4

Main Ingredients: (measuring cup used = 240ml)
1 bunch leaves or 250gm vegetables (any leaves except methi (fenugreek leaves) and any vegetable like cabbage, beans or ridgegourd)
1/4 cup toor dal
1/4 cup green gram or any other gram (optional - if not using increase toor dal by 1/4 cup)
A big pinch of turmeric powder
Salt as per your taste
Ingredients for gravy or rasam: (measuring cup used = 240ml)
2 - 4 red chilies (this recipe is supposed to be very spicy)
2 tsp coriander seeds
1 tsp jeera or cumin seeds
4 - 5 seeds black pepper
1 onion chopped
10 cloves of garlic peeled and chopped
1 tomato chopped
1/2 gooseberry sized tamarind
1/4 cup grated coconut
Salt as per your taste
Ingredients for tempering the gravy or rasam:
1 red chilli
1/2 tsp mustard seeds
5 - 6 curry leaves
2 tsp cooking oil
Ingredients for curry:
1 red chilli
1/2 tsp mustard seeds
1 tsp urad dal
1 tsp gram dal or chana dal
5 - 6 curry leaves
1 onion finely chopped
1 - 2 green chilli (optional)
2 tbsp grated coconut
2 tbsp finely chopped coriander leaves
2 tsp cooking oil
Instructions for making bassaru or bas saaru:
Take leaves or vegetables of your choice, rinse and finely chop them. I have used half bunch palak, half bunch sabsige soppu (dill leaves) and few beans.
Take toor dal and green gram in a pressure cooker and rinse.
Add in chopped green leaves or vegetables. Also add in salt and turmeric powder. Add in required water. Make 2 whistles. You can also cook using open pot method but it will take more time.
Meantime, in a frying pan add in a tsp of oil and fry red chilies, coriander seeds, cumin seeds and black pepper.
Add in chopped onion and garlic. Fry them until raw smell is gone.
Next to the same pan add in chopped tomato. Fry them until soft.
At the end add in grated coconut and tamarind extract. Fry for a minute and switch off the stove.
Wait until the leaves and vegetables are cooked, drain the vegetable and lentils stock (water from cooked veggies) completely and keep it aside.
Now add in 2 tbsp of cooked veggies to the fried ingredients and grind until smooth paste.
Next take this ground paste and the vegetable stock (drained water from cooked veggies) in a container.

Add in water as per your desired consistency, adjust the salt level and bring it to boil.
Temper it with oil, red chili, mustard seeds and curry leaves. Bassaru gravy portion is ready. Let us proceed to the curry preparation.
Now to prepare curry, heat a frying pan and prepare tempering using oil, mustard seeds, urad dal, gram dal, red chili, green chili and curry leaves.
Add in chopped onion and fry until soft.
Add in cooked vegetable, leaves and lentils mixture. Mix well.
Adjust salt. Add in grated coconut and coriander leaves. Mix well and Serve bassaru or bas saaru (gravy) and palya (curry) along with rice or ragi mudde. Enjoy the healthy and droolworthy food.
Dear reader, We have a Kannada version of this recipe. Click here to read this recipe in Kannada.

You might like this: