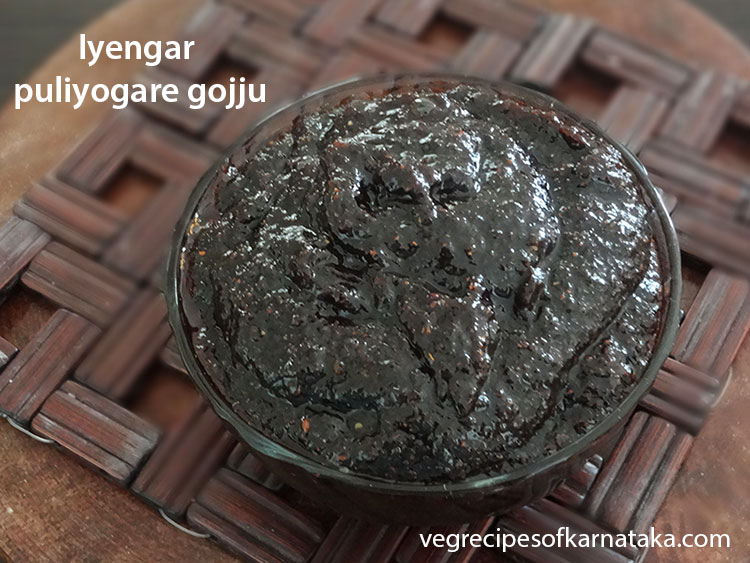 Iyengar style puliyogare gojju recipe explained with step by step pictures. Learn how to prepare tasty Iyengar style puliyogare gojju using puliyogare powder or rasam powder. This is an authentic Karnataka Iyengar style puliyogare gojju from Iyengar family, prepared using rasam powder, jaggery, tamarind, salt and sesame seeds.
Iyengar style puliyogare is prepared in 3 stages. Stage 1 is preparing puliyogare powder, stage 2 is preparing puliyogare gojju and stage 3 is preparing the puliyogare or tamarind rice using puliyogare gojju. If you are looking for one shot simple and tasty puliyogare then do visit my Karnataka style puliyogare recipe post (non-Iyengar style).
As I mentioned in my puliyogare powder recipe post, I got this recipe from my childhood friend Vanishri. Vanishri is from a Mysore based Iyengar family. She says they prepare powder and gojju in large quantity and store it for months. As and when required they will prepare puliyoagre using the gojju (A thick curry used to prepare tamarind rice).
If you are looking for more Karnataka style ricebath recipes, then do check my easy bisi bele bath, veg pulav, tomato bath, lemon rice, ghee rice, pongal, gorikayi rice bath and vangi bath recipes.
Or if you are looking for more Karnataka style breakfast recipes then do visit our breakfast section.
Iyengar style puliyogare gojju
Preparation time: 30 min
Cooking time: 30 min
Serves: 1 cup

Ingredients: (measuring cup used = 240ml)
6 tbsp puliyoagre powder or mysore rasam powder
1/4 cup cooking oil
1 orange sized tamarind
1 orange sized jaggery
3 tbsp salt (or as per your taste)
5 tbsp sesame seeds
Ingredients for large quantity:
100gm puliyoagre powder or mysore rasam powder
50gm refined oil
1/4kg tamarind
1/2kg jaggery
Salt as per your taste
100gm sesame seeds
Instructions for making puliyogare gojju:
Soak orange sized tamarind in 3 cups of warm water and keep it aside.
Heat a pan and dry roast the sesame seeds. Roast until they start crackling or nicely swollen under medium flame. But take care not to burn them. Wait until cool, make a fine powder and keep it aside.
Squeeze the soaked tamarind and extract the tamarind juice. Transfer it to a thick bottomed iron pan and start boiling it.
Add in jaggery and continue boiling it under low flame. This will take at around 5 minutes.
Add in puliyogare powder or rasam powder.
Also add in oil. From now onwards you should start stirring it more frequently to avoid burning. Take care as it will start spurting a bit from this stage.

Add in salt and continue stirring.
Continue stirring under low flame. When it becomes slightly thick and starts leaving the oil add in sesame seeds powder and mix well for a minute.
In no time it will leave more oil and reaches slightly thick paste consistency. Switch off the stove. Once it is cool store it in an airtight container.
Dear reader, We have a brief Kannada description of this recipe. Click here to read this recipe in Kannada.
You might like this: